Read time:

1:30min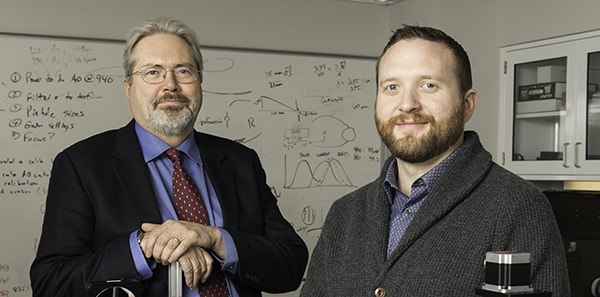 David Williams (L) and Ethan Rossi in the laboratory where Professor Rossi conducted much of the preliminary research   Photo: Adam Fenster, University of Rochester
______________________________
By Helen Carter
Journalist
Imaging retinal ganglion cells
US researchers have developed a new imaging technique, making them the first to distinguish individual retinal ganglion cells.
Researchers modified confocal adaptive optics scanning light ophthalmoscopy to develop the non-invasive method of imaging the human retina they call multi-offset detection.
The technique enabled them to visualise individual retinal ganglion cells in animals, people with normal vision and people with AMD.
University of Pittsburgh Assistant Professor of Ophthalmology Ethan Rossi, and colleagues led by University of Rochester Dean for Research in Arts, Sciences and Engineering Professor David Williams published their study in the Proceedings of the National Academy of Sciences.
Glaucoma is diagnosed by assessing thickness of nerve fibres projecting from retinal ganglion cells to the brain but by the time retinal nerve fibre thickness has changed detectably, a patient may have lost 100,000 or more retinal ganglion cells.
Death of retinal ganglion cells causes vision loss in glaucoma and the researchers hope the technique may prevent vision loss via earlier diagnosis and treatment.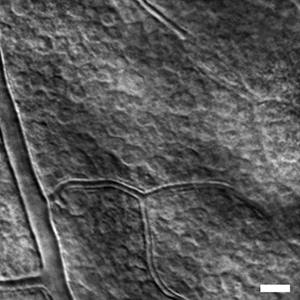 Retinal ganglion cells in a macaque, scale bar 25 microns. Image taken by Ethan Rossi with assistance of the University of Rochester team.
Complaining easier with online portal
The Australian Health Practitioner Regulation Agency (AHPRA) has launched an online portal for complaints and concerns.
According to AHPRA, the portal offers the public a clearer and simpler process when making a complaint or raising a concern about registered health practitioners and students.
The portal on the AHPRA website incorporates features such as information pop-ups that aid users in completing required fields.
It advises users that they will be contacted within four days of submitting their complaint or concern and to make sure they have all the details needed for assessment.
Symptoms after LASIK
Despite high rates of success, some LASIK patients complain of long-term vision problems occurring by one year after refractive surgery, new research shows.
The PROWL-1 and PROWL-2 studies in 574 patients who had LASIK surgery for myopia, hyperopia or astigmatism were reported in JAMA Ophthalmology. 
Overall, the prevalence of vision symptoms and dry eye symptoms decreased, but three months after surgery 43 to 46 per cent of participants reported new vision symptoms, including dry eye symptoms.
Call to improve rural internet
A new Australian Medical Association position statement calls for improvements to internet access across Australia to improve health care access in rural areas. 
The statement says health services in rural, regional and remote Australia could fall further behind city services without government action to ensure all Australians have access to affordable and reliable high speed broadband.
AMA vice president Dr Tony Bartone said many regional areas had poor internet connections with relatively small download allowances, at a higher cost and slower speed than services in cities.
He said improvements in technology could deliver better health outcomes outside major cities through telemedicine and eHealth, and it was essential for rural communities to have access to the same standard of health care, including that provided via technology.
The AMA Position Statement on Better Access to High Speed Broadband for Rural and Remote Health Care calls on the Australian Government to adopt recommendations from the 2015 Regional Telecommunications Review.
Children's weekly screen time averages 35 hours
Australian children spend on average about 35 hours each week staring at electronic screens, according to research commissioned by Specsavers and released this week.
While primary school children spend about 33 hours per week on laptops, smartphones or tablets, watching television or playing games consoles, teenagers spend about 43 hours per week: 27 on electronic devices and 16 on television and games consoles.
Galaxy Research interviewed 1,012 parents of children aged one to 17 years in November 2015 and found that 30 per cent of the children had not had an eye examination.
Many parents were unaware that eye issues such as amblyopia could potentially be cured if detected and treated early, and two-thirds were unaware that strabismus could be treated if detected early.
Ophthalmic nurses group forms
The Australian Ophthalmic Nurses Associations National Council has formed, representing the Australian ophthalmic nursing community.
AONANC chair Joanna McCulloch said the council would not remove or replace state-based ophthalmic nursing associations but would support and encourage each region to work together on nationally relevant items such as ophthalmic nursing standards, statements and qualification frameworks.
Key aims include providing professional representation for ophthalmic nurses, developing and maintaining national standards, statements and recommendations relating to the practice of ophthalmic nursing, and including ophthalmic nurses in national and global vision dialogue and strategies.
Filed in category:
Uncategorised