Read time:

1:30min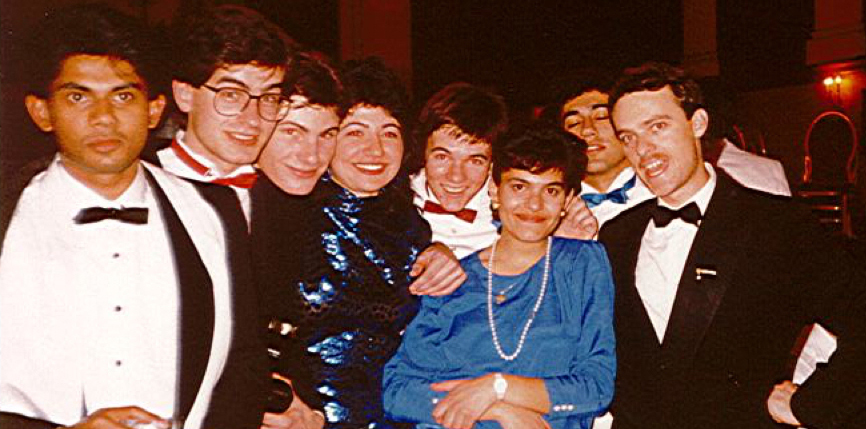 Class of 1987   Photo: University of Melbourne
______________________________
By Helen Carter
Journalist
Cohorts reminisce 
The University of Melbourne's optometry classes of 2007, 1997, 1987 and 1977 are invited to a reunion night on 15 June to celebrate 10, 20, 30 and 40 years, respectively, since graduating.
The Department of Optometry and Vision Sciences will run reunion tours of the department, showing its new on-campus training facilities, expanded UM Eyecare clinic and research laboratories.
The tours will start at 6 pm at the UM Eyecare clinic, 800 Swanston Street, Carlton and run for about 45 minutes, followed by a short drinks reception. Group bookings can be facilitated for dinner with colleagues in Lygon Street after the tours.
To attend, register online or email tcougan@unimelb.edu.au or phone 03 9035 7869 by 8 June.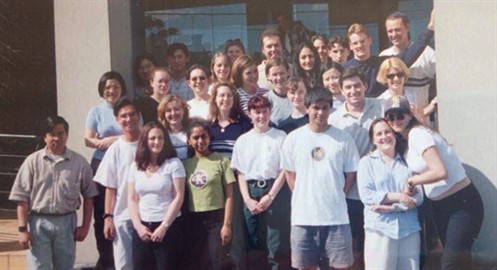 Class of 1997   Photo: University of Melbourne
NHMRC grant changes
The National Health and Medical Research Council's grant program is being restructured following a review.
Changes announced on 25 May mean there will be four types of grants: investigator, synergy, ideas, and strategic and leveraging grants. The first three will replace fellowships, program grants and project grants.
Limits will also be placed on the number of grants an individual researcher can apply for or hold.
The changes are being made to provide better opportunities for early and mid-career researchers and reduce the time needed to apply for grants.
Retinopathy reduction
US researchers have identified a transcription factor in abnormal retinal blood vessels which can be inhibited to achieve a 50 per cent reduction in retinopathy.
The novel therapeutic target for retinal neovascularisation is Runt-related transcription factor 1 (RUNX1.) By inhibiting RUNX1 with a small molecule drug, they achieved a 50 per cent reduction of retinopathy in preclinical models.
'Current treatments to control retinal neovascularisation require injecting very large proteins, including antibodies, into the eyes of patients, as often as once a month,' Harvard Medical School Assistant Professor of Ophthalmology Joseph Arboleda-Velasquez said in a media release.
'Our study opens the door for novel modalities of treatment based on small molecules that could cross biological barriers on their own. Such a treatment could be self-administered by patients and eliminate the need for intravitreal injections.'
Deaf people and vision stimuli
Deaf people have much better reaction time to peripheral vision stimuli than people who can hear, an English study shows.
It also found that hearing people who were fluent in sign language had better peripheral reactions than those who could hear but were unfamiliar with sign language.
Commenting on the study, experts told the American Optometric Association that deaf people paid more attention to their peripheral vision and with fewer senses using the brain's processing power, more resources were in play for the other senses.
Essilor shareholders happy
Essilor shareholders have approved the planned merger between Essilor and Luxottica at Essilor International's special meeting and combined general meeting in Paris on 11 May. The company refers to the merger as a 'combination'.
All resolutions were approved and Essilor's dividend is up 35 per cent. Final completion of the contribution by Delfin of its Luxottica shares to Essilor is expected to occur by the end of 2017.
Implant for small eyes
Children born with abnormally small or missing eyes are benefitting from a new personalised treatment using three-dimensional printed implants.
In a study presented at ARVO, four babies received the 3-D biocompatible implants called conformers, which were well tolerated and found to non-invasively stimulate eye socket expansion and eyelid opening growth.
Fitting an artificial eye for cosmetic purposes requires sufficient eye socket volume and the conformers resulted in eye cavity volumes on average 35 per cent of reference eye volumes compared with having no treatment resulting in only 7.6 per cent.
Anxiety about eye injections
A survey has found patients receiving anti-VEGF injections for wet AMD feel anxious and depressed about the treatment.
More than half, or 56 per cent, of the 300 patients reported anxiety related to the therapy and while only 3.3 per cent feared injection pain, possibly due to a low level of pain experienced, 39 per cent feared blindness caused by the injection, 37 per cent were afraid the disease would progress anyway, 34 per cent were anxious about anticipation while in the waiting room and 30 per cent feared the unknown.
Researchers suggested promoting the high chance of benefits and low chance of harm from the injections.
Filed in category:
Uncategorised