Read time:

1:30min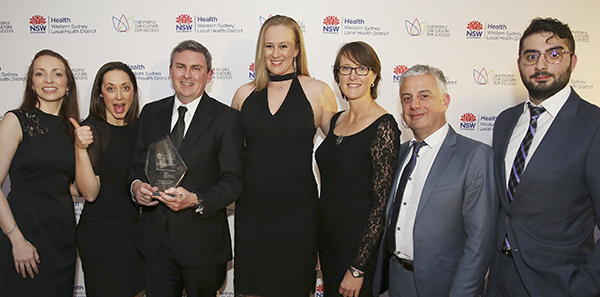 (L-R) Sarah Jane Waller (NSW Agency for Clinical Innovation), Belinda Ford, Associate Professor Andrew White, Jackie van der Hout, Associate Professor Lisa Keay (The George Institute), Joe Nazarian, Shahe Nazarian   Photo: Carlos Furtado, WSLHD Corporate Communications
______________________________
By Rhiannon Riches
Assistant Editor
Optometrist Joseph Nazarian is part of an eye health team to win a major award in Western Sydney.
The Community Eye Care project, known as C-Eye-C, won the WentWest Partnership Award at the 2017 Western Sydney Local Health District Quality Awards on 7 September.
The award was judged by the WentWest Primary Health Network and C-Eye-C was selected as the winner from 79 applicants.
Video featuring Joseph Nazarian
The project team includes practice owner Joseph Nazarian from Nazarian Optometrist in Blacktown, and optometrists Margaret Nguyen and Bendy Ng from PersonalEyes in Parramatta.
Their role is to assess diabetic retinopathy and glaucoma patients referred to them by Westmead Hospital and recommend a patient management plan in a bid to reduce the long wait for patients to see an ophthalmologist in the public system.
After an initial trial period of January to March 2017, C-Eye-C is extending to December 2017.
Mr Nazarian said he's been working hard as part of the trial.
'On top of my usual patient load, I've been assessing glaucoma and diabetic retinopathy patients referred to me as part of the trial. I'm enjoying my involvement as it's a change from daily routine and it's more challenging,' he said.
'My assessment is reviewed by ophthalmologists at Westmead Hospital and the correlation is quite good. Our main difference of opinion is when to follow-up,' he said.
Mr Nazarian said the project was reducing hospital waiting times by about 40 per cent.
'It's good to be recognised with this award because out in the West, we need this service. I've been practising here for 30 years and we are swamped with diabetes. The program is fantastic, and we look forward to December when the trial finishes to see what happens next,' he said.
We won! C-eye-C Wentwest partnership award – congratulations to a wonderful team #46%hospitalavoidance_rate #WSQualityAwards @nswaci pic.twitter.com/FIIVMm1hgI

— Sarah Jane waller (@Eyes_Surg_ACI) September 7, 2017
@OptometryAus congratulations on the win C-Eye-C ! @nswaci @Eyes_Surg_ACI #QSwesternsydneyawards pic.twitter.com/erZ3H9u8XQ

— Sarah Jane waller (@Eyes_Surg_ACI) September 7, 2017
Joseph Nazarian at the Awards
C-Eye-C project leader Associate Professor Andrew White said the project had scope to be implemented elsewhere.
'This is a great win for collaborative care between optometrists and ophthalmologists of patients with chronic eye disease not only in Western Sydney but as model of care that can be applied almost anywhere in Australia,' he said.
'It is a case of the right patients being seen at the right time by the right people, which is our motto. It is great that the belief and hard work of our team has been recognised. The support of Optometry Australia NSW/ACT, RANZCO and the Agency for Clinical Innovation in NSW as well as Western Sydney Local Health District has been key to getting this important project off the ground and making it a success.'
Filed in category:
Uncategorised