Read time:

1:30min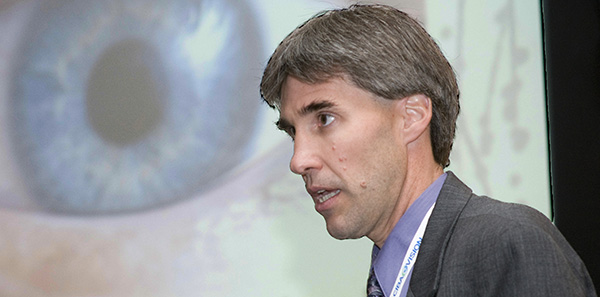 Dr Brad Sutton
______________________________
By Rhiannon Riches
Assistant Editor
A two-part lecture on cancer and the eye from keynote speaker Dr Brad Sutton will begin the SA Blue Sky Congress education program in the Adelaide Hills next month.
In the trade area, seven major equipment suppliers will be displaying their products, including Designs For Vision, OptiMed, Device Technologies and BOC Instruments.
Optometry South Australia CEO Libby Boschen reminds members to support the companies that support SA Blue Sky, and to take advantage of the current tax write-off break. 'Small businesses with annual turnover of less than $2 million can still get an immediate and 100 per cent tax deduction for any individual assets they buy costing less than $20,000,' she said. 
Dr Sutton is a Clinical Professor at the Indiana University School of Optometry and is Chief of Service at the Indianapolis Eye Care Centre.
'I will be speaking about general aspects of cancer from a systemic standpoint including types of cancer, cancer statistics and cancer treatment,' Dr Sutton said.
'I'll be discussing cancerous lesions in the eye and how they are identified and managed. I'll cover choroidal nevi and melanomas, iris melanomas, melanocytomas, retinoblastomas, and metastatic ocular disease,' he said.
His two-part lecture is accredited with six therapeutic CPD points.
'Emphasis will be placed on differentiating cancerous from non-cancerous lesions, on differentiating primary from metastatic lesions, and on knowing the proper course of action for further management,' Dr Sutton said. 'Optometrist's will be able to take that information back to their practices and apply it when they encounter suspicious ocular lesions.'
Dr Sutton is also presenting lectures on abnormal pupils, ocular side-effects of oral medications, and his favourite cases in grand rounds.
'My lecture on ocular side-effects of oral medications is not about oral medication being prescribed by optometrists. It is about ocular side-effects of oral medications prescribed by other doctors for non-ocular reasons.
'Many oral systemic medications can affect the eye, and it is important for eye-care practitioners to recognise those side-effects and know how to manage them. The ocular side-effects of many medications will be covered, including Plaquenil, Topomax, Flomax, digoxin, interferons, tamoxifen, Dilantin and amiodarone,' Dr Sutton said.
His presentation on abnormal pupils will cover the basic anatomy of the pupillary response and how that relates to various pathological conditions.
'I'll be talking about various agents and natural substances that can affect pupillary function, and about how to properly analyse abnormal pupils. I'll cover several pathological syndromes affecting the pupil including Adie's Tonic Pupil, Argyll Robertson Pupil, Horner's syndrome, and third nerve palsy. The main emphasis will be on differentially diagnosing the causes for abnormal pupils and how to manage those various aetiologies,' he said.
SA Blue Sky will take place on 10-11 November at the Adelaide Hills Convention Centre.
Filed in category:
Uncategorised