Read time:

1:30min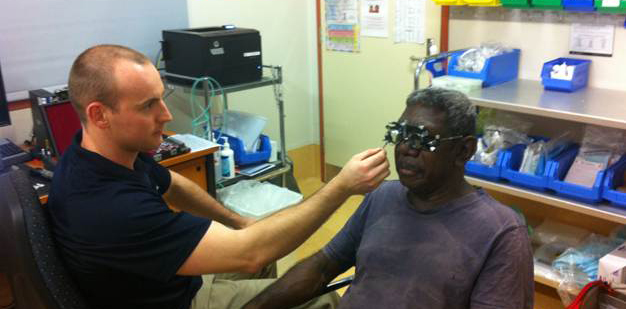 Dean Milner travelled to the Kimberley in 2014 as part of the Judy Glover Memorial Scholarship program
______________________________
By Rhiannon Riches
Assistant Editor
After a 12-month hiatus, Optometry Giving Sight is reinstating the Judy Glover Memorial Scholarship program and for the first time is opening applications to all final-year optometry students in Australia.
There are four scholarships available and nominations will close on 2 February 2016.
Each school of optometry can nominate up to two students for the 2016 scholarships. Candidates must be nominated by the faculty student adviser or equivalent at his or her university. Previously the scholarships were available only to selected optometry schools.
The scholarships provide funding for four final-year optometry students to gain first-hand understanding of Indigenous eye health and culture in communities in the Pilbara and Kimberley regions of Western Australia.
Optometry Giving Sight country manager Ron Baroni said students visiting remote communities would actively take part in optometry clinics.
'Students will observe ophthalmological consultations and surgery in the regional hospitals, they'll be involved in school screening in a remote indigenous community, and interact with final-year medical students,' Mr Baroni said.
The scholarship covers all travel and accommodation costs during the two-week trip.
'The experience would not be possible without the Lions Save Sight Foundation and Judy Glover's family funding the scholarships, and the support of the teams at Lions Outback Vision and Optometry Western Australia,' Mr Baroni said.
The scholarship is named after Judy Glover, an optometrist who was actively involved in remote eye health in north-west Western Australia.
'She was passionate about remote area eye care and compassionate in helping those less fortunate,' Mr Baroni said.
Previous recipients
In 2014, Flinders University students Anna Gatsios and Dean Milner visited the Kimberley, and Emilie Ross and Abdul Hamidi from University of New South Wales went to the Pilbara region.
'I learned a lot about the local language, culture and names for particular eye conditions, and the best and most simple ways to explain them to patients. We had the chance to see Indigenous and non-Indigenous patients and learn how to provide the best possible care with the equipment we had access to,' Dean said.
Sukanya Jaiswal and Monica Le, from UNSW, were recipients of the scholarship in 2013. Both said the experience broadened their understanding of the public health aspect of optometry.
'I am more aware of shortfalls in funding and workforce in remote regions, and I would consider working in the remote and rural Indigenous communities as an optometrist,' Monica said.
'It provided great satisfaction, more than anything else, to have a sense of giving back to the community where it's needed most.'
Each nominee must be:
•    A full time student enrolled in their final year pursuing a bachelor's degree in Optometry during the 2015-2016 academic year
•    Nominated by the faculty student adviser or equivalent at his or her university
•    Able to complete the two-week placement from the middle of May to end of June.
For information about the Judy Glover Memorial Scholarship program, including application materials, email australia@givingsight.org.
Filed in category:
Uncategorised