Read time:

1:30min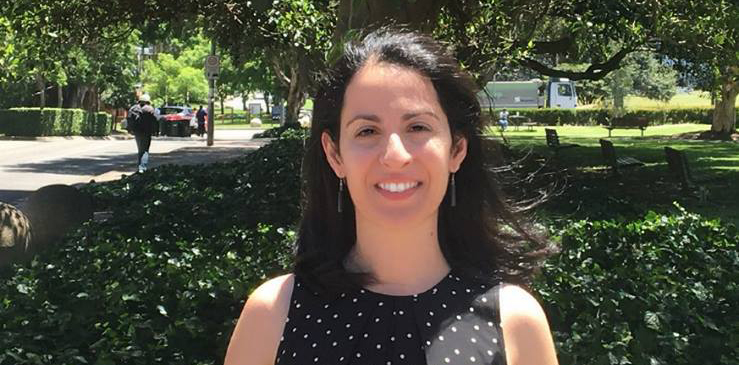 Dr Maria Markoulli
Image: UNSW Optometry and Vision Science
_____________________________
By Helen Carter
Journalist
Deputy editor of Optometry Australia's journal, Clinical and Experimental Optometry, Dr Maria Markoulli has again been recognised for her dedicated work teaching optometry students at the University of NSW.
It is the second UNSW teaching award she has received. She previously received an award from the science faculty but this time will receive an award from the university.
Dr Markoulli has been notified that she will receive a 2017 Vice-Chancellor's Award for Teaching Excellence at the University of New South Wales for contributions to student learning. She will receive the award at a graduation ceremony this year.
In 2015 she was recognised with a Faculty of Science staff excellence award for recognition and celebration of excellence in teaching.
The Vice Chancellor's award is for demonstrating "innovation and leadership that has influenced and enhanced learning and teaching and the student experience" in the primary care optometry course.
Transformation and excitement in students
When asked by Optometry Australia what she enjoys the most about teaching, Dr Markoulli said: 'Being part of the transformation of students – from them not knowing how to turn on a slitlamp, to being so proficient with it that gonioscopy becomes a breeze.
'Watching their excitement when they see the optic nerve using a fundus lens for the first time, and the list goes on.'
Dr Markoulli became a lecturer at UNSW in August 2011. She is a senior lecturer and lectures in primary care optometry, teaching basic clinical skills, lectures third-year students in dry eye disease, and supervises fourth-year clinic, fifth-year research projects, and PhD and Masters students.
She has had leadership roles at the university including her current role as post-graduate co-ordinator in the UNSW School of Optometry and Vision Science. She has been the chair of the university's Early Career Academic Network and served on the UNSW ethics advisory panel.
Her research is on understanding the impact of diseases such as dry eye disease and diabetes on the ocular surface and tear film.
She has also been on various research committees including Tear Film and Ocular Surface (TFOS) workshops on contact lens discomfort and the recent TFOS Dry Eye Workshop II.
'I am also an Australian ambassador for TFOS, meaning that I promote the work of these workshops to Australian clinicians,' she said.
She is a board member of The Optical Foundation headed by optometrist Dr Carolina Kunnen who previously worked for and studied at the Brien Holden Vision Institute in Australia.
'This foundation aims to make eye care accessible to children in Ghana,' Dr Markoulli said.
CXO deputy editor
Dr Markoulli was last year appointed the first deputy editor of Clinical and Experimental Optometry, which is one of the top three optometry journals in the world.
She began working as an associate editor in March 2017, reviewing contact lens and ocular surface papers, and enjoyed the role as gate-keeper to publication of cutting-edge research.
Her deputy editor role, which began in August 2017, means she can continue working as a university lecturer teaching students which she loves, but at the same time keep her finger on the pulse of research in the vision field, her other passion.
View and download PDFs of Clinical and Experimental Optometry from the Archive.
_____________________________
Filed in category:
Uncategorised