Read time:

1:30min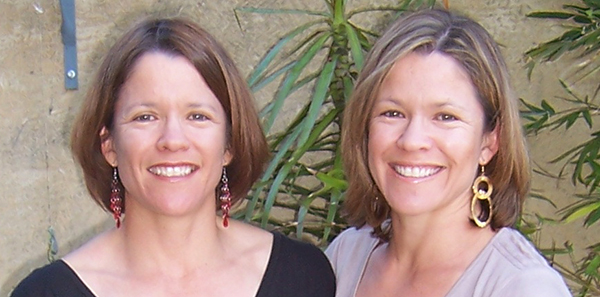 Kerrie Stevenson (L) and Louise Winkler
______________________________
By Helen Carter
Journalist
These four sets of female identical twin optometrists have heard many times the clichés about 'seeing double' and 'double vision.'
While no pair works together permanently in the same practice, all have caused patients confusion over the years by practising in the same or nearby location.
Each has a close relationship and shares a special bond with their twin, had similar secondary school and university examination results and says that having a built-in study partner was a bonus.
Mistaken identity is a common occurrence, especially at optometry conferences.
Cheryl Lee and Debbie Lee practise in Perth, as do Wendy Leighton (now Bianchi) and Michelle Leighton (now Hassett).
Kerrie Stevenson also practises in Perth and her sister Louise Winkler is an optometrist in Nowra, NSW.
In Brisbane Dr Leisa Schmid has her own practice and Associate Professor Katrina Schmid is course co-ordinator of the Bachelor of Vision Science and acting head of school at the Queensland University of Technology School of Optometry and Vision Science.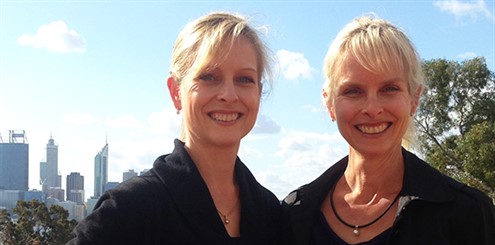 Michelle Leighton (L) and Wendy Leighton
Michelle and Wendy
Michelle and Wendy, who practise under their maiden name Leighton, grew up in Queensland and studied optometry at QUT before moving to Perth.
Wendy works for Abernethy Owens Optometrists and Luxottica, while Michelle and optometrist husband James Hassett have their own Specsavers at Victoria Park.
'My father once commented during his speech at Wendy's wedding, "How many optometrists do you need in one family?" ' Michelle said.
Wendy worked for Abernethy Owens originally full-time. Since the arrival of her children, she works Saturdays at their Kardinya practice and is a casual optometrist with Luxottica.
Michelle's Specsavers practice is not far from some of the Luxottica practices where Wendy works.
'I remember one patient who was quite surprised to see me at Belmont, having just come from having their eyes tested with Michelle at Victoria Park,' Wendy recalls.
'We occasionally get confused for each other at conferences and I've had a couple of interesting conversations with colleagues who mistakenly thought I was Michelle.'
They both also worked at Luxottica in Belmont six years apart, and some patients were convinced that Wendy, who came later, was Michelle whom they had seen years before.
The sisters chose the profession after optometrist John Morris convinced them at a year 12 careers day that it was a great, rewarding profession.
They said it was handy having a study partner as they combined notes to get a more comprehensive lecture summary. They found that if there was something one didn't understand, the other would play tutor, and that explaining something to your twin cemented the concept for yourself.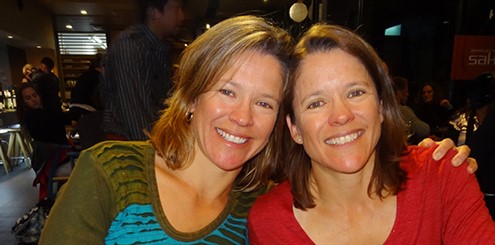 Louise Winkler (L) and Kerrie Stevenson
Louise and Kerrie
Louise Winkler owns two Specsavers practices in Nowra, NSW, and her twin Kerrie Stevenson (both nee Flowerdew) works in Perth. They studied optometry at the University of New South Wales and graduated in 1992.
'Kerrie always wanted to do optometry but I wanted to do actuarial studies until I spoke to a friend who was doing it and he said: "Louise, you don't want to be an actuary." In my second round application I applied for optometry and got into the same intake as Kerrie,' Louise said.
After graduating Louise returned to her home town to practise. The sisters always planned on working together but Kerrie moved to Perth and stayed after meeting her husband.
'I always thought we would own a practice called Seeing Double, although I'm not sure how successful it would have been,' Louise joked.
Kerrie travels to Nowra annually and spends a few days helping her sister at work. 'We often confuse patients and staff as we look and sound the same,' Louise said.
Kerrie is a mobile optometrist, visiting nursing homes and working as a locum in private practices. This month she will make her annual trip to Nowra.
'When I'm there even the staff members look at me as if I'm Louise. Some patients are particular and say they want Louise, and I say I'm just the same,' Kerrie said.
'Even our children—we each have two children aged 10 and 13—get us mixed up when we are together. We generally attend the same optometry conferences so we can catch up but we have to wear name badges.'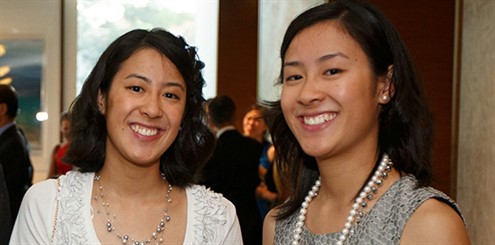 Cheryl Lee (L) and Debbie Lee
Cheryl and Debbie
Cheryl and Debbie Lee usually work in different practices for Perth optometrist Bjorn Russell but Cheryl recently started working on Fridays at Debbie's work place during Debbie's day off.
'Several patients are convinced I have seen them before and I tell them it's my sister you have seen. It's funny to see their reactions,' Cheryl said.
Debbie added: 'Sometimes she pretends it's still me and I say: "You should tell them you're my sister." We always have a bit of a laugh about it.'
The Lee sisters were born in Perth. Bjorn Russell was their optometrist when they were children and his enthusiasm for optometry triggered their interest.
'Debbie and I were 12 when we started wearing glasses due to myopia,' Cheryl said. 'We were going to Bjorn, having eye tests. I found the process interesting and he was always nice. He looked like someone who enjoyed his job.'
Cheryl was keen on optometry from this age but Debbie 'copied' her and decided to study optometry when they received results within one per cent of each other and were accepted into the University of New South Wales in 2007.
They undertook placements together in Bunbury and Singapore before returning to Perth.
The sisters and their mother were still patients of Mr Russell when he opened a second room at OPSM Gateways and offered a job to Debbie.
A year later he opened a Laubman and Pank practice in Westfield Carousel and Debbie moved to that practice. Soon after he opened a Laubman and Pank in Gateways and employed Cheryl.
Cheryl said of her sister: 'We're best friends, we still live together.' Debbie added: 'I don't think we'll ever practise together. It would be too much stress working in the same practice, it would get too silly.'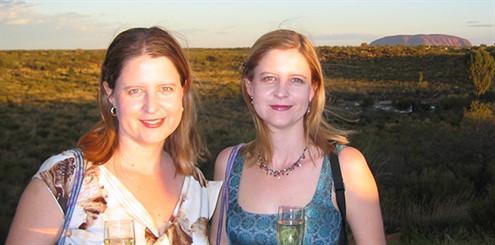 Katrina Schmid (L) and Leisa Schmid
Katrina and Leisa
For several years, Katrina Schmid worked part-time at the same practice where her twin Leisa Schmid worked full-time.
'Patients who had seen one of us in the past would think they were seeing the same person again. We did not always correct them,' the sisters recall.
Their father retired from the Air Force and moved his family to Brisbane when they were in year 10, and started work at Queensland Institute of Technology as a laboratory assistant in the School of Medical Laboratory Science.
He arranged for them to speak to lecturers including one who suggested they consider optometry as a career.
'The seed was planted and we decided to study optometry at QUT. We were the first generation in our family to study at university and did not know anyone who was an optometrist,' the sisters said.
'Studying with someone does make the task easier and you can be more focused by asking each other questions. It also means you have someone to go out with and do things with besides studying.
'Our lecturers may have got us confused in the first year or so of our studies but over time learned our differences. We've since been told that they liked us very much, enjoyed teaching us both and found twins intriguing.'
After completing their optometry degrees, both gained Australian Post-graduate Research Awards and HECS Exemption Scholarships to complete PhDs. Katrina's was on myopia and Leisa's on plasticity of the visual cortex.
Katrina continued with research and teaching after receiving her PhD, working at QUT as post-doctoral research fellow and lecturer in the School of Optometry. 
Leisa furthered her clinical skills by working with several ophthalmologists then set up an independent optometry practice and is now involved with Tokai Australia, a premium Japanese lens company.
'Having a twin sister seems totally normal and unexciting to us. This is how it has been our entire lives and we know of no other situation,' they said.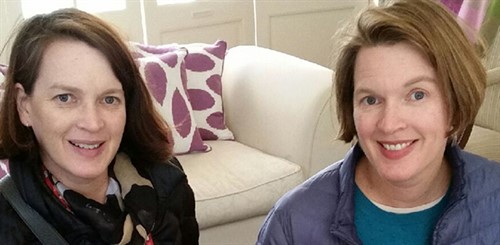 Genevieve Quilty (R) and her twin Melissa Bessell
Optometry Australia national CEO Genevieve Quilty has a twin, Melissa Bessell, who is a general medical practitioner in Canberra.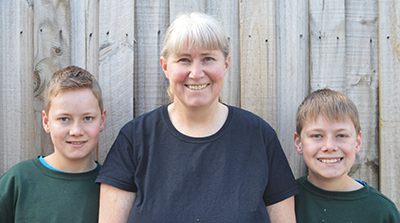 Helen Carter with her twin sons Callum (L) and Ned
If you know another set of twin optometrists, email h.carter@optometry.org.au.
Filed in category:
Uncategorised