Read time:

1:30min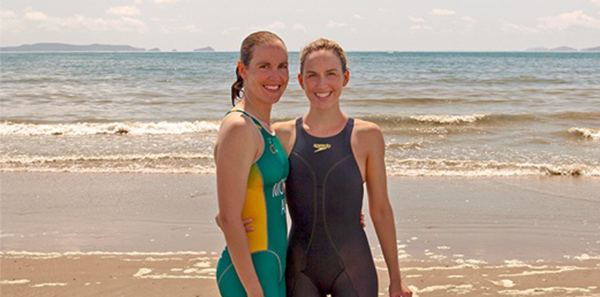 ______________________________
Queensland optometrist Claire Finter and her sister Jayne Moyle, an occupational therapist, are planning to swim 20 kilometres along the Great Barrier Reef to raise funds for Alzheimer's Australia Dementia Research Foundation.
With the aim of raising $10,000, they will take to the water on 24 November, swimming from Great Keppel Island to Yeppoon.
Ms Finter, who practises at Moore Eyes in Yeppoon and Rockhampton, said the cause was close to their hearts and they were seeking support for their 'aquatic adventure for Alzheimer's'.
'We need the help of our community and colleagues to help us raise funds. Any amount, big or small, is greatly appreciated,' Ms Finter said.
Claire and Jayne are undertaking a gruelling training schedule, between work commitments and fundraising efforts.
'We are training 20-25 kilometres per week in the pool and next week start our ocean training. Between the pool and ocean we will be training up to seven times a week as well as strength sessions on dry land, and our training distance could exceed the 25 kilometre mark some weeks.
'The biggest challenge is getting our bodies used to eating while we are swimming,' Ms Finter said.
Alzheimer's Australia Dementia Research Foundation is important to the women as two of their late grandparents suffered forms of dementia. Their health-care professions have also brought them into contact with patients with dementia.
'My sister meets with patients frequently as she works in an allied health clinic for chronic disease at the Central Queensland University campus in Rockhampton.
'There has been some discussion that retinal photography may help us in future to diagnose Alzheimer's disease. We really want to help fund the vital research required to better understand and possibly prevent or treat such a debilitating disease,' Ms Finter said.
The swim is not without its dangers.
'We will be particularly weary of stingers, as stinger season is often December to April. Many people ask us about sharks but we'll have many support crew and boats around us.
'The Yeppoon Coast Guard will be escorting us on our swim as well as the Yeppoon Outriggers Club.'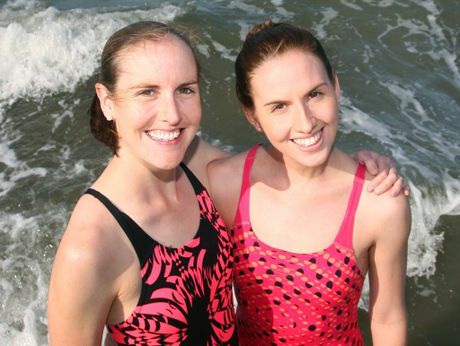 Photo courtesy of The Morning Bulletin
Friends and family will travel beside them in boats and kayaks, but dangers lurk elsewhere.
'We will have to be aware of dehydration, sunburn and hypothermia as we will be in the water for a long time. The coast guard is also helping us with tides and currents; however, the weather on the day is something we cannot predict,' Ms Finter said.
Ms Finter's patients give her extra motivation.
'Most of my patients are concerned about my safety but they are very supportive of the swim and the cause. Some have told me great stories of sharks, while others have given a donation and thanked me for supporting a cause that's important to them.
'I hear wonderful stories of grandmothers, grandfathers, mothers and fathers, sisters and brothers who all had to deal with Alzheimer's. One lady, who forgot what she was saying mid-sentence, then said, "I wish my Alzheimer's would go away". That gives me all the more reason to do what we are doing,' Ms Finter said.
Claire and Jayne have estimated the swim will take eight hours, depending on tides and currents.
'We are not trying to do it in a set time; we just want to make it. We will need to stop to get food and water into our system, and watch our body temperatures too.
'Fortunately, we have two close friends who are medical practitioners, and one will be on a boat and one on the beach, but that is really only as a safety precaution,' Ms Finter said.
On the afternoon the women arrive at the Yeppoon Main Beach, the local surf club will be running a sausage sizzle and raffle to support their cause.
To make a donation, visit Claire's and Jayne's fundraising page http://personalchallenge.gofundraise.com.au/page/AquaAdventure.
All donations to this site are sent directly to Alzheimer's Australia Dementia Research Foundation and a receipt will be sent automatically via email.
Filed in category:
Uncategorised