Read time:

1:30min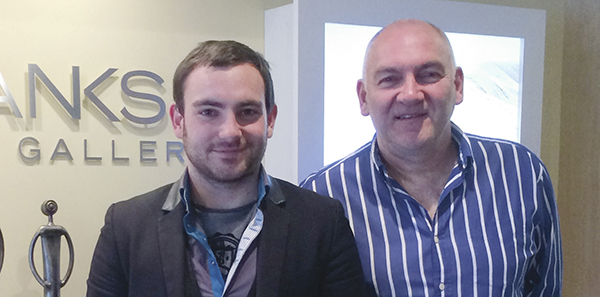 Optometrist Peter Fairbanks (R) and practice manager Benjamin Fairbanks
______________________________
The only regret that country Victorian optometrist Peter Fairbanks has about private billing is that he did not do it sooner.
Since introducing private billing in November 2012, the Ballarat practitioner has increased turnover for his practice and a month after introducing fees, was able to reduce his work days from five to four a week.
'Turnover in 2013 was up 38 per cent,' he said. 'Essentially we have significantly increased turnover and profits. The more profitable we are the more instruments we can purchase and the more services for our patients we can provide. Private billing has contributed to this increase.'
Peter Fairbanks implemented private billing following advice from his practice manager Benjamin Fairbanks and the practice's website creator.
'I ummed and ahhed for a number of years but it has turned out to be a positive experience,' Peter Fairbanks said.
'Benjamin and the website creators said that if someone is not prepared to pay $10 for half an hour of your time, they won't be prepared to spend money with us on glasses.
'An optometry practice is about health, clinical and retail but it is a business and we pay staff, rent, suppliers and need to make profits. Optometrists spend years obtaining a university degree and I realised it was time to value myself, my time and my advice more.'
A few months before introducing private billing, Peter Fairbanks consulted a business coach and attended a free two-day conference with multi-millionaire entrepreneur Wilson Luna. Peter Fairbanks attributes his change in thinking to his business coach.
'It's a confidence thing. Self-belief, valuing yourself and your time, is a big part of it. If you don't, your staff and patients won't,' he said.
'We provide quality products and consultations. People who are not prepared to pay for my advice don't place any value on my advice, my products or me and ultimately don't benefit. Society doesn't act on free information; I need my patients to act to see the results they seek.
'When I opened the practice I felt that I needed to compete with commercial optical outlets by bulk-billing. I later realised I didn't need to. If you do what you do well, it adds value for your patients and you don't need to compete.'
Having staff support the fee introduction and explain changes to patients was instrumental. 'I was surprised at how easy the move [to full fee billing] was,' he said.
Benjamin Fairbanks said: 'We told patients that we had a new billing system and consultations would now be privately billed but that after the Medicare rebate, they would only be about $10 out of pocket.
'There was very little positive or negative feedback. People just accepted it and for most it was not a big deal or they said, "What, only $10 out of pocket?" Optometry patients don't shop around at other practices to see what they're charging. By introducing the fee we lost only a few patients out of 2,500.'
'Other health professionals change their fees and people just accept it,' Peter Fairbanks said.
He began practising as an optometrist in Ballarat 29 years ago and in 1998 opened in the present location where he has been the sole optometrist.
'After introducing fees, consulting hours reduced by 20 per cent—one day less per week—and consultation numbers reduced by 13 per cent, with an actual increase in profit from the previous year,' he said.
'In 2012, 24 per cent of our profits were from consultations and in 2013, 19 per cent were from consultations so consulting profits grew and we had six weeks of trading at 212 per cent. We focused on giving more value to our patients and in turn we were able to increase our profits through frame sales'.
'We are a boutique practice catering more to the upper end of the market and offering an exclusive range of frames.
'I'd recommend all optometrists to introduce private billing, depending on where they practise. If they practise in a poorer socio-economic area, it may be more challenging. We still bulk-bill pensioners for consultations but not frames.'
Fairbanks Eye Gallery is not a standard practice but doubles as an art gallery.
It has hosted more than 100 art exhibitions since 1999 after a patient commented that it would be a nice space for an exhibition. Peter Fairbanks receives 25 per cent commission on artwork that is sold.
Optometrists will be able to set their own fees from 1 January 2015, as do all other health professions under Medicare, following an announcement in the Federal Budget that the Medicare fee cap would be removed.
Optometry Australia (formerly OAA) campaigned for more than two years for the fee cap to be removed, claiming it was making it increasingly challenging for optometrists to provide full-scope eye-care services while maintaining a financially viable clinical practice.
See Optometry Australia's Practice Note: Private Billing.
Filed in category:
Uncategorised