Read time:

1:30min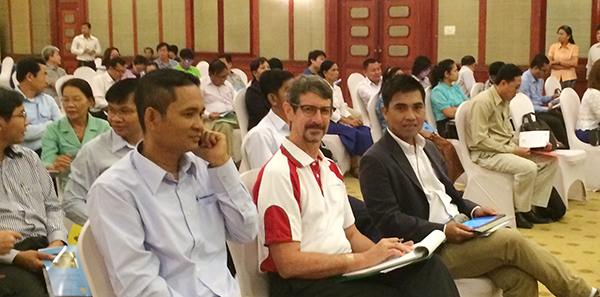 Stephen Langshaw (centre) at a conference for national vision screening in schools in Cambodia
______________________________
By Helen Carter
Journalist
After taking a trip to Cambodia to take part in an outreach optometry program, optometrist Stephen Langshaw has pledged his continuing help for volunteer work.
Mr Langshaw and his patients have spent years raising donations for Optometry Giving Sight (OGS), which funds the program. This year he was able to witness how the funds raised by many optometric practices can turn lives around.
In 2015, Mr Langshaw from Langshaw and Bell Shire Optometrists in Gymea, 30 kilometres south of Sydney, won the OGS inaugural 'Trip of a Lifetime' prize to Cambodia for its 2014 World Sight Day Challenge by raising a minimum of $250.
His practice raised $288 by encouraging patients to make a donation for frame repairs or adjustments and having a stall at a local village fair, which sold 'optical' face painting and all sorts of eyeballs.
Mr Langshaw took the 10-day trip in February this year and assisted in a school eye health screening program at Phnom Penh Vision Centre. He found it a life-changing experience.
'There were many stories of Cambodian children and adults suffering in their daily lives from uncorrected vision,' he said. 'One young girl, aged nine years, attended while I was there, having not had an eye test before. Her prescription was -5 D. No wonder school was challenging.
'The response when she put on her glasses was quite amazing. She was looking up and down and all around. She could basically not see past 20 centimetres before.'
Mr Langshaw helped to upskill refractionists and optometry technicians at the centre. He also met with government officials during negotiations to extend eye health in-school screening by Brien Holden Vision Institute optometrists, from 10 schools to schools nationwide.
OGS provides free spectacles for students and teachers found during the screenings to require them.
In the past 12 months, the program has screened nearly 20,000 students and teachers at 10 schools and provided more than 2,225 pairs of spectacles.
Ongoing commitment
Stephen Langshaw and optometrist Richard Bell established Langshaw and Bell Shire Optometrists, which has eight optometrists working in five practices.
'Langshaw and Bell now plans on sponsoring one of our optometrists to head to Cambodia once every two years to assist in the school screenings,' Mr Langshaw said.
'I realise that not everyone can volunteer their time but I encourage other optometrists to support Optometry Giving Sight. One very effective way is by becoming a regular donor, to allow for the funding of ongoing and upcoming projects.'
The Cambodian school eye health program is implemented by the Brien Holden Vision Institute with other partners including the Royal Government of Cambodia Ministry of Education, Youth and Sport, the Department of School Health and the Phnom Penh Municipal Department of Education.
The team also trains refractionists and conducts eye hygiene education.
The program is part of the BHVI's Our Children's Vision global campaign, which aims to provide vision services to 50 million children worldwide by 2020 and create access to appropriate services for those who need them.
In 2015, Optometry Giving Sight allocated $1.6 million to 34 projects in 29 countries, transforming the lives of thousands. To donate or find out more, visit www.givingsight.org.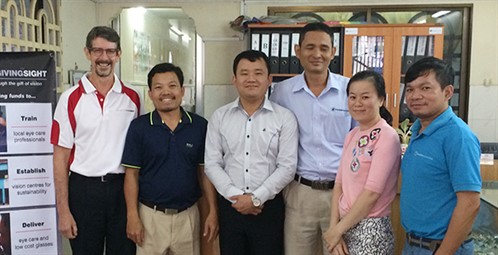 Stephen Langshaw (L) with Phnom Penh Vision Centre staff whom he helped to train   Photo: Stephen Langshaw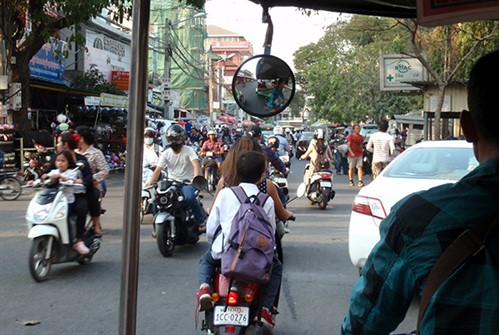 Commuting in the morning  Photo: Stephen Langshaw
Filed in category:
Uncategorised