Read time:

1:30min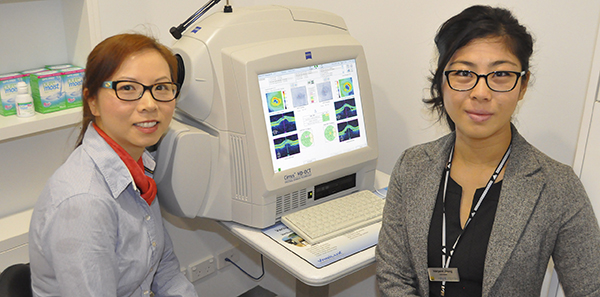 Dr Susan Ang (L) and Dr Margaret Zhong  
Photo: Brendan Crabb, Kiama Independent newspaper
______________________________
By Helen Carter
Optometrists who used free media release templates developed by the Macular Disease Foundation Australia and Optometry Australia to gain publicity in local newspapers during MD awareness week are encouraging other optometrists to make use of similar templates in the future.
They said the process is quick, easy, raises awareness about macular degeneration and having a macula check, and is good for business as it attracts more patients into their practices.
Eyestore Kiama optometrists Dr Susan Ang and Dr Margaret Zhong said the Kiama practice opened recently. They thought that an article in the local newspaper promoting MD week was a good way to introduce the practice to the community and raise awareness about the importance of having a macula check.
'We are a brand new practice and are community based. It was the first time we had used the template. I received the link from Optometry Australia with the template so added our name and sent it to five local newspapers in the Illawarra region. At least three used it as it was, but the Kiama paper did a larger article and included our photo,' Dr Zhong said.
'I was surprised because I got a few bookings immediately from people wanting to have their maculae checked and lots of other people saw the posters in our practice and asked what a macula was so it raised awareness.
'It was great publicity and really easy to use. The MD foundation was also helpful providing brochures, information and posters. I encourage other optometrist members to use these templates.
'When you are given something like this on a silver platter, why not use it?
'The amount of support we get from Optometry Australia—we get lots of tools in our inbox to help grow our business, so why not use them?'
Dr Ang said they also spoke at a retirement village about MD and gave away bags containing Amsler grids and brochures about MD, their practice, nutrition and optometry.
'It was our first experience doing a talk for the elderly community and there was a lot of interest. The ripple effect is good for business,' she said.
Optometrist Lara Foster from Eyecare Plus in Moss Vale also used the template for a story in her local newspaper. She said she had previously used templates for MD awareness weeks and World Optometry Day as a fundraiser for Optometry Giving Sight.
'I try to do it every year to raise awareness of MD,' she said. 'I encourage other members to do it because it is quite simple, creates awareness and is good for business, too.
'It's very easy, I just contact the local newspaper and send them the template with my name and practice pasted in, and they either run the story as is or sometimes include a photo.
'I do get people coming in and booking to have a macula check following MD week and when people see the Optometry Giving Sight article they come and have their eyes tested that week, knowing the money is going to charity.
'Also after reading it, people are more likely to ask about having a macula check so it raises general awareness.'
Bega optometrist Peter D'Arcy used the template to gain publicity in the Bega District News about the need for older Australians to have their maculae checked by an optometrist. He said it was not the first time he had used the template during MD awareness week.
Optometrist Peter Rose from Nowra featured in an article and photo in The South Coast Register.
Queensland optometrist Natalie Rokic from Mackay also featured in a story with a photo in the local Daily Mercury. The newspaper ran an online poll asking readers if they had their eyes tested regularly.
Program boost
Optometry Australia's national brand and corporate relations manager Kerry I'Anson said Optometry Australia had significantly ramped up its proactive media relations program over the past 12 months, and had been successful in generating almost 400 print articles and broadcast coverage on radio and television reaching millions of people.
'Local media are always looking for stories and optometry and community eye health provide some interesting angles.
'Given the great results achieved by members in generating their own media coverage using our template release, we are encouraged to develop a calendar of opportunities supported by media release templates that members can download, tailor and distribute to local media outlets,' Ms I'Anson said.
Filed in category:
Uncategorised