Read time:

1:30min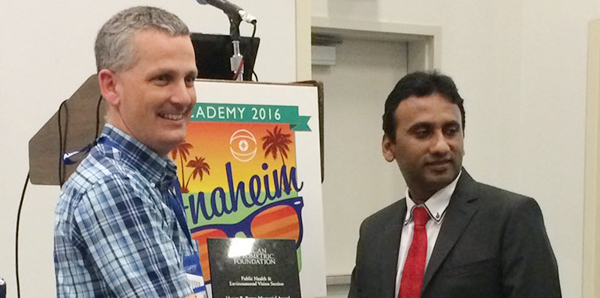 Professor Kovin Naidoo (R) receiving his award from Kevin Jackson, chairman of the AAO Public Health and Environmental Vision Section   Photo: Brien Holden Vision Institute
______________________________
By Helen Carter
Journalist
Three Australian optometrists have been honoured with prestigious awards at the American Academy of Optometry's annual meeting in Anaheim, California.
Professor Kovin Naidoo, Professor Erica Fletcher and ex-patriot Australian Professor Anthony Adams were among the academy's 2016 award recipients last week.
Kovin Naidoo
CEO of the Brien Holden Vision Institute, Professor Naidoo, received the Henry B Peters Memorial Award. The academy's philanthropic arm, the American Optometric Foundation, gives the award to an individual for their 'exemplary contributions to public health and/or environmental vision over many years'.
The academy stated: 'Dr Naidoo is an outstanding academic, researcher, educator and public health innovator who has been revolutionising access and delivery of eye care in Africa, and for the poor and disadvantaged throughout the world.'
He is only the third recipient of the award. Professor Naidoo is a former anti-apartheid activist and political prisoner, and his professional life has been dedicated to delivering eye care to people in need through research, public health and entrepreneurship.
He was Head of Optometry at the University of KwaZulu-Natal, South Africa, co-founder and CEO of the African Vision Research Institute, co-founder of Clear Vision Optical franchise, and founder and chair of African Vision which is establishing cataract surgical services in the public sector.
Professor Naidoo has served in many elected and voluntary positions including Africa Chair of the International Agency for the Prevention of Blindness, trustee of VISION 2020: Right to Sight, a member of the World Council of Optometry Governing Board, and member of the World Health Organization Refractive Error Working Group.
He is a Fulbright Scholar and an Ashoka Fellow for his social entrepreneurial efforts in addressing the needs of the less privileged, and was African Optometrist of the Year in 2002 and International Optometrist in 2007.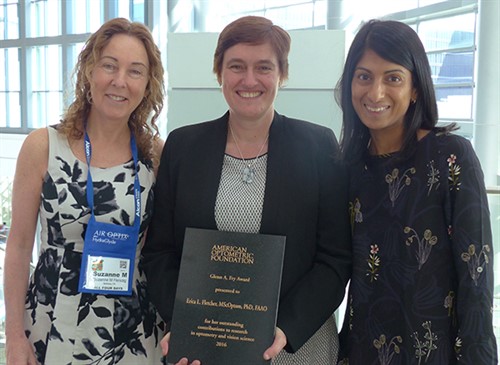 Professor Erica Fletcher (centre) with fellow Australians Professor Suzanne Fleiszig (L) and Dr Theresa Puthussery
Erica Fletcher
Professor Erica Fletcher received the Glenn A Fry Award and Lecture.
This American Optometric Foundation award is given annually to a distinguished scientist or clinician scientist in recognition of the quality, significance, impact and relevance to optometry of his or her current research contributions.
The recipient gives a lecture at the meeting on their research contributions and contributes a manuscript on their research to Optometry and Vision Science.
Erica Fletcher is a Professor in the Department of Anatomy and Neuroscience at the University of Melbourne where she heads the Visual Neuroscience Laboratory. She is an optometrist and holds MSc and PhD degrees.
The academy noted that her career had encompassed the evaluation of retinal degenerations and vascular disease, assessing why photoreceptors die, replacing or saving them, and the role of glia in maintaining retinal functional and structural stability.
'My research endeavours have focused on the underlying cause of retinal diseases including AMD and diabetic retinopathy,' Professor Fletcher said. 'Our recent work is focusing on a novel cause of early AMD.
'I am delighted and very honoured to have received this award. I have had nothing but the highest respect for previous awardees and am very humbled to now be part of that group.'
She joins a renowned list of previous Australian recipients including David Atchison, Ian Bailey, Nathan Efron, Geoffrey Henry, Brien Holden and Joanne Wood, and ex-patriots now living in the USA, Anthony Adams, Suzanne Fleiszig and Christine Wildsoet.
Anthony Adams
Professor Emeritus of Optometry and Vision Science at the University of California, Berkeley, Professor Adams received a Life Fellow Award. This award recognises those Fellows of the academy who, through long membership in the academy, have rendered distinguished service to the science and art of optometry.
The late Professor Brien Holden received a Life Fellowship Award from the academy in 2005.
At this year's meeting the academy announced the establishment of a new award to sustain Professor Holden's legacy and humanitarian contributions. The Brien Holden Humanitarian Award will honour the memory and work of Professor Holden.
Filed in category:
Uncategorised