Read time:

1:30min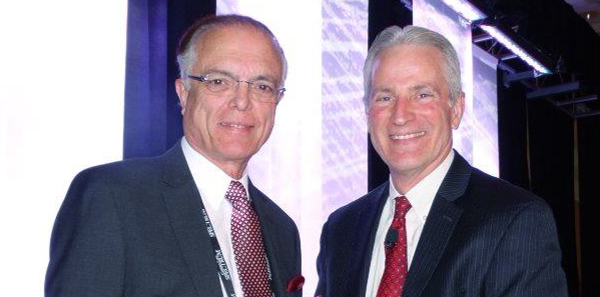 Associate Professor Tony Phillips (L) and Professor Ed Bennett
______________________________
By Helen Carter
Journalist
Flinders University Associate Professor Tony Phillips has received a prestigious international award for a lifetime of work educating optometrists and students about contact lenses.
The Global Specialty Lens Symposium (GSLS) awarded the GSLS 2016 Award of Excellence at its conference in Las Vegas, Nevada in January.
The joint award was given to four recipients whose publications have educated and inspired generations of contact lens practitioners across the globe: Professor Phillips and US optometrists Professor Edward Bennett, Dr Gerald Lowther and Dr Robert Mandell.
Professor Phillips has contributed to many optometric publications, and is co-editor of the optometric textbook Contact Lenses and author of The Optometrist's Practitioner-Patient Manual, a book of photos and diagrams to help optometrists and particularly students explain to patients their clinical condition.
He is head of contact lens teaching at Flinders University's School of Optometry and Vision Science and leads the Medical Contact Lens Units at the Flinders Medical Centre and the Women's and Children's Hospital in Adelaide.
The awards are given annually to distinguished clinicians, scholars and scientists in the contact lens field, particularly those working in areas relating to speciality contact lenses.
'I am delighted and humbled to be recognised for my work and very proud to have been able to represent Australia and Flinders University,' Professor Phillips said in a media release. 
His optometric career began in London after graduating from The City University and researching micro-ocular anatomy, reaction times with yellow night driving spectacles and underwater contact lenses for the Royal Navy.
The GSLS website states: 'As a penniless research student he and three other research students began fitting private contact lens patients as a means of supplementing their income. Three now lecture in universities around the world on the subject. They also formed part of the core that produced the first edition of the textbook Contact Lenses.
'Tony has lectured extensively around the world and is now working with co-editor Lynne Speedwell on the sixth edition of the Contact Lenses textbook which includes more than 40 co-authors from around the world.'
A former national president of The Australian Cornea and Contact Lens Society, he received the society's Lifetime Achievement Award in 2007.
Professor Phillips is the third Australian to have received the GSLS Award of Excellence. The inaugural winner was the late Professor Brien Holden in 2013, and the 2015 recipient was scleral lens pioneer, Donald Ezekiel.
Filed in category:
Uncategorised