Read time:

1:30min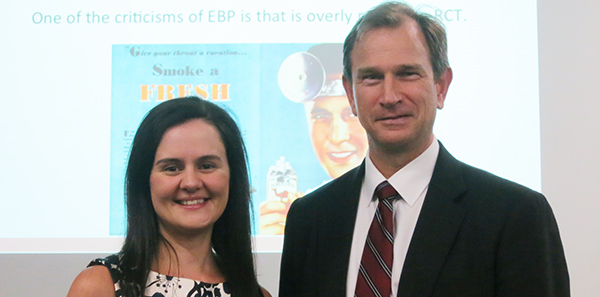 Dr Laura Downie and Associate Professor Peter Keller launch their smoking cessation tool
______________________________
By Helen Carter
Journalist
A new, free smoking behaviour tool captures patient information about smoking habits and how these relate to their risk of developing smoking-related eye conditions.
The quantitative clinical smoking behaviour tool, the first of its kind for primary eye care clinicians, enables optometrists to personally encourage each smoker to quit.
It was developed by Dr Laura Downie and Associate Professor Peter Keller, both from the University of Melbourne's Department of Optometry and Vision Sciences. They launched the tool at a free two-hour workshop attended by about 70 Victorian optometrists in November.
Dr Downie said the tool allowed optometrists to quickly and accurately capture key information about individual patients' smoking behaviours and featured evidence-based summary tables to stratify patients' associated risk of long-term eye disease.
'The evidence is clear that smoking is a major modifiable risk factor for a range of eye diseases,' she said.
'Many optometrists are aware that they should be routinely asking their patients about smoking but this tool helps to clarify the key questions to ask. The tool can also be used on former smokers to determine their relative level of risk for AMD.'
The tool was developed within the remit of Dr Downie's NHMRC Translating Research Into Practice (TRIP) Fellowship and can be used to longitudinally track changes to smoking habits and motivation levels to quit smoking.
'The tool is designed for the patient to fill in themselves in a few minutes. Some practitioners may choose to provide it to their patients in the waiting room while others may do so in their consulting room,' Dr Downie said.
10 questions
Ten short questions capture clinical information about patient smoking behaviours in three key areas:
   current and past smoking habits and how these relate to their risk of age-related macular degeneration, including development, progression and potential response to therapy
   smoking dependency, which measures a current smoker's level of nicotine dependence
   motivation to quit smoking, measured using a validated scale that provides an indication of an individual's readiness to consider smoking cessation.
'The tool is personalised because the risk assessment is based on prior and current smoking practices,' Dr Downie said.
Each section of the tool is scored by the practitioner using a simple scoring sheet and the points are summed to derive a total risk score.
An evidence-based summary for each section outlines key clinical implications of the score, including the patient's risk of eye disease and the relative benefits of quitting or reducing the amount smoked, the level of smoking dependency and the patient's readiness to consider smoking cessation.
'The practitioner can use this information to provide evidence-based advice to their patient about the benefits of smoking cessation for their eye health.
'The tool helps identify people who are ready to change their smoking behaviours and the practitioner can then refer these individuals for inter-disciplinary care, such as to a QUIT service to undertake a smoking cessation program,' Dr Downie said.
The workshop gave an overview of current research evidence on ocular health risks associated with smoking and provided guidance to practitioners on how to implement the tool into daily practice to promote discussion about patient smoking status and cessation benefits.
The session explored practical use of the tool using a clinical case scenario focusing on AMD. The event was funded by a 2015 University of Melbourne Engagement Grant for Research Translation.
Optometrists interested in receiving further information about the tool can email ldownie@unimelb.edu.au. The tool and documentation detailing its use will be published to download free of charge.
Filed in category:
Uncategorised