Read time:

1:30min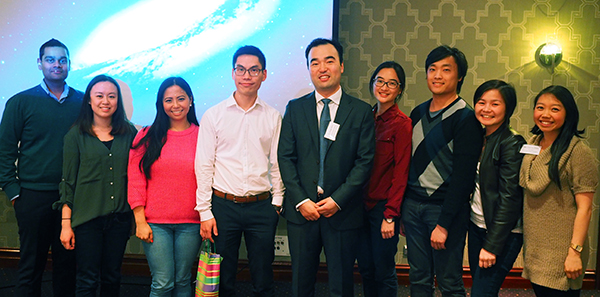 (L-R) Rajeev Naidu, Megan Tu, Melody She, Roland Mak, Dr Peter Kim, Daisy Shu, Jack Phu, Margaret Lam and Carina Trinh
______________________________
By Rebecca Li
Young Optometrists NSW
Cornea-Copia, the result of a collaboration between Young Optometrists (YO), YO member Roland Mak and ophthalmologist Dr Peter Kim celebrated a great turn-out at the Epping Club on 2 August.
Dr Peter Kim shared with the audience his passion, as well as the latest developments in and management of anterior eye diseases.
Rajeev Naidu said it was important to understand the technical details of eye surgeries to help explain potential procedures to patients.
'This is important in helping our patients develop realistic expectations regarding their diagnosis, management and prognosis. Optometrists should also understand the clinical signs that are expected in the post-operative period and be able to recognise the complications that may arise. This is essential with the increasing focus on co-management,' he said.
Daisy Shu encouraged young optometrists to stay in tune with the latest developments in ophthalmological research so that they could provide informed answers when questioned by their patients.
'Dr Kim discussed the research surrounding lanosterol and its use in the reversal of cataract in animals. This could potentially be a game-changer in humans,' Ms Shu said.
Mr Naidu encouraged young optometrists to form strong connections with the ophthalmologists to whom they refer.
'It is always great to hear an ophthalmologist speak about what he or she is passionate about. It goes a long way to make us feel more confident about referring to and co-managing our patients with them, knowing that our patients are going to receive the best care possible,' he said.
Melody She said Dr Kim encouraged the young optometrists to sit in with him in his surgery.
'It would be particularly interesting to observe difficult corneal cases so we can help patients understand what to expect,' Ms She said.
YO believes this helps not only in patient management but also in forming a good relationship with the ophthalmologist to whom you are referring your patients.
Filed in category:
Uncategorised