Read time:

1:30min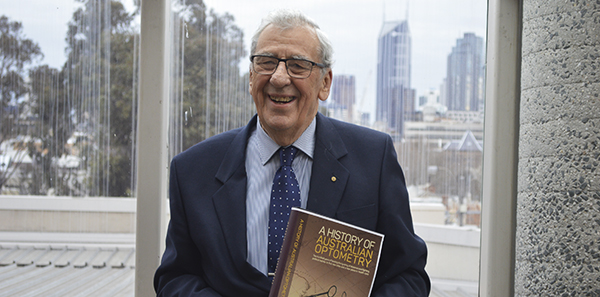 Emeritus Professor Barry Cole with his book on Australian optometry
By Helen Carter
Journalist
The father of modern optometry in Australia Emeritus Professor Barry Cole AO has died, having equipped and inspired generations of optometrists, leaving a lasting legacy for the profession and the eye health of the nation.
The remarkable career of University of Melbourne Emeritus Professor Barry Leighton Cole included being Foundation Professor of the Department of Optometry at the university, where he dedicated his life to teaching thousands of students and was department head for 26 years. He was also Director of the Australian (formerly Victorian) College of Optometry for 34 years.
Professor Cole fought to have optometry recognised as a degree course at the university and was integral in establishing a national college. He spent 40 years teaching optometry and shaping generations of practitioners and apart from his defining influence on the development of optometric education and research, his vision of what optometry should be helped elevate the profession to its current status.
Professor Cole, who passed away in Melbourne on 27 January, 2021, was also integral in establishing the world first National Vision Research Institute in 1972 at the ACO, was its director for five years, and oversaw development of the clinic at the ACO to become a significant resource in Victoria's public health system serving many of those in lower income brackets.
He co-founded a world famous low vision clinic at the Association for the Blind, had a lengthy involvement with Optometry Australia's CXO journal as chairman of its editorial board and was a life member of Optometry Victoria-South Australia.
For his contributions to academia and distinguished service of a high degree to Australia or to humanity at large Barry was awarded an Officer of the Order of Australia (AO) in 1987.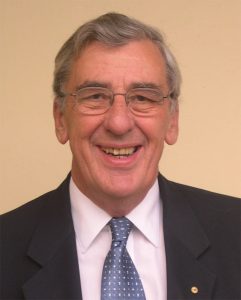 Optometry Australia President Darrell Baker said the Board, members and staff of Optometry Australia send sincere condolences to Professor Cole's family and pay tribute to a man who forged the way for the modern optometrist in Australia.
'His widespread influence in teaching, research and academia and his passion for optometry were exceptional,' Mr Baker said. 'He fought to establish university teaching for optometry in Victoria and a national college, and was an integral part of our Clinical and Experimental Optometry journal for decades. It is the end of an era but Professor Cole's legacy will live forever throughout Australian optometry.'
Widespread influence
Long-time colleague and former president of the Victorian College of Optometry, Dr John Nathan wrote in a 1998 CXO tribute to Professor Cole when he retired: 'There are few in Australian optometry who have not known Barry. His influence has been widespread, far beyond Victoria and far beyond Australia.'
Former ACO president and CXO Editor, Emeritus Professor Nathan Efron AC wrote in the foreword of Barry's book, A History of Australian Optometry: 'Barry is an integral part of that history. He has been intimately involved in the history of Australian optometry over the last 60 years as a student, teacher, researcher, professor and archivist.
'His ideas and strategies profoundly influenced the ethos of the profession and the development of optometric education and research.'
Professor Cole made considerable personal contributions to the science of colour vision and visual ergonomics and many of his graduate students became leading professors and inventors of eye care innovations in Australia and overseas.
He was involved in developing government standards such as colour vision, driver's vision, lighting, pilot's vision and occupational vision and his reach in these fields was world-wide. He also served on the Victorian Optometric Registration Board for many years.
A graduate of the University of Melbourne and the ACO, he held a Licentiate of Optometrical Science, Bachelor of Science, Master of Applied Science, Doctor of Philosophy and was also a Fellow of the American Academy of Optometry.
After private practice in Melbourne, Barry gained clinical experience in London Refraction Hospital and the School of Optometry, Indiana University. He also spent a year as visiting research professor at the College of Optometry, Columbus in Ohio State University, USA.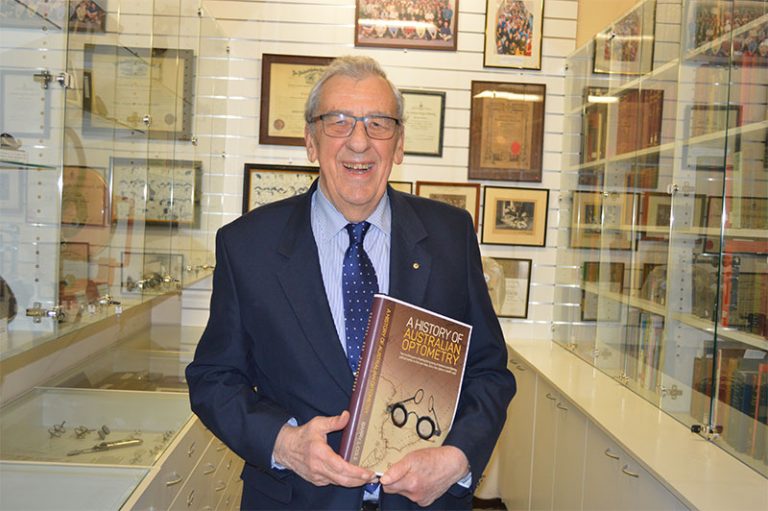 Professor Cole in the Cyril Kett Optometry Museum at the ACO 
Barry was appointed the first full-time lecturer at the Victorian College of Optometry in 1959 and his first task was to reshape the curriculum and teaching program and establish it within the university. The licentiate diploma course at the college was loosely associated with the university but within three years he had achieved a new college building near the university and a four-year degree course in the Faculty of Applied Science. By 1962 the college was affiliated with the university.
He was appointed director of studies at the VCO in 1965. After the college's diploma course was taken over by the university, the college continued to teach the optometry course as an affiliated college until 1973 when the Department of Optometry was established and undergraduate and postgraduate teaching was transferred to the university. This was also the start of a research school at the university.
He was appointed chairman/head of the Department of Optometry and Reader in Charge of Optometry at the university from 1972 to 1995, then head of the Department of Optometry and Vision Sciences from 1996 to 1998.
As foundation chair of the optometry department and Professor of Optometry (1978 – 1999) he was the second professor of optometry in Australia.
In his retirement, he became a volunteer archivist at the Cyril Kett Optometry Museum at the ACO, and embarked on another ambitious project, writing A History of Australian Optometry; Two hundred years of beating the tyranny of distance and fighting political battles to find new roles and a new place in health care.
Professor Cole said in the book's preface: 'The profession has evolved from one skilled at measuring the refractive errors of the eye and supplying corrective glasses to one that provides primary eye care including the treatment of the common eye diseases.'
His role in this evolution was significant.
Famous students he taught included Tony Adams who became Professor of Optometry and Dean at the University of California; Donald Mitchell, Professor of Psychology (Vision Science) at Dalhousie University Canada; Ian Bailey the joint inventor of the LogMar chart system and Professor of Optometry at the University of California; Brien Holden Scientia Professor of Optometry at UNSW and founder of the Brien Holden Vision Institute; Rod Watkins founder of an ophthalmic instrument manufacturing business;  Alan Johnston Associate Professor at the University of Melbourne and a pioneering expert in low vision; Brian Brown, Professor of Optometry at Hong Kong Polytechnic University and Leon Garner foundation Professor of Optometry at the University of Auckland and Editor of CXO, QUT Emeritus Professor Nathan Efron AC , the only Australian optometrist to be made a Companion of the Order of Australia.
Anyone wishing to can add a message to The Age's tributes page. A funeral service will be at Le Pine Chapel, 741 High-St, Kew East on Friday, 5 February at 2pm, and a live stream of the service will be from 1.55pm to 3.25pm, followed by a private cremation. Please check with the funeral home 03 9882 2321 regarding attendance and virtual streaming. The recording can be viewed any time afterwards for 90 days.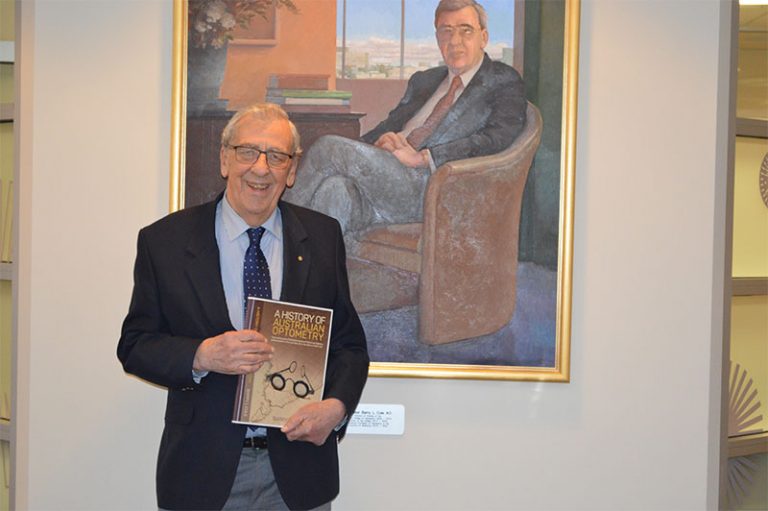 Professor Cole at the ACO infront of his portrait
Filed in category:
General news
,
Members & member initiatives
,
Workplace
Tagged as:
Career
,
Clinical & Experimental Optometry (CXO)
,
Leadership
,
Universities