Read time:

1:30min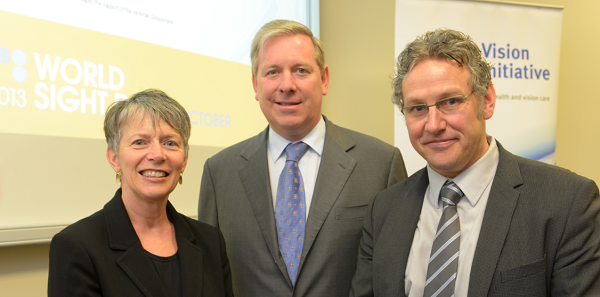 Greater Shepparton, Greater Geelong, Latrobe and Darebin optometrists will be among the pioneers involved in a pilot project that aims to increase the number of people having their eyes tested, while strengthening relationships between health-care professions in those four local government areas.
The pilot project, known as the Vision Initiative and managed by Vision 2020 Australia, was launched on World Sight Day, 10 October.
The project will involve optometrists, ophthalmologists, and low vision and rehabilitation services in the eye health sector, while the health sector will include general practitioners, practice nurses and pharmacists, from each local government area.
Speaking at the launch, Victorian Health Minister David Davis lamented that the death of Mark 'Chopper' Read had attracted more media attention than World Sight Day, an opportunity to highlight the importance of having eyes tested.
Joined by Parliamentary Secretary for Health Georgie Crozier, Mr Davis said the Victorian Health Department, which is funding the Vision Initiative, was committed to eye health in the Victorian community and to reaching those most at risk.
Also speaking at the event, Victoria Division CEO Terri Smith said that many health professionals were still unaware of the skills and scope of optometrists in the community, especially their qualified ability to assess the health of the eye which could signal other underlying health problems such as cardiovascular disease or diabetes.
'We are recruiting optometrists from the four local government areas to participate; we have started those conversations,' she said. 'We can work together to reduce vision loss.'
Deputy CEO of General Practice Victoria, Helen Threlfall, has been closely involved in the project.
'Primary health-care professionals are often the first point of contact, and as such, they can deliver the message that early intervention can save sight,' she said.
General Practice Victoria, together with the Pharmacists Society of Australia and four Medicare Locals located in the government areas—Goulburn Valley (Greater Shepparton), Barwon (Greater Geelong), Gippsland (Latrobe) and Northern Melbourne (Darebin)—are working together to recruit pharmacists, practice nurses and general practitioners for the Vision Initiative project.
The four local government areas selected for the pilot have been identified as having more people at risk of vision loss and blindness due to a high proportion of people with risk factors in their communities.
The risk factors include being smokers, having diabetes, aged over 40 years, being of Aboriginal and Torres Strait Islander descent, and not having regular eye tests.
The Vision Initiative pilot projects are expected to operate for 12 months with early results expected to be evident after six months.
World Sight Day
Vision 2020's World Sight Day breakfast scheduled to be held on 10 October in Sydney was cancelled.
'With the aftermath from the election and the vote for the ALP leader taking place in Canberra, timing has not been on our side this year and we have been unable to secure the number of parliamentarians we would like to make the event a success,' Vision 2020 CEO Jennifer Gersbeck said.
Vision 2020's World Sight Day ambassador, Dr Andrew Rochford, a regular on The Project on Channel 10, had his eyes tested by Victorian optometrist Megan Zabell. View the video below.
Filed in category:
Uncategorised