Read time:

1:30min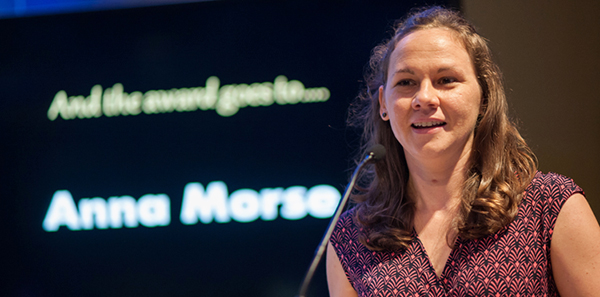 Anna Morse
______________________________
By Helen Carter
Journalist
Three optometrists and a vision rehabilitation expert have received awards for their contributions to optometry.
The awards were presented by Optometry Queensland/Northern Territory at the organisation's VISIONaries: past, present and future celebration on 12 November at the Hilton Hotel overlooking the Brisbane city skyline.
Anna Morse received The Hon Bill Hayden AC Queensland Optometrist of the Year Award, which is given to an outstanding Queensland/Northern Territory optometrist.
Ms Morse has worked for more than a decade in primary eye care for Australians living in regional and remote Indigenous communities throughout the Northern Territory. She is program manager with the Brien Holden Vision Institute Aboriginal Vision Program and serves on Optometry Australia's Aboriginal and Torres Strait Islander Eye Health Working Group.
Her clinical work, research and advocacy work have directly resulted in increased awareness of and improved access to eye care for all Australians, and she has made a significant contribution to reducing vision impairment and preventable blindness in Indigenous communities.
Anna Puglisi received The Queensland and Northern Territory Young Optometrist of the Year award for outstanding contribution to optometry by an optometrist who has graduated in the past five years.
Ms Puglisi has worked as a research assistant at Queensland University of Technology and has volunteered as an optometrist on outreach trips to Palm Island in conjunction with the IDEAS (Indigenous Diabetes Eyes and Screening) Van to provide diabetic retinal screenings and optometric care for Indigenous Australians.
The Hamlyn R Brier Clinical Optometry Award for an outstanding Queensland or Northern Territory clinical achiever was presented to Dr Andrew Carkeet.
For the past decade Dr Carkeet has been the co-ordinator and clinical leader of formal ocular therapeutics education in Queensland at QUT, and oversaw the Vision Rehabilitation Centre at QUT for many years.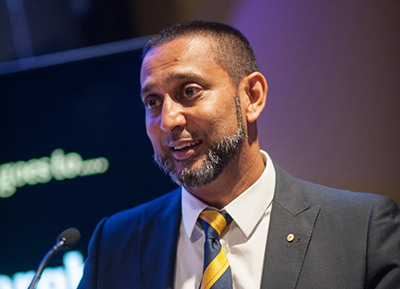 Bashir Ebrahim
Bashir Ebrahim, the former client services manager at Guide Dogs Queensland, was awarded The Professor Sydney BJ Skertchly Award for outstanding contribution to optometry by a non-optometrist.
Mr Ebrahim has had a long and notable career in low vision rehabilitation as an expert in orientation and mobility. He has advocated for improving low vision care and accessibility in Queensland at a national level as part of various committees of Vision2020 Australia representing the interests of Queensland Vision Initiative and Guide Dogs.
His service and charity work have also been recognised through the award of an Order of the Medal of Australia.
Alongside celebrating the reunions of graduates from five, 20 and 30 years ago from Queensland University of Technology and Queensland Institute of Technology, Optometry Queensland/Northern Territory was honoured to welcome the newest QUT graduates into the profession.
Optometry Queensland/Northern Territory CEO Cathryn Baker said the night was a huge success, with attendees enjoying socialising with old classmates, lively entertainment and a mesmerising comedy magic routine.
'It was a pleasure to celebrate the optometry profession and acknowledge such well-deserving individuals for their dedication to their practice,' she said.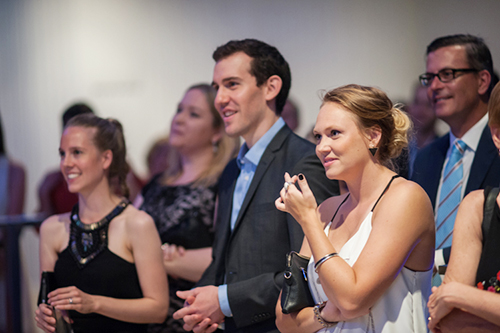 Guests enjoying the entertainment at VISIONaries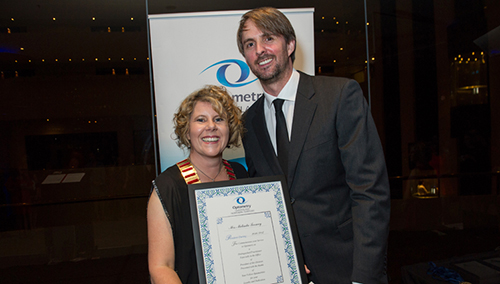 Incoming QLD/NT president Melinda Toomey with outgoing president Dr Stephen Vincent
Filed in category:
Uncategorised