Read time:

1:30min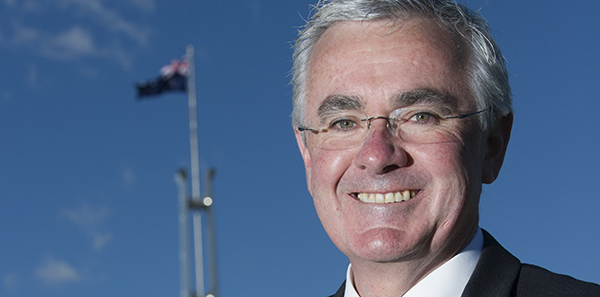 Independent MP Andrew Wilkie
_______________________________
By Rhiannon Riches
Optometry Tasmania president Brett Jenkinson joined the Independent Member for Denison, Andrew Wilkie, for a media conference about the impact of Australian Government cuts to Medicare rebates.
The conference took place on 9 April on the lawn of Parliament House in Hobart. Local media including WIN News and The Examiner attended.
Mr Jenkinson said the media conference was a good opportunity to get a wider platform on the issues concerning optometrists.
In a media release issued the same day, Mr Wilkie said that the Australian Government had introduced a co-payment by stealth on optometric services. A five per cent reduction in the Medicare rebate for optometric services was introduced in January and indexation has been frozen.
Mr Wilkie said the Australian Government must reverse the reduction in the Medicare rebate for optometric services.
'Tasmanians are also among the least able to afford a co-payment to see an optometrist so many will put off getting their eyes treated as they can't afford the out-of-pocket expenses. There is no doubt these cuts to allied health will have a disastrous impact on the health of Tasmanians and they must be stopped,' he said.
Foundation
The Tasmanian Optometry Foundation is set to sponsor a CPD seminar for Optometry Tasmania members in Launceston on 13 June.
The seminar will cover the anterior eye, retinal and corneal grand rounds, and paediatrics. It is expected to be credited with 15 CPD points.
The foundation decided in November last year not to allocate scholarship funding to individuals in 2014 but instead sponsor a workshop.
Applications for the 2015 scholarships are now open and will close on 30 June. Successful applications will be announced at Tasmania's Lifestyle Congress in August.
The scholarships provide assistance of up to $5,000 and are awarded to registered optometrists working in Tasmania, Tasmanian students undertaking optometric studies or Tasmanians undertaking research in optometry.
Visit www.optometry.org.au/tasmania or phone 03 6224 3360 for application forms and further details.
TLC
Professor Joe Sowka and Dr Lori Vollmer have been confirmed as the international key speakers at Tasmania's Lifestyle Congress in Hobart in August.
Professor Sowka from Nova Southeastern University in Fort Lauderdale, Florida, will present 'Glaucoma clinical conundrums' and 'Sports related concussions'.
Behavioural optometrist Liz Jackson will deliver the Keith Mackriell Lecture.
TLC will take place on 28-30 August at the Old Woolstore Apartment Hotel in Hobart.
Optometry Tasmania CEO Geoff Squibb said Professor Sowka and the venue for the dinner were back by popular demand. The congress dinner will be held at the Museum of Old and New Art.
Filed in category:
Uncategorised