Read time:

1:30min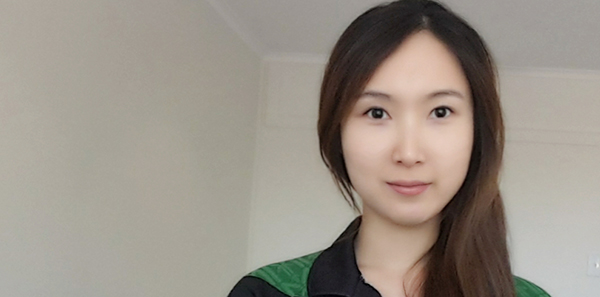 By Ashleigh McMillan
Journalist
Early career optometrist Jayna Kwak takes a collaborative approach to her full-time role within the Aboriginal Medical Services.
Jayna has been employed since February 2015 by the Institute for Urban Indigenous Health, which services 16 Aboriginal Medical Services (AMS) in south-eastern Queensland.
She visits eight different AMS clinics and provides outreach eye examinations at primary schools. For her, working within AMS clinics is rewarding because she is assisting people who have had little involvement with optometry in the past.
'As a new graduate, the two years I've worked here have been a varied experience that I wouldn't have got elsewhere because every day is different with a lot of complicated and chronic disease patients,' Jayna said.
'Optometry services available in the AMS clinics are so valuable because these patients often don't access other mainstream optometry services.
'It's not just an issue in optometry; they often doesn't access any other allied health services, but they will come into their familiar AMS where everything is under one roof. The AMS provides a convenient way for these patients who would otherwise not have accessed any of those services,' she said.
The Institute for Urban Indigenous Health was formed in 2009 by four Community Controlled Health Services in southern Queensland to assist in the health-care of more than 65,000 Indigenous Australians in the area.
Jayna says that many of the allied health workers in each AMS in the area are from the institute, which facilitates collaboration between practitioners.
'General practitioners and allied health are constantly working together in the AMS to take part in the holistic approach of patient care. The collaboration ultimately improves for these patients the access to the other allied health services.
'For example, I'd often mention to the podiatrist if I saw a diabetic patient who had never had a podiatry review and pass on the name of the patient for follow-up. That goes for the doctors as well, because it's just so easy for us if someone has had a full diabetic eye examination to just go and talk to the GP.
'I think the most important thing within the institute is that we're a whole team working alongside the AMS clinic teams, trying to provide top-quality care to these patients,' she said.
The Institute for Urban Indigenous Health is running cataract surgeries for Indigenous patients at the Mater Private Hospital in Springfield, Queensland. One of the most memorable moments of Jayna's career was when she was able to schedule cataract surgery for a patient at the last minute.
'I had a patient come in who was really depressed about her vision because of her advanced cataracts and had been waiting a long time for surgery, but wasn't getting any closer because of the Gold Coast's waiting list,' Jayna said.
'She liked to read but even with glasses she was struggling because her visual acuity was so bad. She felt like she had been lost through the cracks of the system and believed that we weren't following her up due to the waiting time.
'We were able to squeeze her onto the cataract surgery list for the next week, which was already finalised. I talked to our manager Lisa Penrose and we found a way around it.
'I remember when she came back for her post-operative review just how different she was from when I first saw her. After four weeks she was a completely different person; she was hugging me and so grateful for her returned eyesight. It was really great to see that we were making a difference to our patient's lives,' she said.
For information about local area Aboriginal Medical Services, visit the NACCHO website.
Filed in category:
Uncategorised