Read time:

1:30min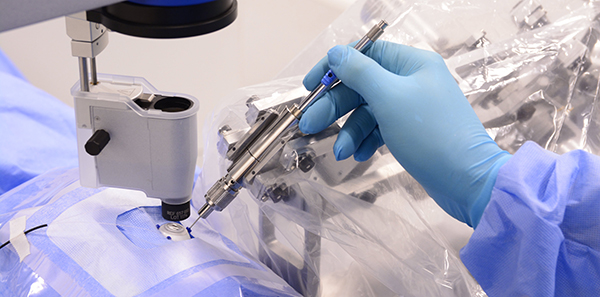 The surgical robot   Image: Katholieke Universiteit Leuven
_____________________________
By Helen Carter
Journalist
Surgical robot dissolves retinal blood clot
In a world first, Belgian ophthalmologists have used a surgical robot to safely dissolve a blood clot from the retinal vein in a patient with retinal vein occlusion.
Ophthalmologist Professor Peter Stalmans from University Hospitals Leuven said the robotic device enabled surgeons to treat the cause of thrombosis in the retina for the first time.
The robot used a needle barely 0.03 mm in diameter to inject the thrombolytic drug ocriplasmin into the vein, showing it is technically possible to safely dissolve a clot in the retinal vein with robotic support.
Manually injecting the drug into a retinal vein which is one-tenth of a millimetre wide, about the same as a human hair, and holding the needle still for 10 minutes is not possible and could damage the vein or retina.
Current treatment consists of monthly eye injections to reduce the side-effects of thrombosis.
Research on show at ARVO-Asia
The largest conference dedicated to eye and vision research in the Asia-Pacific region, ARVO-Asia 2017, will be held at Brisbane Convention and Exhibition Centre on 5-8 February.
Under the theme, Bridging disciplines and disparities: Connecting eye research with health outcomes, attendees will discuss how to translate discoveries into effective prevention, diagnosis and treatments for patients with eye disease.
On 4 February the ARVO-Asia Translational Vision Summit, an inaugural one-day summit, will bring together researchers, regulators and other stakeholders to advance innovation in diagnosis and treatment of eye disease and highlight bench-to-bedside research with potential to translate into medical products.
Scholarships to boost female leaders
Women and Leadership Australia is providing additional scholarship funding to support the leadership development of female leaders working in the health sector.
Register your interest before March 9 for the part-scholarships to undertake a range of leadership development programs commencing in the first half of this year.
Artificial intelligence detects cataracts
Artificial intelligence is as good as an ophthalmologist at detecting congenital cataracts in children, a Chinese study suggests.
Researchers tested an artificial intelligence algorithm implemented as a cloud-based platform for multihospital collaboration and found it diagnosed the disease, identified its severity and suggested treatment with overall accuracies exceeding 90 per cent in 107 children.
They tested the implementation of convolutional neural networks, artificial networks with connectivity patterns inspired by the organisation of the visual cortex, which can accurately identify motifs in images when trained.
Virtual refractor now free
A new study on a virtual refractor has revealed the benefits of simulated learning.
The case control study in 20 students using the Brien Holden Vision Institute's virtual refractor technology and 20 students receiving traditional training found that simulated learning environments 'can positively influence clinical subjective refraction outcomes for less experienced optometry students and may be of benefit in increasing the skills of novice refractionists to levels appropriate for commencing supervised clinical interactions.'
Brien Holden Vision Institute is now making the full version of its Virtual Refractor available free by using the promotion code 10GA2016.
Self-reported eye symptoms
There are clear discrepancies between patients' self-reported eye symptoms and their electronic medical records, according to an American study.
It analysed the symptoms of 162 patients who completed pre-appointment patient questionnaires. Exact agreement between an individual's survey and what appeared on their medical record occurred in only 38 patients.
The top discordant was glare. Of patients reporting concern about glare on their surveys, 91 per cent didn't have it in their medical record, eye redness was second-most common with 80 per cent having no medical record mention), and 74.4 per cent reported eye pain.
Blurry vision was the only symptom included more often in medical records than surveys.
Filed in category:
Uncategorised