Ocular Oncology Webinar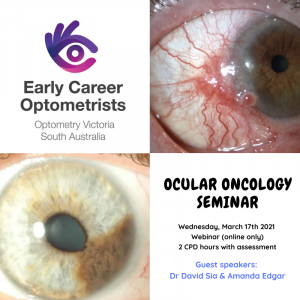 Free to OV/SA Members
The ECOV/SA Committee are delighted to offer this topic for early career optometrists to be held on 17 March 2021 via ZOOM.
ECOV/SA's ocular oncology seminar will provide participants with an update on the utilisation of multimodal imaging for tumour risk factors, as well as information on the latest advances on ocular surface tumour workup and strategies for the management of ocular surface and intraocular malignancies. The speakers will also outline the care pathway for patients undergoing a cancer diagnosis as well as information on monitoring and managing side effects of cancer treatment.
Learning Objectives
How to utilise multimodal imaging for tumour risk factors.
Understand the care pathway for patients undergoing a cancer diagnosis.
Monitoring and managing side effects of cancer treatment.
Revision on ocular surface tumour workup

Advances on ocular surface tumour workup

Management of ocular surface malignancies

Management of intraocular malignancies

CPD Hours

2 Quality Assured hours with assessment
Meet our Speakers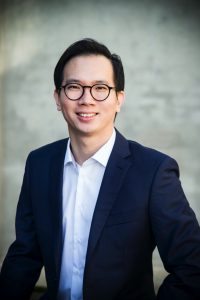 Dr David Sia
Dr David Sia returned to Australia in 2020 with dual-fellowship training in Vitreoretinal Surgery and Ocular Oncology.
David obtained his medical degree from the University of Otago, New Zealand in 2009 and went on to undertake ophthalmology registrar training in Adelaide, South Australia and Alice Springs, Northern Territory.
Following completion of registrar training, David then pursued overseas fellowship training and completed a 13-month Ocular Oncology Fellowship in London, UK at the prestigious Moorfields Eye Hospital, St Bartholomew's Hospital and Royal London Hospital. This was followed by a 2-year Vitreoretinal Fellowship in Edmonton, Canada, at Alberta Retina Consultants. During his fellowships, he gained extensive experience in treating medical and surgical retinal diseases, as well as adult and paediatric intraocular and ocular surface tumours.
Upon returning to Adelaide, David was appointed as a Vitreoretinal Specialist and Ocular Oncologist at the Royal Adelaide Hospital, Flinders Medical Centre and Women's and Children's Hospital where he will be regularly involved in the training of future ophthalmologists and vitreoretinal surgeons. He is actively engaged in clinical research, has published widely and written book chapters. He currently holds a position as Clinical Associate Lecturer at the University of Adelaide. David's private practice locations in Adelaide are Pennington Eye Clinic, Eye Surgeons SA Tennyson Centre, Gawler Eye and Laser and Adelaide Eye and Retina.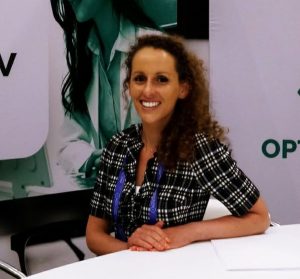 Amanda Edgar
BApSci Medical Radiations, BVis.Sci, MOPTOM
Amanda Edgar is a practicing optometrist and radiation therapist at Peter MacCallum Cancer Centre as well as an academic at the School of Medicine, Deakin University.
Amanda has 12 year's experience treating cancer with a focus on lung, neurological (including ocular) and skin cancers. As an innovative thinker Amanda has developed new techniques for cancer treatment, she was the first clinician in Australia to design and deliver intensity modulated stereotactic radiosurgery that has resulted in increased survival rates for ogliometastatic disease and has become a mainstream treatment option in modern radiotherapy treatment. Her work on tumour motion revolutionised target volume delineation, highlighting the importance of four-dimensional image registration and individualisation of radiotherapy treatment. Amanda has enjoyed leading an interdisciplinary team to create new treatments for ocular neoplasia including her published work on superficial radiotherapy for squamous cell carcinoma of the conjunctiva.
Amanda graduated from the optometry program at Deakin University in 2017 and works in a full scope optometry practice in rural Australia. As a graduate optometrist she was awarded an 'Outstanding Graduate' award from the Australian College of Optometry and an 'Academic Excellence' award from Optometry Australia. Her passion for optometry underpins her involvement in the optometry community where she is the current president of the Deakin University Alumni committee, re-elected for a second term and a committee member for the Geelong Regional Aboriginal Eye Health Group.
In her academic role Amanda has a research interest and publications in cancer treatment, clinical decision making and medical imaging. With her extensive qualifications she has also published textbook chapters in the physics of optics and medical imaging.