Optometry Australia extends a warm invitation to you to register to attend Optometry Virtually Connected & Product Showcase 2021 (OVC) from 18-20 June 2021.

OVC brings together an engaging program of quality live and on-demand education in a highly flexible online environment. Created by optometrists, for optometrists, and with 30 hours of CPD on offer, OVC 2021 will provide you with the opportunity to super-charge your learning requirements over one weekend.
This year's quality assured CPD program, presented by some of optometry's leading educators, includes topics such as:
Emerging technologies
Artificial Intelligence
Gene therapy
Dry eye management
Ocular therapeutics
To help you align OVC 2021's educational opportunities with your individual learning goals, the conference program has been added to Optometry Australia's Institute of Excellence for you to plan accordingly.
And when you undertake a live keynote presentation or on-demand webcast, with an associated optional assessment component, your clinical and therapeutic-classified CPD hours will be automatically recorded in your Learning Plan.
OVC 2021 also gives you the opportunity to explore the latest optometry products available on the market aimed at assisting your patient and clinical management.
Plus, our new interactive OVC digital platform will ensure a superior online experience.
OVC 2021 gives you the opportunity to participate in a world-class clinical conference and product showcase without the need to leave home or to miss your patient appointments.
Associate organisations
OVC 2021 is being held in association with the Asia Pacific Council of Optometry, New Zealand Association of Optometry and New Zealand's Optometrists and Dispensing Opticians Board.
CPD Program
This year, we offer up to 30 hours (15T) of CPD from a program of 10 live webcasts and a series of on-demand webcasts. Live webcasts include:
The Future of Optometry, presented by Assoc Prof Lauren Ayton
Latest Evidence-Based Research in Myopia Management, presented by Dr Kate Gifford
Medical & Surgical Therapies in Anterior Segment Disease, presented by Dr Jim Thimons
Glaucoma: Beyond IOP, VF and OCT, presented by Dr Jack Phu and Sophia Zhang
Presbyopia Solutions and Complex Contact Lens Cases, presented by David Foresto
CXO Presents, (highlights from recent paper on ocular therapeutics) presented by Assoc Prof Maria Markoulli, Dr Alex Hui and Assoc Prof Isabelle Jalbert
Clinical Perspectives on Neurotrophic Corneal Disease, presented by Assoc Prof Mark Roth
New Treatment Strategies for AMD, presented by Prof Robyn Guymer
Management of Intermittent Exotropia with Spectacles, presented by Paul Croucher
Applied Dry Eye Manage in Clinical Practice, presented by Dr Nicholas Young
The full program, speaker bios and topic summaries are available on the OVC 2021 event website. Please note that the program is subject to change.
Opening address
OVC 2021 will be opened on Friday 18 June 2021 at 14:00pm, by Professor Sohail Inayatullah, an Australian academic and one of the world's leading future studies researchers. He is a political scientist, is Professor at Tamkang University, Taipei (Graduate Institute of Futures Studies) and Associate, Melbourne Business School. From 2001-2020, he was Adjunct Professor from the University of the Sunshine Coast, Australia. From 2011-2014, Prof Inayatullah was Adjunct Professor at the Centre for policing, counter-terrorism and intelligence, Macquarie University, Sydney. In 1999, he was the UNESCO Chair in European Studies at the University of Trier, Germany.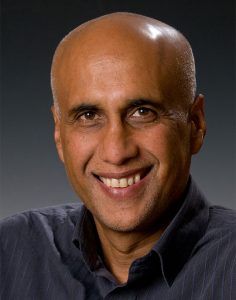 In 2016, Professor Inayatullah was awarded the first UNESCO Chair in Futures Studies. In 2010, he was awarded the Laurel award for all-time best futurist by the Shaping Tomorrow Foresight Network. In March 2011, he was awarded an honorary doctorate by Universiti Sains Malaysia, Penang. He received his doctorate from the University of Hawaii in 1990.
Professor Inayatullah is the Editor-in-Chief of the Journal of Futures Studies and on the editorial boards of Futures, Prout Journal, East West Affairs, World Future Review, and Foresight. He has written more than 350 journal articles, book chapters, encyclopedia entries and magazine editorials.
e-Posters
Optometry Australia is calling for abstract submissions.
Submissions of research-focused abstracts from optometrists and vision scientists, who have a particular interest in translating their research for practitioners, and who would be interested in presenting their abstracts as e-posters at OVC 2021 will be considered. Full terms & conditions including deadlines are available here.
Submissions may be made by optometrists and vision scientists who are members of Optometry Australia, registered to practice in New Zealand and Asia Pacific Council of Optometry member countries. Submissions are now closed.
Delegate Fees
| Optometry Australia Members | Complimentary |
| --- | --- |
| NZAO and ODOB registered optometrists | Complimentary |
| APCO delegates | AUD$165 |
| Non-members, Australian based optometrists | AUD$359 |
OVC 2021 sponsors
Optometry Australia thanks the following sponsors of OVC 2021.
| Alcon | Platinum Sponsor |
| --- | --- |
| Zeiss | Gold Sponsor |
| Rodenstock | Gold Sponsor |
| Viatris | Gold Sponsor |
| Eyetelligence | Gold Sponsor |
| Vision Eye Institute | Gold Sponsor |
| CooperVision | Silver Sponsor |
| Optos | Silver Sponsor |
| Novartis | Silver Sponsor |
| Doctors Health Fun | Silver Sponsor |