Read time:

1:30min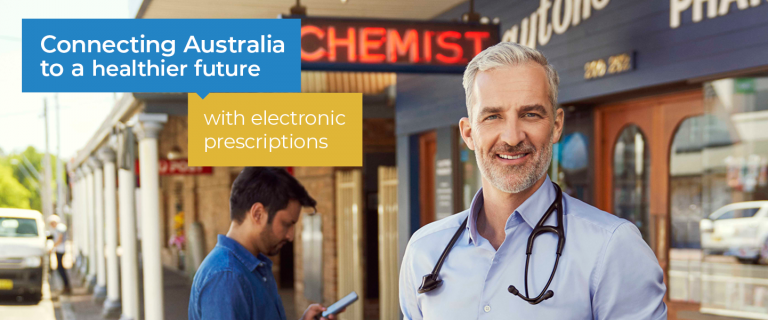 Photo credit, Australian Digital Health Agency
By Helen Carter
Journalist
The delivery of electronic prescriptions has been accelerated by the Australian Government under its National Health Plan for COVID-19.
E-scripts started to be introduced for General Practitioners from the end of May, 2020 and progressive deployment of electronic prescribing in a steady and managed approach is expected by September 2020.
Optometry Australia's General Manager, Policy Skye Cappuccio said: 'Whilst optometrists have been able to use the interim e-prescribing system established during the pandemic period, they are not yet able to participate in this approach as practice management software systems are not yet integrated.
'However, it is important that optometrists are aware of e-prescribing as it's likely to be something patients ask about.'
Electronic prescriptions are an alternative to paper scripts which allow people convenient access to their medicines and will lessen the risk of infection being spread in general practice waiting rooms.
They are sent to patients' mobile phones or emailed to their computers by the GP, or they can be emailed to their pharmacy.
The Australian Government's Australian Digital Health Agency developed the technical framework to support electronic prescriptions. It says electronic prescribing is not mandatory. Patients and prescribers will be able to choose either a paper prescription or an electronic prescription.
When the doctor writes an electronic prescription, they send the patient a 'token' which is an electronic message sent to their mobile phone or computer. It is an SMS or email message (or in an app) with a barcode and some information about the medicine.
Electronic prescriptions meet a high level of privacy and security, are protected and cannot be accessed by anyone until unlocked at the pharmacy. There are no restrictions as to which medicines can be prescribed.
Previously, only a paper prescription signed by a prescriber was the legal form by which medicines could be supplied. Changes to Commonwealth legislation commenced on October 31, 2019 recognising an electronic prescription as an alternative legal form by which medicines can be supplied under the Pharmaceutical Benefits Scheme (PBS).
Upgrades to pharmacy and prescriber software have been implemented and Australia's first electronic prescription in primary care was successfully transmitted in Anglesea, Victoria on May 6, 2020.
For more information read electronic prescriptions for prescribers and Q&A about electronic prescription or check out the Australian Digital Health Agency website https://www.digitalhealth.gov.au/
Filed in category:
Medicare & private billing
Tagged as:
Medicare-MBS-PBS