Read time:

1:30min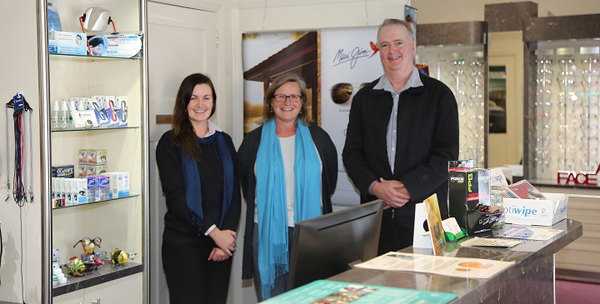 Karen Urquhart, centre, who lost her house and glasses in the bushfire, was very grateful to receive free spectacles from optometrist Peter D'Arcy, right. Optical assistant Caroline Stephens is on the left.
_____________________________
By Helen Carter
Journalist
Despite battling the Tathra bushfire himself and his family suffering losses, optometrist Peter D'Arcy generously donated free spectacles to 40 people who lost theirs in the fires.
Mr D'Arcy lives in the coastal NSW town of Tathra and in the aftermath of the fires, supplied free spectacles to adults and some children whose glasses were lost or damaged in the fires. Virtually all were his patients.
Mr D'Arcy has lived at Tathra for 22 years and has practised in Bega, 18 kilometres away, since 1984.
'Tathra doesn't have a resident optometrist as it is a small town of about 1,700 people. Bega is the closest town with optometrists,' he said.
'After the fires, I provided free spectacles to 40 patients and Medicare covered the cost of the eye examinations, where applicable, so they had no out-of-pocket costs.
'Many professionals, tradies, organisations and generous people all 'round were helping in various ways, let alone the marvellous rural fire brigades, and I wanted to help in a small way as any optometrist would I'm sure if there was a disaster in their home town or patch.
'I made the offer known on my Facebook site, at the evacuation centre and community support sites.
'Having been through the firestorm that day myself and being at the evacuation centre over subsequent days, it was obvious people were desperate for help in virtually every way and many still are. The community from day one has tried to be supportive of each other.'
Jani Klotz lost her house in the Tathra fires and appreciated the offer of free glasses from Peter D'Arcy.

Mr D'Arcy provided some free lenses and frames himself, while others were donated by industry.
'Gail Hoole from Mondottica called me very early on in the piece and offered some free frames. This was totally unsolicited by me, so was most generous,' he said.
'She also suggested I ask the labs so Essilor provided a handful of lenses and Maui Jim donated a pair of sunglasses.'

Safety glasses for fires
Mr D'Arcy also emphasised on his blog the value of wearing safety glasses when there is smoke or fire.
'Some frame and lens materials have better heat resistance and anti-fogging properties than others,' he said.
'Fire grade positive seals of protective eye-wear in the Tathra fires would have been ideal in reducing eye inflammation from smoke as would correct masks and respirators.
'When safety eye-wear fogs up under hot or steamy conditions, workers may take them off, exposing themselves to a variety of hazards. The second risk of fogged eye-wear is impaired vision which can leave people open to injury.'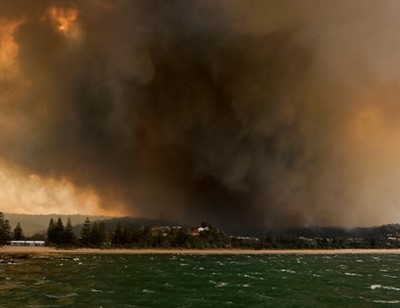 The Tathra bushfire. Photo, Katrina Walsh.

The bushfire on March 18–19 destroyed 69 houses and 30 caravans and cabins, and damaged a further 39 houses. It burnt about 1,000 hectares of residential, farmland and forest areas. About 400 homes were saved.
An emergency evacuation centre for 300 people affected by the fire was set up at Bega Showgrounds.
'I made sure my family evacuated at the earliest opportunity but I stayed there in what was a very surreal afternoon,' Mr D'Arcy said.
'At one stage the firestorm was heading directly my way, and along with some other locals we did what we could and were relieved when it changed direction. My house was not damaged but my mother-in-law Margaret McFadden lost hers.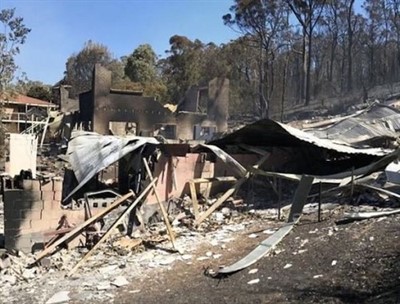 Mr D'Arcy's mother-in-law Margaret McFadden lost her house, pictured. 
'She has received many acts of kindness including a beautiful hand-made quilt made by many people remembering animals who were victims of the fires.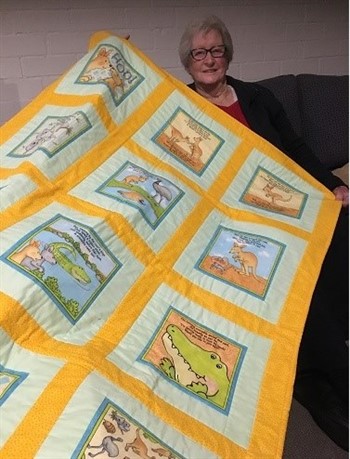 Margaret McFadden with the quilt
'The Tathra community has rallied and helped one another in innumerable ways. Fund-raising is continuing including from beyond Tathra,' he said.
'The outreach and support has been powerful for Tathra. No wonder "I love Tathra" stickers are proudly emblazoned throughout the shire and beyond.'
People can assist the Tathra and district community in its recovery from the bushfire, by donating to the Bega Valley Shire Council Mayoral Appeal Fund.
______________________________
Filed in category:
Members & member initiatives
Tagged as:
Patient management