Read time:

1:30min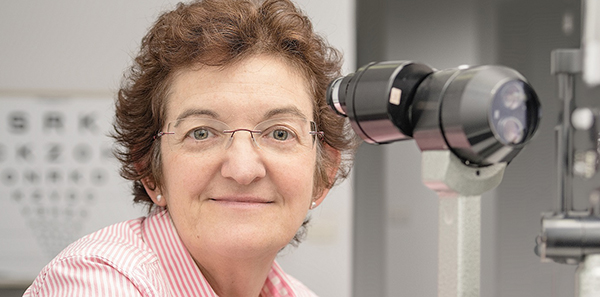 Robyn Guymer, Professor of Ophthalmology at the University of Melbourne and a Deputy Director of the Centre for Eye Research Australia
_____________________________
By Helen Carter
Journalist
A world first study featuring Australian patients shows nanosecond laser appears a promising treatment in slowing disease progression to vision loss in some patients with intermediate AMD.
Participants had intermediate age-related macular degeneration (AMD) so had not progressed to late stage wet AMD or dry AMD.
While wet AMD can be treated with anti-VEGF injections, this was the first time a treatment has been shown to successfully slow progression to vision threatening late disease in those with intermediate AMD.
However, not all groups benefited with some experiencing more rapid progression.
Patients with less severe signs of AMD without coexistent reticular pseudodrusen, representing 76 per cent of study participants, showed nearly a four-fold decrease in progression rate of their disease.
But the 24 per cent of participants who had more severe signs of disease and coexistent reticular pseudodrusen at the start of the trial had a doubling of their progression rate to late stages of AMD when compared to participants who were not treated.
Researchers hope the laser therapy will form the basis of a treatment for people with earlier signs of the disease, before cell death occurs and vision loss occurs.
Lead investigator, Professor of Ophthalmology at the University of Melbourne and a Deputy Director of the Centre for Eye Research Australia (CERA), Professor Robyn Guymer AM, said that while the main outcome was not statistically significant as overall progression to late AMD was not significantly slowed with laser compared to placebo treatment, different clinical groups appeared to respond differently to the treatment.
She announced results of the three-year multi-centred, randomised, controlled LEAD (Lead in Early stages of Age-related Macular Degeneration) trial on Friday 21 September at the International Euretina Meeting in Vienna, Austria. Results were published online simultaneously in Ophthalmology.
Trend to reducing progression if large drusen
She said results showed a promising trend towards reducing the overall rate of disease progression in the treated eye of participants with large drusen which characterise earlier stages of the disease when people still have excellent vision but are at risk of progressing to vision loss.
Professor Guymer said 292 participants with bilateral large drusen, and without optical coherence tomography signs of atrophy, received the nanosecond laser treatment six monthly. Treatment was delivered to one eye, using the Australian designed and manufactured laser, Retinal Rejuvenation Therapy (2RT) Laser, by Ellex Medical Lasers Limited, Adelaide.
The laser stimulates the eye's natural healing response to treat early stages of AMD, targeting the compromised retinal pigment epithelium (RPE) and Bruch's membrane, and appearing to induce rejuvenation of aged cells within the RPE.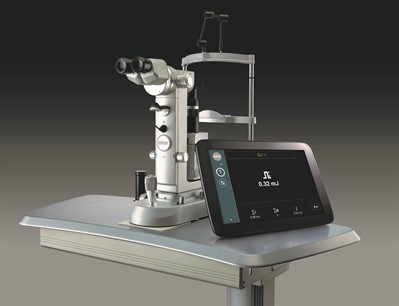 Ellex Medical's patented, proprietary 2RT laser systems are designed and manufactured in its state-of-the-art facility in South Australia. Image, Ellex Medical.
While this new laser isn't a cure, and it is not suitable for every person with early stages of AMD, this is an important outcome in reducing progression to late disease,' she said in a media release.
'If validated in future trials, this will be the first time that a laser intervention has successfully addressed AMD disease progression from its early stages to late AMD in more than 20 years of AMD laser research.'
Professor Guymer wants to conduct further studies to validate initial results, saying these interesting and promising results of a significant treatment effect, modified by the type of AMD present, were important to explore further.
Validation needed
The potential for benefit, representing the first demonstrated specific intervention to slow AMD progression, as well as potential for harm in a specific, more severe clinical group, with nanosecond laser treatment, required validation through a reproducibility study, she said.
'The findings give us reason to be optimistic, but at the same time, highlight the need to better understand the patient selection requirements for 2RT,' she said. 'It is important to note that 2RT cannot be used in all patients with the earlier stages of AMD.
'The laser technique and protocol used, as well as the careful selection of participants based upon the clinical classification of AMD, will be a critical consideration.'
She said that being able to replicate results quickly was important to confirm the benefit and safety profile of 2RT, and it was not possible to extrapolate results to other subthreshold lasers as their mode of action was not the same as the 2RT nanosecond laser.
Professor Guymer said the trial was the first in AMD to base the disease stage on signs seen only on high-resolution imaging rather than relying on what a clinician can see, providing an opportunity to intervene sooner as changes in these very early signs of disease could now be detected and monitored.
'Until now, interventions have started once there is already death of cells and loss of part of the vision,' she said.
Participants were from five Australian sites in Melbourne, Perth, Adelaide and Sydney, and also from Northern Ireland.
_____________________________
Filed in category:
Patient care & management
,
Practice equipment
Tagged as:
AMD
,
Patient management