Read time:

1:30min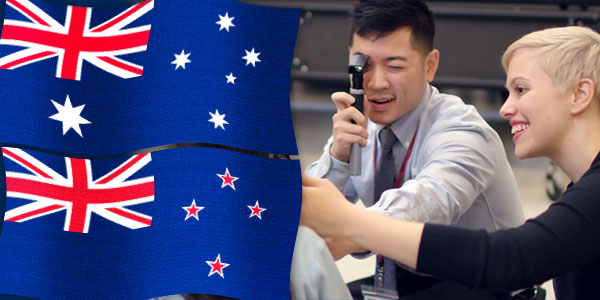 Sarah Wassnig, right, teaching retinoscopy in Boston as Adjunct Faculty at the New England College of Optometry. Photo courtesy of NECO
By Helen Carter
Journalist
Nearly 60 Australian and New Zealand optometrists living and working overseas have joined a newly formed expatriate group for optometrists and vision researchers.
Melbourne optometrist Sarah Wassnig who is now living in the UK, founded Expatriate Optometrists Australia and New Zealand to help expat optometrists navigate the profession overseas and re-establish their careers there.
She said Australian or New Zealand trained optometrists and vision researchers who have since relocated or are looking to relocate to anywhere around the world could join.
Just four weeks after forming the group, there are already 57 members living in countries including the UK, USA, South Africa, Canada, Israel, Singapore and China.
'We've had a lot interest. We are talking over email, starting to connect colleagues living in the same countries and/or cities,' Sarah told Optometry Australia. 'We've reached out to the universities and most of them are posting something on their social media or next newsletter inviting expat optometrists to contact us if they wish.
'I certainly didn't expect such an amazing response although since it is so hard to re-establish your career in a new country, I am not surprised. There are a lot of colleagues out there looking to reconnect with their Australian and NZ colleagues and to support those planning to move.'
Sarah left Australia for the US in 2014 before moving to the UK in 2019 where she is in the process of obtaining her full optometry licence and starting a family. She remains a member of Optometry Victoria South Australia as she continues to practise in Australia when on vacation visiting family and maintains registration with AHPRA.
'No matter where I am teaching or practising, I am the optometrist I am today because of my incredible Australian training and I want to continue to support the Australian optometry community because it's my community,' she said.
'There are so many expat optoms in the UK that once social distancing is a thing of the past "Expatriate Optometrists" will hold a networking function in London and I hope to help arrange similar functions all over the world as this amazing network builds.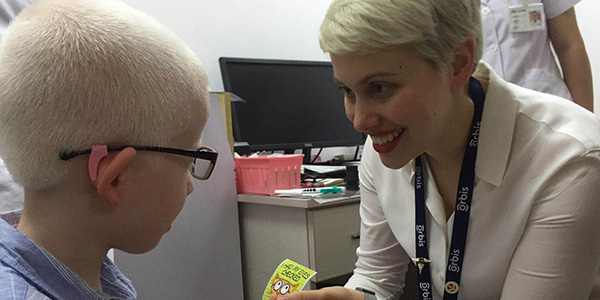 Sarah seeing patients at a low vision clinic in China as Adjunct Faculty at the New England College of Optometry
'Optometry is so different across the world. Each country not only has its own qualifying hoops, as it should, but also how they identify as a profession and the role they play within society is completely different. Knowing someone who has previously navigated the professional culture is invaluable to someone who has just moved abroad.
'Also, after practising and teaching in so many countries, I am incredibly proud of Australian and New Zealand optometry – our level of education is exceptional and our broadness of practice on an individual level is like no other in the world as far as I am concerned.
Newsletter coming
'It is hard to stay connected with the Australian/New Zealand profession if you have moved overseas for an extended period and I want to help our expat clinicians keep in touch with what is happening. Over the next few months, I hope to release our first newsletter to our members talking about what people are doing overseas but also what is happening in the Aussie and Kiwi professions.
'As someone who has re-established her career in two different countries now, I know just how hard it is and how wonderful it is to know someone else in the profession in your new country. This group is a way for expat optoms to keep in touch with Australian and New Zealand optometry and to meet other expat optoms in their new country.
'Aussies and Kiwis stick together, no matter where we are in the world or our professional title, it's always nice to connect with fellow expats. Specifically, what is bringing the expat optometry community together – anyone established in a new country knows how hard it is to navigate moving overseas and anyone looking to move has a million questions. I've had so much interest from both those established abroad and those looking to move.'
Connecting people is a major role of the group.
Meet ups, post COVID-19
'So far, I have been introducing different members through email, mostly those new to a country with someone established and happy to answer questions. We face an incredibly difficult time at the moment with COVID-19, but once this pandemic has passed, I hope to be able to connect local networks with in-person meet ups,' Sarah said.
'In upcoming months, I look forward to posting our first newsletter to the group with a feature or two on optometry abroad and a feature on Australian and New Zealand optometry. I have had a lot of interest from members wanting to help, so with time, events and newsletter features will be something that is membership run, I hope.
'In 2014 my husband and I moved to Boston for his work and I spent the first year completing my Master of Public Health then spent the next six months navigating the US optometry profession,' Sarah said. 'It was a tough transition. I was lobbying for the inclusion of glasses for children in the Essential Health Benefit Scheme at the Massachusetts Division of Insurance when I met optometrist Gary Chu and my connection with the New England College of Optometry blossomed from there.
'I worked there as an Adjunct Faculty member as a lecturer, clinical tutor and clinical supervisor. Later, with Dr Chu, I developed a relationship between the College and Orbis International to extend Orbis' education to include optometry, which allowed me to teach throughout Africa and China.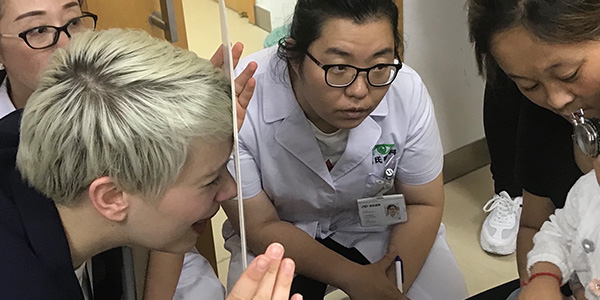 Sarah assessing Teller acuity in a low vision clinic in China as Adjunct Faculty at the  New England College of Optometry 
Hard to navigate the profession at first
'In the US I met a lot of Australian optometrists and researchers doing some pretty amazing things, all taking different paths in the end but all with the same story – it was hard to know how to navigate the profession when they first moved.
'In 2019, my husband and I moved to the UK. Meeting expatriate optometrists in the UK and learning from their experiences has been invaluable in helping me navigate and understand the registration process.'
Since arriving in the UK Sarah has been locum dispensing around London to get a feel for the profession in the UK which she said had been invaluable and she has also been connecting with ag organisation in London, Vision Care for Homeless People.
'In the UK I've made some amazing connections with both Kiwi and Aussie optoms, which is great,' she said.
Sarah studied her Bachelor of Optometry at the University of Melbourne, class of 2010, and Specialist Certificate in Management of Paediatric Patients there in 2016. During university and the year following she was mentored by John Jennings and David Southgate at Eyecare Collins Place/Specsavers in Melbourne CBD where she learnt orthokeratology and the importance of retinoscopy.
'I think of John often when trying to drum into students that retinoscopy is the most important skill they'll ever learn. When I graduated, I split my time between metropolitan and rural practice with Specsavers Collins Place and Kosmac & Clemens in Castlemaine. In 2012, I moved to Kosmac & Clemens Kyneton and Woodend full time.
'Ian Clemens remains my biggest mentor and supporter – I am the broadly skilled clinician I am today because of Ian. This time in Central Victoria also sparked my passion for public health and the importance of local advocacy, as I was encouraged to connect and work with health professionals throughout Central Victoria to achieve better patient outcomes.
'In 2016 I found I was spending a lot of time with paediatric patients and teaching paediatrics. Working with kids had always been my favourite patient group, so it seemed fitting to undertake the specialist certificate offered by the University of Melbourne.'
Plans for the expat group include monthly skype meetings, a Facebook page and supporting each other via email including to give each other ideas, support and assistance about how to re-establish their careers overseas. People can join by emailing expatoptoms@gmail.com and they will be put on the mailing list and connected with someone if they have questions straight away.
Filed in category:
Sector news
Tagged as:
International