Read time:

1:30min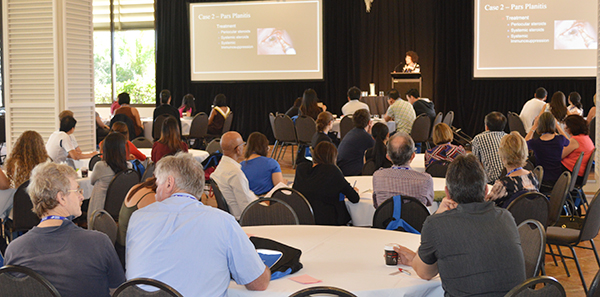 A workshop at AVC 2016
______________________________
By Rhiannon Riches
Assistant Editor
Scott Read's address on his finding that myopia in children is caused by a lack of sunlight and not by electronic devices was a feature of the Australian Vision Convention last weekend.
Optometry QLD/NT president Dr Stephen Vincent said the presentation from Associate Professor Read on light exposure and myopia control had been the highlight of the conference, and was showcased on the syndicated Channel 7 national news.
The news report then attracted attention on Facebook.
Australian Vision Convention attracted more than 450 delegates at its new location at the Marriott Hotel in Surfers Paradise on 2-3 April. Optometry QLD/NT CEO Cathryn Baker said there had been 'overwhelming' enthusiasm for the conference.
'We have had positive feedback that the venue and new format had a friendly and warm atmosphere, the workshops were innovative and the conference itself offered strong, clinical content, which we stake our integrity on,' Ms Baker said.
She said the breakfasts had been booked to full capacity four weeks prior to the conference, and the workshops were also fully booked.
Exhibitors were well-served by the new venue and their comments have also been positive.
'I'm already taking bookings for the trade floor next year,' Ms Baker said. 'We put good systems in place to ensure the conference ran smoothly, and gave the Marriott a very tight brief which it stepped up to.'
Optometry Australia CEO Genevieve Quilty praised the new venue.
'The new conference location worked well. Many members and exhibitors stayed at the Marriott, enjoying relaxing in their own space with the convenience of the event and accommodation at the one venue.'
Filed in category:
Uncategorised