Read time:

1:30min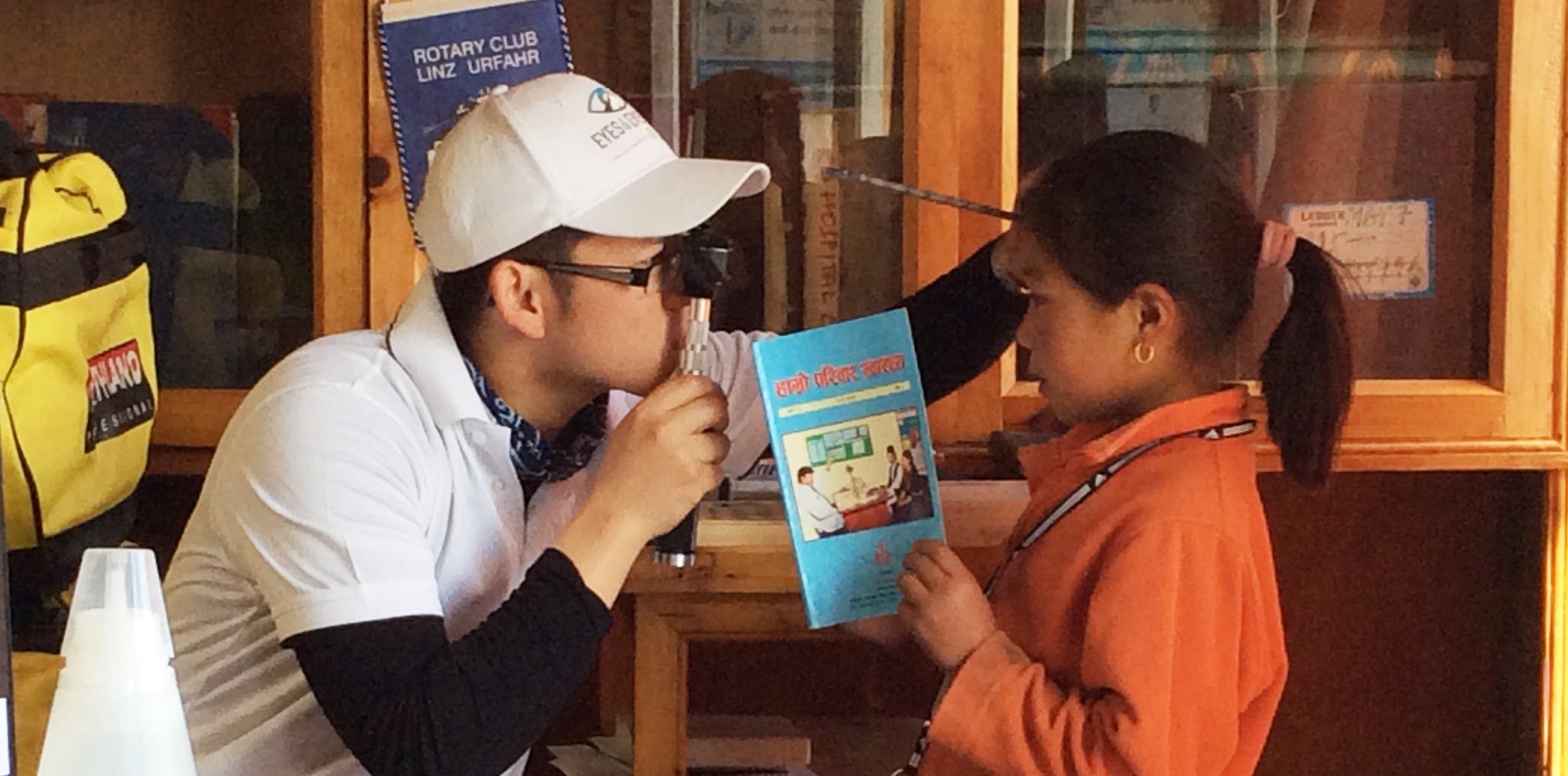 Shaun Chang examines a Sherpa child
_____________________________
Snow storms prevented Sydney optometrist Shaun Chang from completing a trek of Mount Everest last year but what he saw in a hospital on his walk down the mountain made him pause.
'We had to turn back and I stumbled on this hospital, built by my childhood hero, Edmund Hilary. I met him twice when I was in high school,' Mr Chang said.
Sir Edmund built the Khunde Hillary Hospital for the local Sherpa people, along with a string of roads, bridges and schools.
Locked in storage were bags of old glasses and optical equipment that had been donated over the years.
The hospital staff told Mr Chang that there were children in the region who couldn't see as far as the classroom blackboard, but expertise and facilities were not available to help them improve their vision.
Mr Chang spoke with the head doctor and spent the afternoon teaching staff to use optical equipment.
In September, Mr Chang and three team members returned to the Khumjung Everest region of Nepal to train the hospital staff in vision screening. They introduced the staff to the basic concept of primary eye care and tested the eyes of more than 150 school-aged children.
The team, Eyes4Everest, included Jenny Hsieh, a Brisbane optometrist, and Carina Trihn, an optometrist from theeyecarecompany in Sydney. Mr Chang's brother, pharmacist Hong Chang, also travelled with them and assisted in sorting the hospital's inventory of medicine.
Shaun Chang said high blood pressure and diabetes were an issue in the mountains.
'Mostly because they don't have access to much fresh food, a lot of foods are preserved. Diabetic medication and insulin injections were some of the things that they needed,' he said.
'Many of these kids were very longsighted. They had an incredible ability to see far away in fine detail, but being very longsighted, of course you're going to have to work harder to read and that's probably where the headaches are coming from.'
The team found several cases of shortsightedness and macular dystrophy. One girl suffered from malnutrition.
'Kids, even at a very early age, had sun damage to their eyes. Snow blindness is a big issue and many of these kids don't have sunglasses. Perhaps that's why we're getting these early changes,' Mr Chang said.
The team members self-funded their trip but the equipments and uniforms for the eye clinic were donated by CR Surfacing, an independent lens manufacturer in Melbourne. Shaun Chang's colleagues provided ophthalmoscopes, manuals, books, stationery and uniforms.
One of the main reasons the group conducted vision screening and eye testing was to undertake statistical analysis when they returned to Australia. To the best of their knowledge, an eye-health report has never been written on the group of people who live in the Everest region of Nepal.
It is hoped that by writing a report, it will lay the foundation for seeking funding and it may be presented to the Nepalese government.
'Having a report means we could have additional funding … we would know what resources we need for a second team,' Mr Chang said.
'We want to make it a recurring thing. We'll always need volunteers to come back to make sure they're doing the right thing. We're going to have people who will eventually start teaching refraction and so forth,' he said.
Optometrists who are interested in taking part in a 2015 trip to Nepal are invited to contact Shaun Chang by email at eyes4everest@gmail.com.
For information about the Eyes4Everest project visit www.eyes4everest.org.au
Filed in category:
Uncategorised