Read time:

1:30min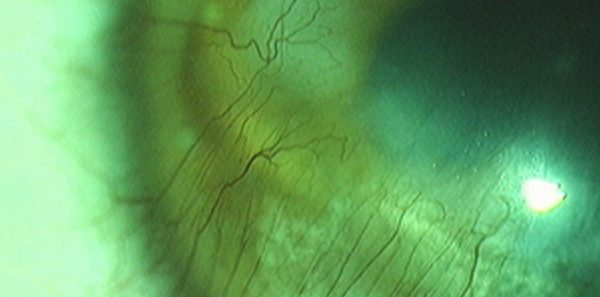 Corneal neovascularisation   Image: Michael Hare
______________________________
By Sandra Shaw
National Communications Manager
Two leaders in the contact lens field are advocating that the profession's approach to aftercare visits is too conservative and that greater flexibility could be introduced safely.
In their article that leads the September special Contact Lenses issue of Clinical and Experimental Optometry, Professor Emeritus Nathan Efron and Professor Philip Morgan say that as a result of significant advances in contact lens technology over the past three decades, contact lens wear is more 'user friendly' than ever before, but that the approach adopted by practitioners has not fully evolved from the difficult, early years of fitting non-regular replacement rigid and low water content hydrogel lenses.
'Aftercare is one of these core aspects of contact lens practice that we all tend to take for granted,' Professor Efron told Australian Optometry. 'From time to time we need to re-evaluate even our most basic clinical practices to assure ourselves that these are consistent with current technology, and Philip Morgan and I have identified the contact lens aftercare visit as being in need of a refreshed approach.'
The review titled 'Rethinking contact lens aftercare' identifies four key clinical reasons for conducting a routine aftercare visit: preserving ocular health, maintaining good vision, optimising comfort and ensuring satisfactory lens fitting performance. Commercial reasons for conducting aftercare visits are also considered.
The authors propose that in many circumstances the 'somewhat inflexible' approach of the past of advocating six- to 12-monthly aftercare visits for all lens wearers could be relaxed.
'To assist practitioners in choosing the most appropriate aftercare frequency for a given patient, we have included a "decision matrix" in our paper that takes into account lens type, modality of wear and refractive status,' Professor Efron told Australian Optometry.
'Regulatory authorities charged with the responsibility of stipulating the validity of a contact lens prescription should continue to allow optometrists to set an expiry date relevant to the circumstances of individual lens wearers,' they say in their review.
Professors Efron and Morgan acknowledge that the evolution of contact lens technology and clinical practice over the past three decades has been remarkable, with dramatic improvements in material biocompatibility, better lens designs and care systems, and more flexible and convenient modalities of wear.
They note that practitioners have many options in terms of lens material, designs and replacement frequencies, so that contact lenses can be more closely aligned to the optical, physiological, lifestyle and financial requirements of individual lens wearers.
The extensive, 21-page review covers current aftercare practice, the preferred frequency that lens wearers should return for routine visits and the appropriateness of regulations governing contact lens prescription expiry.
Evidence
The authors say empirical evidence is required to determine the optimal aftercare visit frequency for contact lens wearers. This could be achieved by conducting a controlled, double-masked and randomised study in which lens wearers were randomly assigned to groups that were advised to adopt various aftercare visit frequencies. Such a study would be expensive and take many years to complete.
Their conclusion is that until such a study is undertaken, optometrists must decide on the optimum aftercare frequency for each lens wearer, based on demographic, general health and ocular considerations; the likelihood of compliance with instructions; the type of lenses being worn; and the prescribed lens replacement frequency.
Professor Efron added: 'Here we have re-examined just one aspect of contact lens practice, albeit a key one. The profession must remain vigilant and be prepared, from time to time, to re-evaluate all aspects of optometric practice to ensure that what we are doing matches technological advances in the field.'
Professor Efron is affiliated with the School of Optometry and Vision Science, Queensland University of Technology. Professor Morgan is Director of Eurolens Research at The University of Manchester, United Kingdom.
READ
Rethinking contact lens aftercare 
Filed in category:
Uncategorised