Read time:

1:30min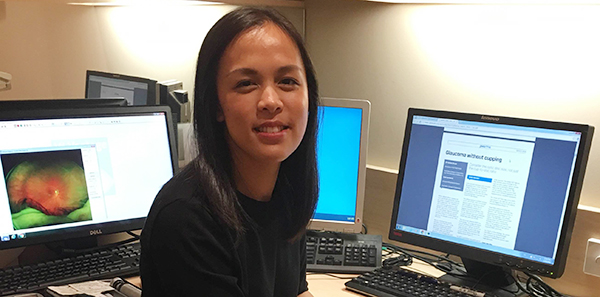 Kathy Nguyen
______________________________
By Helen Carter
Journalist
Early career optometrist Kathy Nguyen from OPSM Berwick in Melbourne's south-east is the first optometrist to have completed Pharma's online CPD module.
Since the March issue on glaucoma was published online on 4 March, 127 optometrists who are members of Optometry Australia have gained CPD points by answering questions in the module.
Pharma is Australia's leading magazine on optometric therapeutics and clinical care. The online CPD modules are a new, exclusive service for members, offering up to 26 CPD points this year.
'I received an email from Optometry Australia mentioning the CPD so I clicked on it and did it,' Ms Nguyen said. 'I had just attended SRC that weekend and I was in the mood to learn and read about optometry. I saw it and thought I'll do it and knock out a bunch of CPD.
'It was easy doing it at home and I'll definitely do it again. I like to read those articles anyway and this is just a bit extra to do to get your CPD points. It's a good way of getting your CPD. You could even do some of the reading at work in the quiet times or answer some questions.
'It's also good because it ensures you have understood and helps cement the information in your mind,' Ms Nguyen said.
She encourages other optometrists to answer the questions. 'I am sure a lot of members read the articles and will do the questions.'
Optometrist James Laird from OPSM Noosa was also quick to take up the offer after he received the Optometry Australia email alert and clicked on the links. Mr Laird, who has been practising for 28 years, said he found doing CPD online very convenient.
'It was really good. The articles were nice and short and clinical. They were concise and to the point, not waffly or wordy; it was good learning,' he said.
'I answered the questions over two days at work in between patients. I did a few questions then logged out when I saw a patient. I then logged back in and continued and when there was a 'no show' I answered six more questions.
'I really enjoyed it and I got eight CPD points and thought "beautiful!" '
Optometry Australia's national professional services manager Luke Arundel and professional development officer Andrew Kotsos wrote the questions, which are approved and accredited by the Optometry Board of Australia.
'We are pleased to be offering an accredited, independent CPD platform to complement the face to face CPD conferences delivered by Optometry Australia's state organisations,' Mr Arundel said.
'We hope the modules are of benefit to our rural and remote members and busy optometrists who prefer to undertake CPD in the comfort of their own home at any time that suits them.'
The March 2016 special issue on glaucoma offers eight accredited, therapeutic CPD points. Members can read the issue then answer 40 multiple-choice questions to acquire points. Pharma will offer six points in each subsequent issue.
Pharma is produced with the assistance of its clinical editor Associate Professor Mark Roth. It is published in print and online, and is a benefit of membership of Optometry Australia.
The Pharma CPD modules are housed on the ProProfs website portal. Members are required to login with their name, six-digit member number and email address. They can save their answers and return at a later date to complete questions.
The modules will remain open until 30 November 2016. Members who don't achieve a 70 per cent pass rate the first time can retake the test. A certificate will be emailed to members on completion of the module and the points will be logged into their MyCPD account.
Members
Read the March 2016 Glaucoma special issue.
Answer the multiple choice questions on the Pharma online CPD module.
Go to your MyCPD account.
Filed in category:
Uncategorised