Read time:

1:30min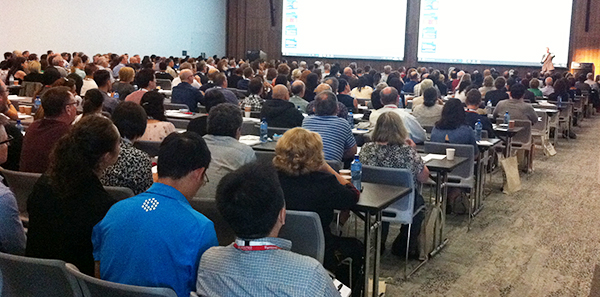 By Sandra Shaw
National Communications Manager
Super Sunday 2017 was a record-breaking day for CPD in New South Wales, and Optometry NSW/ACT CEO Andrew McKinnon is delighted with the attendance.
'Delegates won't turn up unless the program inspires them and based on comments made throughout the day, the organising team certainly delivered both interest and relevance in spades. A total of 551 delegates registered for the day and were greeted by the best Autumn weather imaginable,' he said.
'The venue was the new International Convention Centre at Darling Harbour, an iconic new structure with sweeping views over Darling Harbour and Cockle Bay.
'Through our partnership with Silmo Sydney, Super Sunday 2017 was able to attract its biggest crowd ever, around 10 per cent more than our previous highest attendance,' Mr McKinnon said.
Gary Fitz-Roy, managing director of Expertise Events which was the event organiser for Silmo Sydney, thanked the whole industry for its support and encouragement of the trade exhibition.
'The industry embraced it and the comments about the professional relaxed environment sums up the whole event,' he told Australian Optometry.
'Those who attended the Mega Rox Party celebrated a fitting end to the event as we had beautiful weather and the backdrop of one of the world's best harbours.
'Due to legal proceedings we are not releasing [attendance figures] at this stage. I can say that I believe we were down on what we expected and the perception everyone had after our marketing roll-out.'
He said the 'talk' was overwhelmingly about the quality of buyer, and the broad national and international reach of visitors, and that the orders placed over the three days surprised the vast majority of people.
Mr Fitz-Roy said there appeared to be a lot of support for proceeding in 2018.
'As I had committed to from the launch 12 months ago, the decision on frequency would be made post event and after we have concluded the research of exhibitors and visitors, which we should conclude within the next two weeks,'  he said.
Filed in category:
Uncategorised