Read time:

1:30min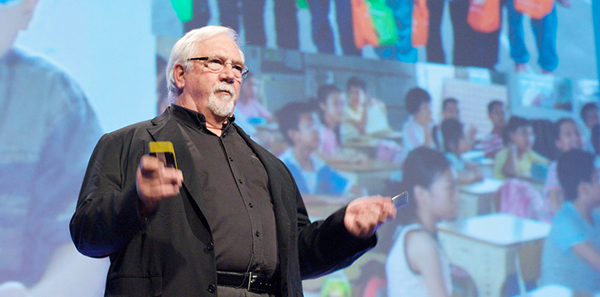 By Rhiannon Riches
Professor Brien Holden died in Sydney yesterday.
In a statement released by the Brien Holden Vision Institute today, Deputy CEO Professor Kovin Naidoo said Professor Holden was a man of extraordinary vision who had devoted himself to the service of mankind.
'He demanded that the research be indivisible from the service to society. He was truly an intellectual giant in eye health and vision, a powerhouse driving change by mobilising teams globally united in science and service to the disadvantaged of our world,' he said.
Professor Holden was a founder and CEO of the Brien Holden Vision Institute, a driving force in vision research that will stand as his enduring legacy. He was also Professor at the School of Optometry and Vision Science at the University of New South Wales.
Professor Brian Layland, chairman of the Brien Holden Vision Institute board, has paid tribute to his life-long friend.
'Brien's efforts and achievements have been recognised, applauded and adopted worldwide. All who have worked with him will have fond memories to cherish; all will miss him. His legacy will encourage all to strive to achieve the goals he had set,' he said.
Lauded as a global leader in eye care and vision research, Professor Holden was founder and director of the Cornea and Contact Lens Research Unit at the School of Optometry and Vision Science, director of the Cooperative Research Centre for Eye Research and Technology, a founding director of the Institute for Eye Research, co-founder of the International Association of Contact Lens Educators, founding president-elect of the International Society for Contact Lens Research and founder of the Optometric Vision Research Foundation.
Professor Holden was an internationally awarded scientist and humanitarian who graduated from the University of Melbourne with a Bachelor of Applied Science in 1963 and from City University, London, with a PhD in 1971.
His contribution to optometry and vision science was recognised with international awards including honorary Doctor of Science degrees conferred by the State University of New York, Pennsylvania College of Optometry, City University London, University of Durban-Westville in South Africa, Ohio State University, and the Universite de Montreal in Canada, and a Doctorate of Humane Letters, Honoris Causa, from the University of Houston.
In 1997, Professor Holden received the Medal of the Order of Australia for contributions to eye care research and education.
Professor Holden was a beloved husband, father and grandfather.
Filed in category:
Uncategorised