Read time:

1:30min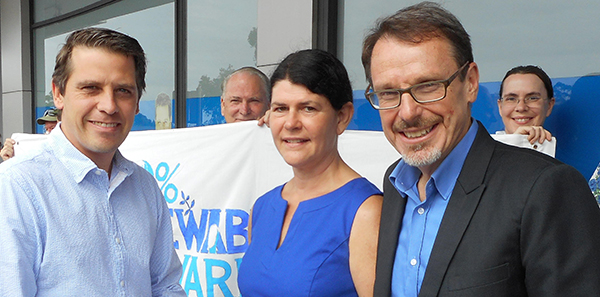 Optometrist Elena Martinez with Labor MP Ryan Park (L) and Greens MP John Kaye
__________________________
By Rhiannon Riches
Wollongong optometrist Elena Martinez stood for the Greens in the New South Wales state election on 28 March, as a candidate for the electoral district of Keira.
Ms Martinez secured 13.81 per cent of the vote, behind Labor's sitting member Ryan Park (53.84 per cent) and Liberal candidate Phillip Clifford (27.37 per cent).
In the lead-up to the state election, The Mercury asked all candidates in the Illawarra electorates, including Keira, to list their health priorities for their electorates.
'As an optometrist in Wollongong, I see inadequate funding in the public health system. People without private health insurance need to wait up to 12 months to have cataract surgery. There are also long waiting times at emergency departments. More funding is needed in health. This can be achieved if we make it a priority,' Ms Martinez told The Mercury.
Ms Martinez said both she and her husband were politically aware and active.
Her husband, Dr George Takacs, a lecturer in Physics at the University of Wollongong, is currently serving as a councillor for Wollongong City Council and has previously contested state and federal elections.
Ms Martinez was campaign co-ordinator for her husband's previous campaigns, and when he chose not to run this year, she 'put her hand up and was preselected'.
She continued to work as an optometrist two days a week at Peoplecare Eyes and Teeth in Wollongong during her campaign, while volunteering in a Bush Tucker garden program at a local primary school.
'During the campaign, many people would stop me and say "You're my optometrist". During consultations, many patients would say that they just saw my photo in the paper, or my face on posters around the streets.
'When I was handing out fliers at a polling booth on voting day, one patient came up to me wearing dark glasses and a big grin saying, "I can see, I can see" as he had just had cataract surgery.'
Another Peoplecare employee, Mark Jones, ran as a candidate for the Liberal party in nearby Shellharbour.
'I was careful not to represent the practice in my views, or Optometry Australia either. I was representing the Greens, and the Greens believe that access to health services is a basic human right and should be based on health need, not on ability to pay.
'I wanted to keep my professional work separate from my political aspirations,' she said.
Ms Martinez said the campaign trail had been a valuable experience.
'I found I was comfortable having one-on-one interactions with members of my electorate at street stalls and when door-knocking. I think that is because, as an optometrist, I am used to speaking at ease with patients who I have never met before,' she said.
She said speaking in front of an audience or a camera was more challenging.
Although Ms Martinez was not successful in winning the election, she said the experience had shown her that there was support in the community for women in politics.
'A lot of women congratulated me on representing them,' she said.
Ms Martinez is a member of Optometry NSW/ACT and has a profile on Facebook as a Greens candidate: www.facebook.com/ElenaMartinezGreens.
Filed in category:
Uncategorised