Read time:

1:30min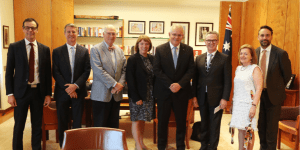 From Medicare to therapeutic prescribing, Optometry Australia has a long and successful history of advocating for change for the optometry sector. Again, there is currently robust activity underway to enhance the way optometrists can meet the needs of our communities by working to full and evolving scope of practice, and to ensure that the health system is making best use of our highly skilled workforce.
While efforts to change policy can take years to succeed, as was the case with Medicare, which took 25 years of concerted effort, CEO Lyn Brodie said: 'We must ensure that eye health remains on the political agenda. It's also imperative that decision makers have a thorough understanding of how our workforce can assist to ensure access to timely and affordable eye care.
'Of utmost importance is reminding both politicians and policy decision makers that while optometrists perform 10 million eye examinations annually and are appropriately the first port of call for 80% of people, their skills are being seriously under-utilised compared to our counterparts in similar developed nations and this is adversely impacting Australians'.
Lyn explained that, 'The 2022 Federal election provides the ideal platform for us to be igniting conversations, particularly amongst sitting and candidate politicians, about the timely diagnosis and treatment of eye disease in Australia.
'This means strongly emphasising to them how the prevalence of eye disease is increasing with our ageing population. Our message is clear: 90 per cent of vision loss is preventable or treatable with early detection.
'To achieve this goal, we will be rallying our members to join us in sending this message to our sitting and aspiring federal representatives.'
Lyn added that the organisation has identified practical solutions to address these problems which are tabled in Optometry Australia's Optometry 2040 strategy and recently released Working Together for Better Eye Care policy platform.
'There are simple and practical solutions that would help to unleash the full power and skills of optometrists and there is no time like the present to advocate putting these solutions into action', she said.
Significant milestones
Achieving Medicare rebates for optometry consultations is Optometry Australia's most significant achievement in its 100-year history.
The organisation lobbied for nearly 25 years to have optometry included in the national health scheme and in 1975, when consultations become eligible for government subsidy under Medibank there were four items for optometry in the Medicare Benefits Schedule (MBS).
Four decades of sustained lobbying for rebates to be retained and expanded has seen that grow to 32 optometric MBS items, plus four items supporting patients to access tele-ophthalmology.
Another major highlight was the removal of the Medicare fee cap, Which enabled optometrists to set their own fees from 1 January, 2015. Optometry Australia has also worked hard on therapeutics legislation and endorsement.
Current focus
The organisation is now working hard to ensure the full scope of optometrists' skills are used in eye care pathways and to extend optometry's scope of practice in order to increase access to safe, quality eye care, and to reduce the prevalence of unavoidable blindness and debilitating eye disease among the Australian population.
This includes advocating for the extension of optometrists' clinical scope to enable them to prescribe oral medications, and the more effective utilisation of optometrists to support the provision of intravitreal injections for AMD and DMO.
Optometry Australia is also seeking the introduction of integrated collaborative care models between ophthalmologists and optometrists, the establishment of consistent referral guidelines between the two professions and the introduction of telehealth for brief optometry consults.
These strategies are outlined in the organisation's recently released policy platform: Working Together for Better Eye Care.
Advocacy milestones
While celebrating Optometry Australia's centenary in 2018, a list of 100-year milestones was created, which we continue to update:
1918 – Australasian Optometrical Association established
1941 – Full-time optometry course commenced in Victoria, which was jointly at the Australian College of Optometry and The University of Melbourne, with Jonathan Nathan as the first registered student.
1954 – First optometry course established at University of NSW
1970 – Optometrists win the right to make direct referrals to ophthalmologists
1975 – Optometrist consultations become eligible for government subsidy under Medibank (now Medicare)
1985 – Veterans can attend optometrists without prior medical approval, after association lobbying
1986 – ACT optometrists join colleagues in NSW and Victoria in being legally allowed to administer diagnostic drugs, followed in 1987 by Queensland optometrists and 1992 by WA optometrists
1991 – In the first therapeutic drug move, AOA pushes for legislative change to allow optometrists to use topical ocular drugs to treat anterior infections and other minor disorders; Medicare to pay same benefit for spectacle prescription consultations whether by optometrist or ophthalmologist
1993 – Australian Optometrical Association successfully lobbies to have Keating government decision to remove the Medicare rebate for optometric consultations overturned; AOA develops entry level competency standards
1994 – Medicare introduces the short consultation item 10906; WA wins right to use mydriatic and cycloplegic drugs in children under eight; SA optometrists permitted to use diagnostic drugs
1996 – Victoria becomes first state to legislate to let optometrists use and prescribe S4 drugs
1998 – In most significant change to optometry since Medicare, Victoria approves list of 41 therapeutic drugs for use by optometrists; Federal government recognises optometrists' role in reducing diabetes toll by including optometry in national diabetic retinopathy advisory group.
2000 – Therapeutic drugs list includes glaucoma medications; Tasmanian law enables practitioners to use and prescribe therapeutics
2002 – After 17-year fight NSW Optometrists Bill passes granting therapeutics access
2004 – NT practitioners gain access to ocular therapeutics
2006 – Increase in MBS scheduled fee from 85 to 100 per cent for DVA consults
2007 – The first optometrists are granted authority to prescribe therapeutic drugs in NSW; ACT legislation gives optometrist right to prescribe therapeutics; Legislation includes optometric prescriptions in the PBS
2008 – Prescriptions for medications written by optometrists become eligible for government subsidy under the PBS
2009 – Topical glaucoma medications prescribed by optometrists included in PBS; First SA optometrists authorised to prescribe ocular therapeutics
2010 – OAA plays key role in supporting profession's move to a national registration system; WA optometrists get access to prescribe therapeutic medications
2011 – Doctor of Optometry course launched at University of Melbourne
2015 – 'Cap' on fees optometrists could charge under Medicare removed after Optometry Australia lobbying
2018 – OA recommendations submitted to MBS Review on amending the Optometrical Schedule of Services to best meet the eye health needs of the population
2021 – Optometry Australia formally encourages OBA to consider regulatory changes necessary for optometrists to prescribe oral therapeutics
Filed in category:
Advocacy & government
Tagged as:
advocacy
,
policy