Read time:

1:30min
Helen Carter
Journalist
Twelve promising young optometry students who aspire to be future leaders in the industry have successfully completed Optometry Australia's second student leadership program.
The students, representing the nation's six optometry schools, took part in the Optometry Australia 2020 Student Leadership Program in Melbourne from January 20 to 22, 2020.
The program was designed to give them skills needed to become part of the profession's future leaders.
Event organiser, Policy and Advocacy Manager at Optometry Australia Sarah Davies, said the program was an important element of Optometry Australia's work to create the preferred future identified by the Optometry 2040 project, by ensuring that optometrists are equipped and supported to meet the technological, economic, demographic and social changes facing the profession.
'The program achieved its intention – to bring together bright, like-minded optometry students who already show leadership qualities, and provide them with the tools and resources to support them on their leadership journey throughout their careers,' she said.
'Optometry Australia was delighted to be able to support the selected students to travel from across the country and participate.
'We, and the sector leaders who had the opportunity to meet and talk to the students, were inspired by their passion and drive to further the optometry profession in so many diverse and innovative ways across their careers. We hope they got a lot out of the experience, and look forward to continuing to work with them into the future to make their ideas a reality.'
Sessions including 'Leadership: Trends and Challenges, 2020 and beyond,' covered topics such as leadership theories, styles, the responsibilities of leadership, using the right style for the situation, setting a culture and defining morals and ethics.
Students also participated in a Q&A session with three panellists and Optometry Australia member optometrists, Mitchell Anjou AM, Katrina Yap and ZhiChao Wu.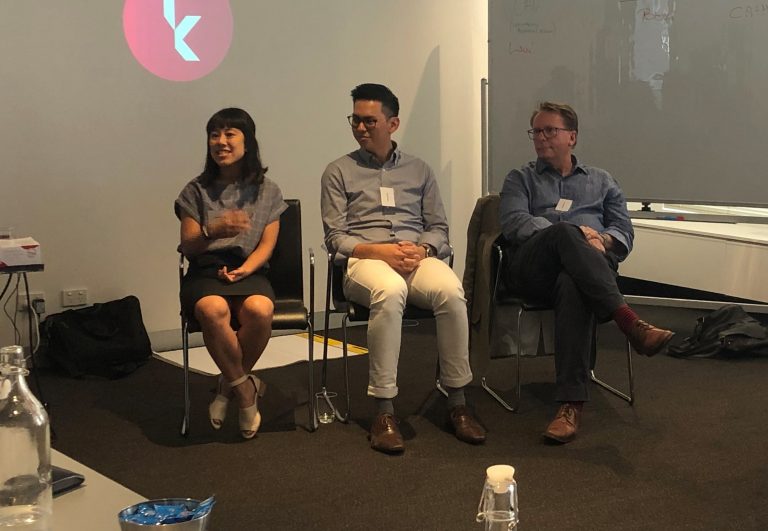 Sector leaders, L-R, Katrina Yap, ZhiChao Wu and Mitchell Anjou, AM, taking questions from participants about their career journey, personal leadership style and what they wish they knew when they were graduating
Additional sector leaders and Optometry Australia staff members who joined the students and panellists at a dinner were optometrists Roman Serebrianik, Peter Nixon and Jane Duffy, and Optometry Australia staff members, National CEO Lyn Brodie, General Manager, Policy Skye Cappuccio, Policy and Advocacy Manager Sarah Davies, Professional Development and Clinical Policy Manager Simon Hanna, National Professional Services Advisor Sophie Koh, plus Optometry Victoria/South Australia CEO Pete Haydon.
An evaluation survey indicated most students found networking opportunities with each other and with optometry leaders a valuable aspect of the program, with the opportunity to consider Optometry 2040 and their role within the future of the profession another highlight.
They will continue to meet over the remainder of the year, with joint teleconferences to connect them with the 2019 participants.
Participants in the 2020 program were:
Madeline Baker, Deakin University
Chamasha Dissanayake, University of Melbourne
Bonnie Eather, Flinders University
Liam Hua, Flinders University
Claudia Jiang, University of NSW
Amina Maleken, University of Melbourne
Javid Mohammadi, Deakin University
Lachlan Munro, Queensland University of Technology
Michelle Noronha, University of NSW
Soumil Sharma, University of Canberra
Briana Tsang, Queensland University of Technology
Laura Winkler, University of Canberra
Filed in category:
ECOs & students
,
National & State initiatives
,
Workforce
Tagged as:
ECOs
,
Employment
,
Future
,
Leadership
,
Scope of practice
,
Students
,
Universities