Read time:

1:30min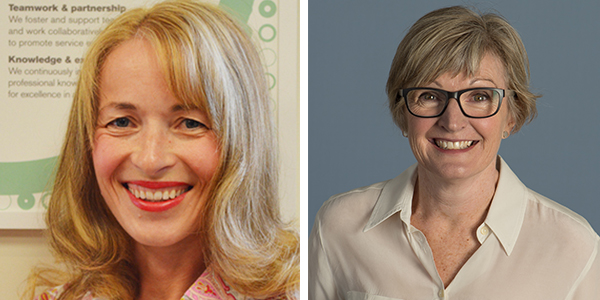 Professor Sharon Bentley, pictured left, from the Queensland University of Technology and Ms Jane Duffy, right, from Deakin University have been awarded the Victorian Optometrists Training and Education (VOTE) Trust grants 2019, for exciting new projects.
The VOTE Trust grants are provided annually and have two key aims: to advance and foster the practice of optometry and, to improve Victorian optometrists' ability to practise and Victorian optometry students' ability to undertake training. Five applications were received in 2019-2020 from organisations in three states. The VOTE funds can be used to support national initiatives providing impact in Victoria is demonstrated.
Professor Bentley's application was made on behalf of all of the Heads of Optometry Schools in Australia and New Zealand. With this remarkable collaboration, the project aims to scope the development of a Leaders in Indigenous Optometry Education Network (LIOEN) which will be dedicated to better educating optometry students to provide improved and culturally safe eye care to Indigenous patients and taking collective responsibility for increasing the number of Indigenous optometrists. A consensus position paper will be developed and published outlining a work plan for the proposed network. The project supports the opportunity to enrich the knowledge and skills of optometry educators and optometry graduates and will also advance vital efforts to 'Close the Gap' for eye health and end avoidable vision loss and blindness among the First Nations communities of Australia and New Zealand.
The project developed by Ms Jane Duffy and her co-investigators representing two other Universities, aims to advance the teaching of 'professionalism' to optometry students by developing an evidence-based curriculum framework for teaching this core attribute to future members of the profession. This curriculum will be developed based on an agreed definition of professionalism in healthcare, which will assist with professional identity formation.  A workshop will be held with invited experts providing guidance and advice about curriculum design and teaching strategies, to which academics and clinicians will be invited to attend.
The VOTE Trust was established in 2010 by the then Optometrists Registration Board of Victoria, from funds accumulated and held by the Board. The Board had ceased to exist with the establishment of a national registration and accreditation scheme and the creation of the Optometry Board of Australia. The VOTE Trust funds are held and administered by Perpetual Trustees, and disbursed on the advice of the Grants Advisory Committee.
The Grants Advisory Committee are: Andrew Anderson, Mitchell Anjou, Alex Gentle, Pete Haydon and Maureen O'Keefe.
To read more about the VOTE Trust visit www.optometryboard.gov.au/About/VOTE-Trust.aspx
Filed in category:
National & State initiatives
Tagged as:
AHPRA & OBA
,
Awards - honours - grants-bursaries