Read time:

1:30min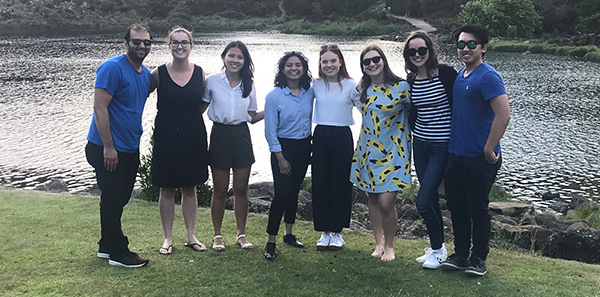 Some members of Early Career Optometrists Tasmania enjoying a recent gathering and welcoming of new optometrists to the state. Ironically, they met at Cataract Gorge, Launceston! L-R, Shazaan Khambiye, Lucy Cochrane, Tran Dang, Anne-Marie Jayatilake, Jocelyn Morgan, Tori Halsey, Sophie Mackey and Jordan Che.
______________________________
By Helen Carter
Journalist
The final links in creating a nation-wide ECO structure are now in place, with Optometry NSW/ACT and Optometry Tasmania supporting the development of Early Career Optometrists (ECO) groups in their respective states.
Optometry Australia CEO Lyn Brodie said that it had been a goal of the federated organisation to build closer relationships with, and to support young optometrists build their careers and networks.
'Optometry Australia's board endorsed the establishment of formalised, state-based ECO groups in March 2017 and developed their national branding. We have since been working with all states including Tasmania, New South Wales and ACT, and their early career optometrists. The more formal establishment of these two final groups completes the picture.
'Our board recognises how important it is to work with younger members at a national and state level because they will lead the evolution and sustainability of our sector.
'We are delighted that a formalised national network is now complete.'
ECO NSW/ACT and ECO Tasmania join other ECO groups established in Victoria, Queensland, South Australia and Western Australia. They work under the auspices of their state organisation which provides mentoring and as needed, administrative and financial support.
ECO Tasmania

Co-chair of ECO Tasmania Tori Halesy says 21 Optometry Tasmania members are classified as ECOs and most have attended their local events.
Tori, who is also a board member of Optometry Tasmania, graduated from Deakin University in 2016 then moved back home to Hobart to practise.
The group has three chairs across the state in different regions – Tori, Shazaan Khambiye and Lucy Cochrane. It formed last year and held quarterly meetings, each in different regions, in Hobart, Launceston, Burnie and Devonport.
The group also runs CPD evenings and informal get-togethers and invites local pharmacists and optometrists to attend.
'I decided to get involved in ECO Tasmania and Optometry Tasmania because I want young optometrists to have a voice and a say in the future of optometry in Australia. It's nice to have input and help the profession develop,' she told Optometry Australia.

ECO NSW/ACT

ECO NSW/ACT is still in its infancy with Optometry NSW/ACT calling for nominations to join its inaugural committee.
Young Optometrists, an independent association, is already well established in NSW and Optometry NSW/ACT plans for the new ECO NSW/ACT to collaborate with YO.
If you are interested in becoming one of the eight ECO NSW/ACT committee members, you can email your cover letter, resume and a head shot photograph by February 22 to audrey@oaansw.com.au or upload your details to Google Forms.

ECO19 lectures at WAVE
An ECO19 event of lectures attracting CPD points on the Sunday morning, 31 March at Optometry WA's WAVE conference is for early career optometrists and includes top speakers. The cost of $95 means discounted registration for WAVE and discounted accommodation.
For information on other ECO groups contact:
Filed in category:
ECOs & students
Tagged as:
ECOs