Read time:

1:30min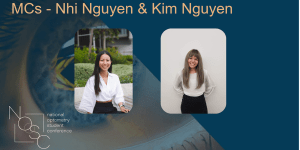 By Nhi Nguyen & Kim Nguyen
Co-chairpersons of the Optometry Student Society Australia (OSSA) 2022
This year, the National Optometry Student Conference (NOSC) was a 1-day virtual event hosted by the Optometry Student Society Australia (OSSA) and held for penultimate and final-year students.
We invited seven guest speakers from all over the country to present on a wide range of topics; from their optometry journey, academic and graduation advice, to expanding scope of practice in optometry and building your own practice. We had six presentations and 87 attendees throughout the day, and there were opportunities for students to ask questions and hear from different optometry schools through our committee members. And we didn't forget to include the annual Kahoot because what's a student conference without a Kahoot?
Our OSSA 2022 committee, a team of 14 students from all seven Australian optometry schools, met virtually every fortnight throughout the last five months to organise the third NOSC. We worked towards creating a safe and inclusive platform for penultimate and final-year optometry students across Australia to interact with and engage in questions or discussions about optometry.

NOSC 2022 would not have been possible without the support of Optometry Australia and for that, we are very grateful. Overall, the day was a relaxing and fun learning experience. Some of the feedback we received from attendees include:
"What I enjoyed most was the variety of talks that were more than just didactic, rather, real-world experiences that are not covered at the university level."
"I enjoyed the relaxed feel the conference had and the time speakers spent answering questions."
"NOSC 2022 featured a good range of topics; it was very engaging and fun! I particularly liked the interactive quiz and the Kahoot game!"
"There were some really interesting perspectives and valuable knowledge that we otherwise would've taken a long time to find out."
"I feel as though all the speakers took a holistic approach to prepare us to become clinicians. Most of them emphasised the need to prioritise our mental and social wellbeing, and to access the many avenues for support as we transition into the workforce."
What we learnt on the day and what stood out at NOSC 2022
Nhi: My highlight was Smile Shao's talk on 'What I wish I knew before graduating'. I can see myself making the same mistakes and getting into the same 'sticky' situations as a new grad, and it was great to get some insights on how to overcome them. Another highlight for me would be seeing students asking speakers questions; it's amazing to hear different perspectives and see how enthusiastic our peers are about eye care!
Kim: I really enjoyed Laura Downie's recount of her 'Optometry Journey'. It is refreshing to know that everyone has different pathways and I genuinely agree with her advice to "grab any opportunities, take risks and go with your gut feeling". I am excited to see where my optometry journey takes me. Additionally, we had a little discussion between the OSSA committee members and Optometry Australia's Professional Development Manager Ben Hamlyn on how we can balance our lives with uni, being involved in our university societies, OSSA and extracurricular activities. Common themes we discussed: making time, having a calendar/diary, burnouts and self-care. For me, self-care is something that I am still working on and whilst it sounds easy to do, it is not done enough. It is a good reminder to love yourself and put yourself first when needed.
What we look forward to in life after graduation and our pearls of wisdom for optometry students
Nhi: I look forward to not having to do assignments every night anymore haha! But more importantly, I'm very excited about seeing patients and helping them see better. I'm still green and have a long way to go, but I know I will have fun learning along the way. My pearl of wisdom would be to be curious and ask more questions. Keeping an open mind is essential in learning and improving. Even when you get an answer that you disagree with, you learn to consider a different perspective and challenge your understanding, which is important clinically because most of the time there could be more than one right answer.
Kim: I look forward to being able to serve the community as a healthcare professional and build trust and rapport with my future patients through our interactions. It will be challenging but I know this will be character building and I can't wait to see where my optometry journey takes me. There's still so much to learn and I can't wait to gain a variety of experience when I start practising. Most importantly, I hope to educate the public about the scope of optometry and that we do more than just refraction!
My advice would be to make the most of your time in your optometry course. Hold on tightly to the friendships you've made, take any opportunities that come your way, attend events (especially the EyeBall!). Afterall, optometry is not just about academics, but also the friendships we cultivate and the invaluable memories we can look back on.
Why should students attend NOSC next year?
It's free!
Students can attend virtually and watch from home or wherever you are.
It's a safe space to discuss various topics and ask questions about everything optometry-related e.g., life after graduating, career pathways, work-life balance, expanding scope of practice.
It's a platform to make friends and to learn about how your peers are handling their final years which could inspire ideas to improve your own optometry experience.
Optometry students around Australia are friendly!
You will learn insights on various topics, from a wide variety of optometrists with different experiences and career pathways.
There will hopefully be more opportunities to come from OSSA for more engaging events/activities between the universities.
About the authors: Nhi and Kim are the co-chairpersons of the Optometry Student Society Australia (OSSA) 2022. Nhi is a final year Bachelor of Vision Science/Master of Clinical Optometry student at the University of New South Wales. She is also the Secretary of UNSW Optometry & Vision Science Student Society 2022. Kim is a final year Doctor of Optometry student at the University of Melbourne. She is also the President of the University of Melbourne Optometry Student Society 2022. Nhi and Kim were participants of Optometry Australia's 2022 Student Leadership Program where they first met.
Filed in category:
CPD, conferences & events
,
ECOs & students
Tagged as:
Students
,
Universities