Read time:

1:30min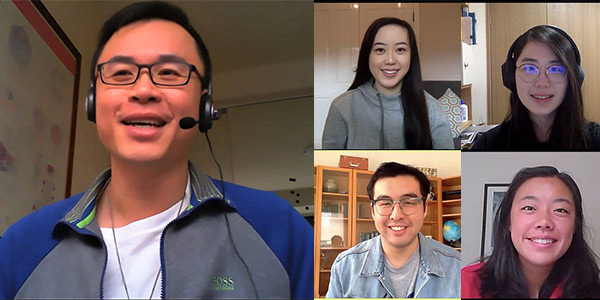 University of Melbourne lecturer Dr Kwang Cham, left, during an online teaching session with first year optometry students, top left Carol Tang, top right Diana Kim, bottom right, Maddison Poon and bottom left, Ronald Wu
By Helen Carter
Journalist
Australia's optometry students and lecturers are adapting to challenges and being creative during the unprecedented online learning situation caused by the coronavirus pandemic.
At the University of Melbourne, the Department of Optometry and Vision Sciences has temporarily closed on campus learning due to COVID-19, with lectures, tutorials and interactive learning taking place online remotely. Student placements at practices have also been deferred.
Senior Lecturer in the Department Dr Kwang Cham says it has been "a relatively steep learning curve with challenges, but also an opportunity to be creative with our practices."
Dr Cham has been running online learning from his home work-space for about a month now and has never done anything like this before.
'For practical classes, I do live demonstrations online, and students are provided opportunities to ask questions on the spot to increase student engagement and participation,' he told Optometry Australia.
'Most of the lectures are pre-recorded then uploaded to the learning management system for student access. Students are encouraged to post their questions online, and this is further supplemented by online sessions for group discussions.'
Zoom is the method of choice for interactive online communication.
'We are aware of privacy and security issues with using any online tools. For Zoom, the session is locked once it commences,' Dr Cham said.
There are, of course, advantages and disadvantages to off-campus teaching.
'I have more flexibility in my schedule, and can at times allow myself to have longer lunch breaks, which was difficult when rushing from class to class, or back-to-back practical classes previously,' Dr Cham said. 'I also get to spend more time with my family, which is important during this period of disruption and uncertainty.
'But I do miss the face-to-face student interactions and how their faces light up when they finally understand something!
'There has been a lack of hands-on learning, and for first year students, it can be a challenge when they might be still deciding on their career choices.'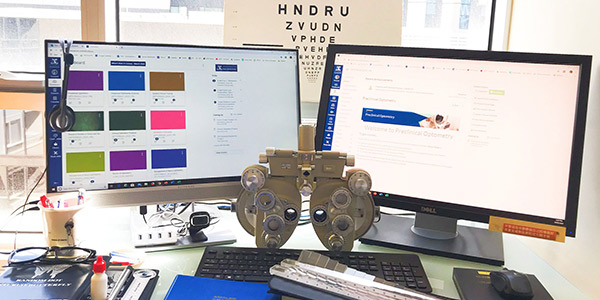 Dr Cham's home workspace for live and interactive online teaching
First year student Ronald Wu said that while the absence of hands on experience for pre-clinical studies had made learning new techniques challenging, he believes that both the cohort and the Department are adapting well, given the situation.
'I have been learning remotely for just about a month and this is a new experience for me,' Ronald said. 'Our virtual classes are all hosted on zoom so the advantages are that I'm in the comfort of my own home, am getting much better sleep due to not needing to travel and I always get to be around my family.
'The disadvantages include lack of hands on experience, not being able to socialise with my peers and unreliable internet connection. At first, adapting to isolation was difficult, especially not being able to meet up with mates but we have found ways to overcome this through video calls and movie nights.
Students helping each other
'Students are helping each other in breakout zoom room tutorial sessions. Our student representatives have also been a big help in communicating with our course coordinators!'
Dr Cham believes students will be able to quickly catch up once on-site classes resume.
'I have already started planning the new curriculum for Semester 2 to ensure we meet the intended learning outcomes for students,' he said.
'It is important we do not compromise their learning experience; it is a different learning experience but with the same outcomes eventually. A commitment was made to the students when they enrolled into the course and we need to abide by that.
'Personally, I do not stress about things beyond my control, and instead choose to focus my energy on things that can lead to positive outcomes.
'This has been a good exercise to assess both students and academics' digital skills and competencies. A minimum requirement is needed to navigate different learning technologies, illustrating an individual's adaptability and versatility in the digital environment.'
Students helping the community
Dr Cham has also been helping the students explore their creativity, and how they can contribute to the wider community during this period of distress and anxiety.
They have been working on two projects – a poster and a video on digital eye strain, a common problem with many people spending extra time on screens during isolation. Widespread dissemination in the community aims to encourage good screen habits and reduce digital eye strain while home during the pandemic, and afterwards.
The video and poster, below, create awareness about risk factors, symptoms and prevention and were developed by final year students Timothy Goh, Wan Ling Goh, Rachael Lim and Minh Pham.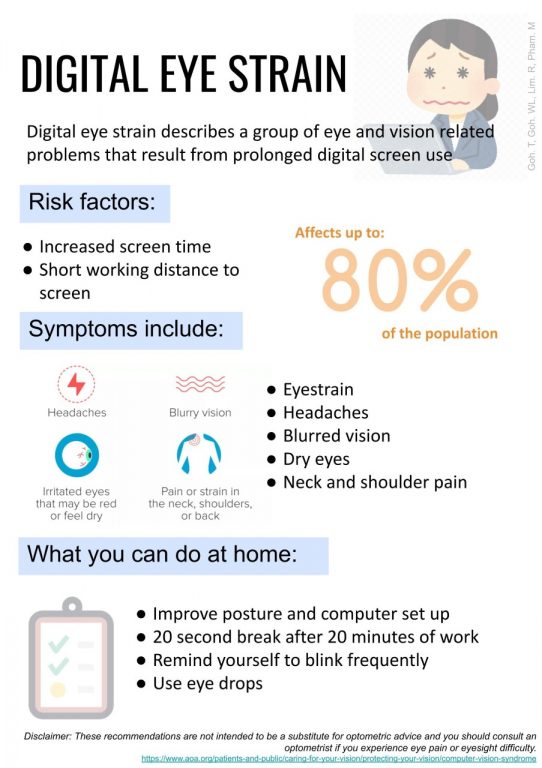 They have been disseminated on social media sites (LinkedIn, Twitter and Facebook) and the engagement team at the Faculty of Medicine, Dentistry and Health Sciences within the University has also shared these resources on relevant sites.
The other project is Optom Guides blog, a student-run resource page that is still being finalised which includes content for optometry students at the University of Melbourne and beyond.
The final year students who created the blog are Amina Maleken, Charissa Yeong, Christine Li, Denis Chau, Karen Tran, Minh-An Pham, Shirley Po, Stephanie Quan and Wendy Lian.
Filed in category:
ECOs & students
Tagged as:
Students
,
Universities