Read time:

1:30min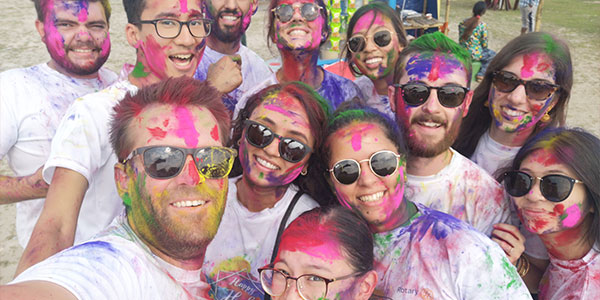 Celebrating Holi in Chitwan, Nepal, L-R, back, optometry students Reeves Carbone, David Pham, Talha Shafiq and Beth McDonald with optometrist Michelle Chau. Front, L-R, optometrist Ben Hamlyn, students Sabina Adhikari, Thu Trinh at very front, and Saumya Anand, optometrists Alek Sims and Anna Gatsios, and student Lilly Dinh. Photo, Ben Hamlyn.
By Helen Carter
Journalist
Seven Australian optometrists and eight optometry students were among a team of eye care professionals who examined the eyes of more than 1,000 people a day during a recent eye care aid trip to Nepal.
Optometry Australia's Member Support and Policy Advisor, Ben Hamlyn, who was part of the group, said the eye care workers saw 5,480 patients at eight 'eye camp' clinics during their visit.
They dispensed 2,588 pairs of glasses and referred 184 people with cataract for surgery plus also managed glaucoma, microbial keratitis, amblyopia, ocular trauma and many more eye conditions.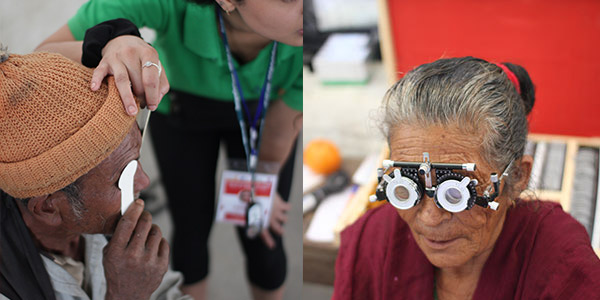 Patients requiring refractive care. Photos, Ben Hamlyn
The Australian optometrists were Jason Booth AM, Anna Gatsios, Stuart Dinnison and Ben Hamlyn from Adelaide, Alek Sims from Whyalla, Michelle Chau from Newcastle and Adelaide optometrist Phuong Truong, currently living in Vancouver, Canada.
The optometry students were all from Adelaide – Saumya Anand, Beth MacDonald, Sabina Adhikari, Reeves Carbone, David Pham, Talha Shafiq, Lilly Dinh and Thu Trinh.
Two Nepalese optometrists and other local helpers also provided their expertise.
The Rotary Club of Unley, South Australia and Rotary Dhulikhel, Nepal organised the trip, which was also supported by CR Surfacing and Eliana Varga from CR Surfacing.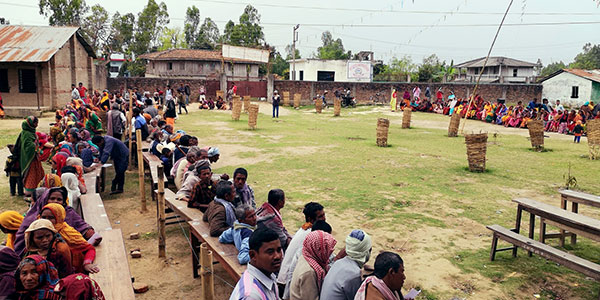 Patients waiting in Belbas Village, Sarlahi. Photo Ben Hamlyn
Hundreds of locals gathered at various schools in different regions, and Reyukai Eye Hospital, Dhalkaber to undergo the examinations.
The trip has been running annually since 2001 to various locations around Nepal. The team from Rotary Dhulikhel identified locations in most need.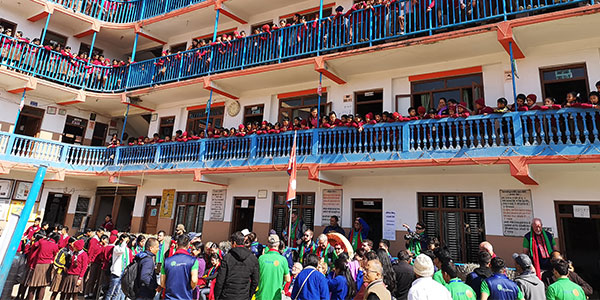 The students of Saraswoti Kunj Secondary School, Panauti. Photo, Ben Hamlyn
Ben said: 'I recommend optometrists give back where they can. It reminds how much you can help,' he said. 'Nepal is a very beautiful country and the people were very friendly and grateful.'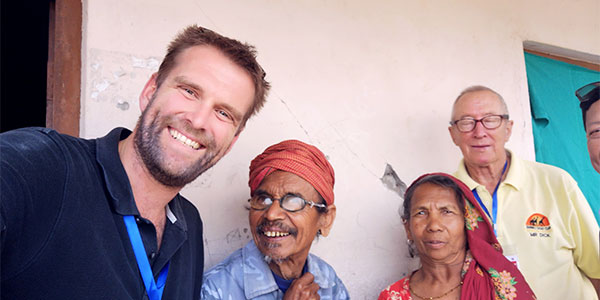 Optometrist Ben Hamlyn, left, with the final patient of all eight eye camps, an aphakic gentleman requiring new glasses who walked all day to reach the eye camp 
Filed in category:
ECOs & students
,
General news
,
Members & member initiatives
Tagged as:
Cataracts
,
International
,
Students