Read time:

1:30min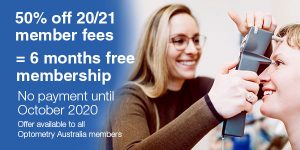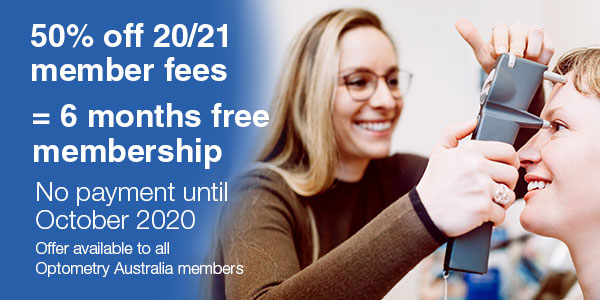 By Optometry Australia
The pandemic has had a big impact on the optometry sector and in particular our members.
Many of our members will be hurting financially as a result of shutdowns, or scaling back, of many practices.
To support them, all Optometry Australia members will receive a 50% discount on their fees for 2020-21, with no fees payable until October. This equates to six months free membership.
The fee reduction/free membership is applicable to all membership categories nation-wide.
While we have discounted membership fees, Optometry Australia President Darrell Baker has confirmed that the organisation has no plans to reduce its services. To cover any income shortfall, Optometry Australia will access funds from its reserves – or investment accounts – rather than reduce the operational budgets. Optometry Australia has always been diligent in managing its investments to ensure that the organisation has access to funds in case of the type of crisis situation in which we now find ourselves.
Accessing these funds enables Optometry Australia to offer members the opportunity to remain part of a resilient, cohesive and united community and that the organisation too, can remain strong as the representative professional body.
Accessing the deal
To be eligible for six months free membership (50% fee reduction), members will need to commit to 2020/21 membership period by joining, or renewing with their state organisation by 30 June 2020.
Each state division will issue membership renewal communication commencing mid-May detailing the offer across all membership categories including full-time, part-time, minimal practice and academic membership, however at that time no fees will need to be paid.
Non-members should contact their state-based professional body: Optometry NSW/ACT; Optometry Qld/NT; Optometry Tasmania; Optometry Vic/SA; and Optometry Western Australia. You can visit our contact us and membership details pages on Optometry Australia website.
Payment of membership dues will not be required before October 2020.
Here to support you
Optometry Australia and your state organisations are here to support you through this pandemic with staff working tirelessly to provide you with relevant and timely information and to take your calls. We urge you to contact us if you require any support.
Filed in category:
General news
,
Member resources
,
National & State initiatives
Tagged as:
COVID-19
,
Leadership
,
Member services