Read time:

1:30min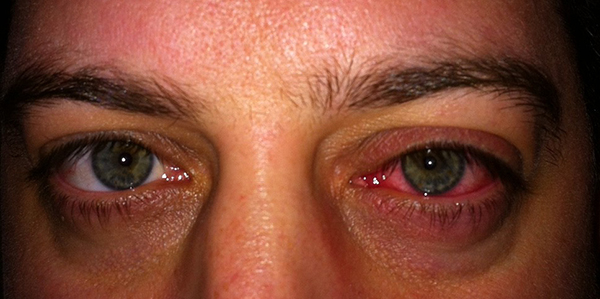 By Helen Carter
Journalist

Optometry Australia has compiled clinical practice guidelines to help optometrists with the diagnosis, treatment and management of red eye presentations which are commonly seen in practice.
Optometry Australia's Clinical Practice Guide for the Diagnosis, Treatment and Management of Anterior Eye Conditions 2018 provides evidence-based information about current best practice in the management of several anterior eye conditions.
Optometry Australia's Professional Development and Clinical Policy Manager Simon Hanna chaired the expert advisory group that advised on development of the guide.
He said the guide covered four specific red eye conditions that require either therapeutic management or referral, depending on the severity of the presentation and the practitioner's level of experience and confidence.
The conditions are:
Bacterial Keratitis
Herpes Simplex Keratitis
Acute Anterior Uveitis
Angle Closure Glaucoma
'Optometrists must be confident and competent in assessing patients who present with red eye conditions, and be able to provide evidence-based management and advice,' Mr Hanna said.
The guide aims to aid in differential diagnosis and management of these important and sometimes not clinically obvious conditions. It provides recommendations about when to refer based on severity, and where appropriate, the topical pharmacotherapy treatment regimen.
Studies show the most common red eye causes are allergic conjunctivitis, microbial conjunctivitis, corneal ulcer and inflamed pterygium, while the most common presentations are eye abrasions, watery eyes and swollen eye lids.
The guide states red eye presentations can vary depending on geographic location, occupation and patient age with other risk factors including pre-existing medical conditions, use of other medications and exposure to particular environments.
In infective causes, there may be a need for microbiological testing and analysis.
Management ranges from waiting for a self-limiting condition to resolve to therapeutic management with multiple medications and in severe cases, referral for ophthalmological management.
The guide covers patient history, clinical examination, clinical tests, common symptoms, clinical presentations, risk factors, differential diagnosis, triggers for referral and appropriate timing, pharmacological management and review.
The advisory group which comprised seven expert optometry clinicians working in a range of settings including academia, private practice and public health met and reviewed several drafts, drawing on a substantial and specifically-commissioned literature review that was compiled for the purposes of this guideline.
Read Optometry Australia's Clinical Practice Guide for the Diagnosis, Treatment and Management of Anterior Eye Conditions 2018
______________________________
Filed in category:
Guidelines & practice notes
Tagged as:
Clinical practice guides