Read time:

1:30min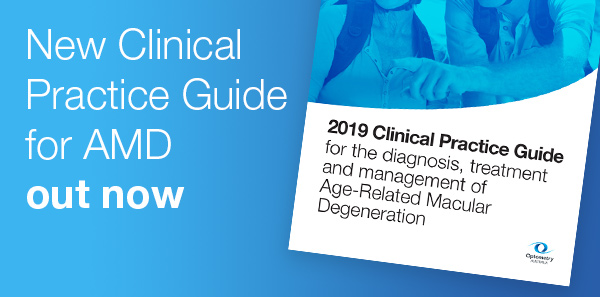 By Helen Carter
Journalist
Optometry Australia has released its first clinical practice guide to help optometrists diagnose, treat and manage AMD.
The 2019 Clinical Practice Guide for the diagnosis, treatment and management of Age-Related Macular Degeneration is published on our website as an open access document for the profession, to enable as wide as possible dissemination.
It's a great summary to download and print to keep in your practice or to download onto your digital device for reference.
Optometry Australia developed the guide in consultation with an expert working group comprising eight experienced practitioners who work extensively in the area of AMD assessment and management.
AMD, the most common cause of vision loss in those over age 50, affects one in seven Australians or 1.25 million people, and is predicted to rise to 1.7 million by 2030.
Working group chair, Optometry Australia National Clinical Policy and Standards Advisor, Kerryn Hart, said: 'The AMD guide provides evidence-based information about current best practice in management and is a general guide for optometrists rather than a formal treatment or management protocol.
'The process has taken close to a year. A literature review was conducted, working group formed and two teleconferences and many drafts later, we have released the guide, following Board approval.
It is due for revision in 2022 but will be updated earlier if there are any major changes in the field.'
AMD described in the guideline refers to the phenotype associated with drusen and pigmentary abnormalities associated with progression to geographic atrophy and/or choroidal neovascularisation.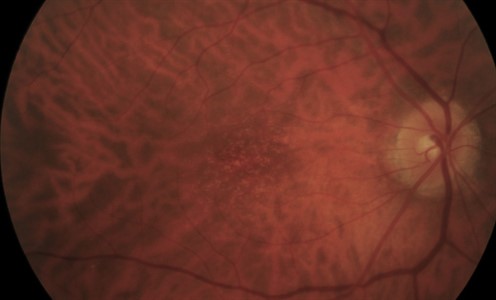 Early AMD retinal fundus photo, courtesy Professor Robyn Guymer, Centre for Eye Research Australia (CERA.)
The guide includes clinical pearls throughout and covers:
Risk factors: Older age, family history of AMD/genetics and smoking are the strongest risk factors. Hypertension, cardiovascular disease and BMI of 30 or higher are associated with a medium level of evidence, and lack of exercise and a diet high in fat and low in omega 3 fatty acids, vitamins, carotenoid and minerals have weaker evidence.
Clinical classification: The most current clinical classification scheme is the Beckman classification, based on fundus lesions within two disc diameters of the fovea in patients over 55.
Common signs and symptoms: For early, intermediate, late geographic atrophy and late neovascular AMD.
Optometric assessment: Standard examination including history, visual acuity, fundus examination, Amsler grid, contrast sensitivity and photostress test. Recommended ocular imaging of AMD patients  – colour fundus photography and OCT.  Additional and advanced ocular imaging including fundus autofluorescence, near infrared imaging and OCT-A are also discussed as useful tools in assessing patients with late AMD and for identifying prognostic biomarkers.
Differential diagnoses: When rarer drusen-associated retinal conditions can be misdiagnosed as AMD.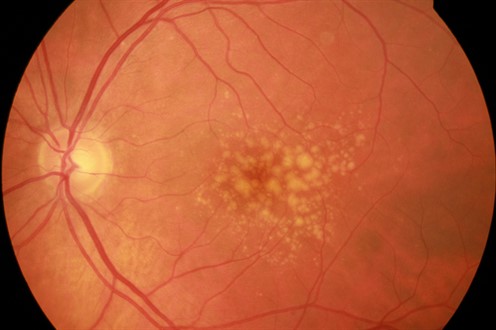 Intermediate AMD retinal fundus photo, courtesy Professor Robyn Guymer, CERA.
Management of early and intermediate AMD includes counselling on modifiable risk factors including advising smokers to quit, encouraging a diet rich in green, leafy vegetables, fish and antioxidants, and advising that hypertension, cardiovascular disease and obesity are risk factors for late AMD. Patients with intermediate AMD may benefit from certain nutritional supplements (vitamins C, E, zinc oxide, copper, lutein, zeaxanthin) but these are not recommended for those with normal ageing changes, early AMD, late AMD in both eyes or for those at risk of AMD without signs of the disease. When to refer to an ophthalmologist and how often to review is also covered.  
Management of late AMD including geographic atrophy and neovascular AMD.
Future directions including new imaging biomarkers, treatments and opportunities for patients to be involved in clinical trials.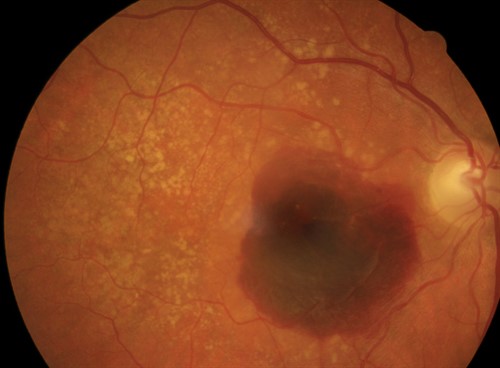 Late AMD retinal fundus photo, courtesy Professor Robyn Guymer, CERA.
The working group comprised Kerryn, private practitioners Sue Kalff, Gary Page and Bill Robertson; Angelica Ly and Rebecca Tobias from the Centre for Eye Health; Carla Abbott from CERA; and from the University of Melbourne Lauren Ayton, who did the literature review, and Jia Jia Lek.
______________________________
Filed in category:
Guidelines & practice notes
Tagged as:
AMD
,
Clinical practice guides