Read time:

1:30min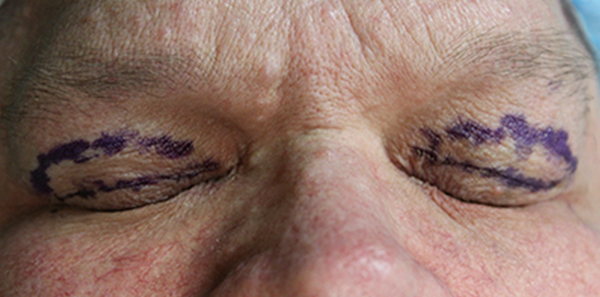 With attention to natural crease demarcations, upper eyelids are marked indicating area of skin to be excised. Image: Pharma, June 2014
In November 2018, Medicare announced changes to the lid surgery MBS item number which relates to blepharoplasty procedures.
Optometry Australia National Professional Services Advisor, Sophie Koh, said that for optometrists now receiving requests from plastic surgeons to conduct visual field exams in relation to these procedures, two examinations are required to satisfy a patient's access to Medicare rebate (MBS item 45617) and to ensure that the procedure is being undertaken for functional, and not cosmetic only, purpose.
The first examination involves one with the eyelid in its natural resting state, and another with the eyelid taped up which will confirm that the drooping lid, due to skin redundancy, is in fact obstructing the patient's visual field.
'From the advice that Optometry Australia has received, the optometrist's obligations are to simply conduct the screening test and forward the results to the plastic surgeon,' Sophie said.
'Optometrists are not being asked to make management decisions regarding whether the patient is suitable for Medicare-rebatable blepharoplasty, nor do optometrists need to write a referral.'
Optometry Australia also suggests that if a patient who has been referred for a screening visual field test has not had a comprehensive eye examination in the last 12 months, that such an examination could be recommended to the patient by the optometrist.
'When this occurs and the comprehensive eye examination is performed, it can be billed appropriately. If the results of the examination indicate the need for a full threshold visual field assessment, this too could be conducted and billed as appropriate,' Sophie said.
For further advice on visual fields requests by plastic surgeons, Optometry Australia has produced a Q&A guide Changes to Medicare rebate for blepharoplasty procedures.
Filed in category:
Medicare & private billing
Tagged as:
Scope of practice