Read time:

1:30min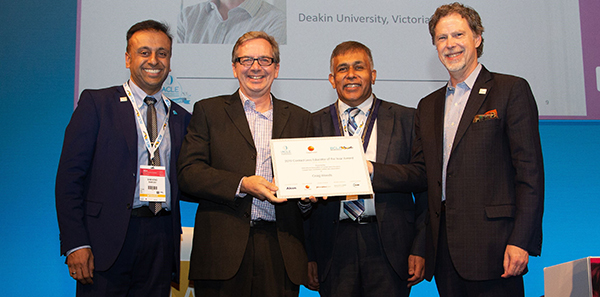 L-R, International Association of Contact Lens Educators President Dr Shehzad Naroo, Professor Craig Woods, BCLA President Professor Sunil Shah and Dr Gary Orsborn, Vice President of Global Professional and Clinical Affairs at CooperVision, sponsor of the awards.
By Helen Carter
Journalist
Deakin University Professor of Optometry Craig Woods has been honoured with a prestigious international award recognising 35 years of delivering contact lens education to optometry students.
Professor Woods received the International Association of Contact Lens Educators' Asia Pacific Contact Lens Educator of the Year award at the association's meeting on 29 May, which preceded the British Contact Lens Association clinical conference in Manchester.
The association is this year celebrating 40 years of exceptional contact lens education and Professor Woods has been teaching students about his passion, contact lenses, in Australia, England and Canada for most of those years.
The association was founded by a small group of leading educators including the late Professor Brien Holden and the awards were introduced in 2014 to recognise and reward achievements in global contact lens education.
Professor Woods taught students at City University in London, the University of Manchester, the University of Melbourne after arriving in Australia in 1999, the University of Waterloo in Canada, and finally Deakin University from 2011 onwards.
'I was thrilled and very humbled to be recognised for the contribution I have made to the education of students,' Professor Woods told Optometry Australia.
The award also recognised his contributions as a member of the association in developing contact lens curriculum and education programs to support new optometry programs.
Safer and more comfortable
'There have been dramatic changes in contact lenses over the decades,' he said. 'When I began, there were no disposable contact lenses, and although there were soft and rigid lenses, soft contact lenses were only replaced every two years or when lost or broken.
'Contact lenses are now much safer, there are fewer eye infections and less compromise for eye health with daily disposables leading to dramatic reductions in complications for wearers and increased comfort. Reproducibility of the lenses is also much better.
'Thirty-five years ago, we had to check and measure every contact lens before use and students had to be highly skilled in such things as metrology. Fortunately, today manufacturing techniques have improved so much that we are very confident that the lens is what is on the label. Could you imagine having to check every daily disposable contact lens!'
Professor Woods said there were dozens of international contact lens manufacturers when he began teaching, but over the years and many mergers this has reduced to only a few.
'Myopia management appears to be the big thing with contact lenses leading the way; we have orthokeratology managing myopia overnight and special multifocal contact lenses to control myopia progression during the day. In the future, there could be contact lenses for children to wear to prevent them from even becoming myopic,' he said.
Professor Woods is Professor of Optometry, Head of Clinical Placements (Optometry) and Head of Research (Optometry) at Deakin University, Vice-President of the International Society for Contact Lens Research and a member of the editorial boards for Contact Lens & Anterior Eye and Eye & Contact Lens journals.
He graduated with an optometry degree from The City University, London, was awarded his PhD while at Eurolens Research at UMIST, Manchester, UK and gained his graduate certificate in ocular therapeutics from the University of Melbourne.
He has authored more than 150 refereed and professional papers, and 11 textbook chapters in related fields to ocular dryness, contact lenses and associated adverse ocular responses.
IACLE's 40th anniversary will also be celebrated at the 22nd Asia Pacific Optometric Congress in Manila, Philippines this week, June 17 to 20.
Filed in category:
CPD, conferences & events
,
Members & member initiatives
Tagged as:
Awards - honours - grants-bursaries
,
Contact lenses
,
International