Read time:

1:30min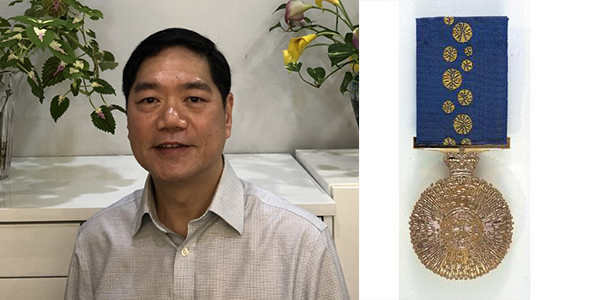 Dr William Trinh and the Medal of the Order of Australia (OAM)
By Helen Carter
Journalist
Sydney optometrist Dr William Huyliem Trinh has been honoured in the 2020 Queen's Birthday Honours list for his life-long work helping thousands of people in Australia and overseas.
Dr Trinh received the Medal of the Order of Australia (OAM) in the General Division for service to international humanitarian medical programs, and to optometry.
A board member of Optometry NSW/ACT from 1998 to 2001, he is the chairman of charity organisation Australian Health Humanitarian Aid which has enabled more than 8,000 free cataract surgeries, and over 9,000 dental procedures for disabled children in Vietnam and Cambodia over the past 17 years.
As a visiting lecturer and clinical instructor at the UNSW School of Optometry and Vision Science and a UNSW Optometry Clinic supervisor, he has taught therapeutics to hundreds of optometry students and has hosted many on placement in his busy Cabrammatta practice.
'I was surprised and very honoured to receive the award,' Dr Trinh told Optometry Australia today. 'But it represents the work of many people and organisations, it is the whole team.'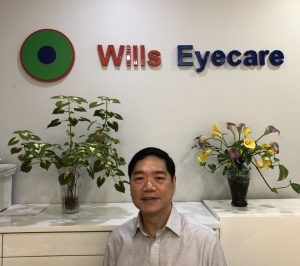 Dr William Trinh at his Cabrammatta practice
Born in Vietnam, Dr Trinh emigrated to Australia in 1979 with his family and attended high school in Sydney. He initially studied economics at university for a year before swapping to optometry at UNSW, spurred on by a positive encounter with an optometrist in his teenage years.
'I was myopic and visited an optometrist. I was impressed with him; he was very professional,' Dr Trinh said. 'I was attracted to optometry because it was a mix of business and clinical sides, you could own your own business, and it could be rewarding helping people with different backgrounds.'
Upon graduation in 1988 he landed a job in Cabrammatta in south-western Sydney, where there was a shortage of optometrists at the time.
'After a few months, a shopfront became available for lease. I had always wanted to own my own practice so 31 years ago I opened a practice there, William Trinh Optometrist. I still practise there today, although I have changed the name to Wills Eyecare.'
In 2001 he went to Boston to undertake a Doctor of Optometry at New England College of Optometry and spent two years working in optometry therapeutics in veterans' hospitals. While in the US, his younger brother Dr Liam Trinh, also an optometrist, ran his practice. When he returned to Australia, William was in the first cohort to gain a therapeutics certificate from UNSW in 2008.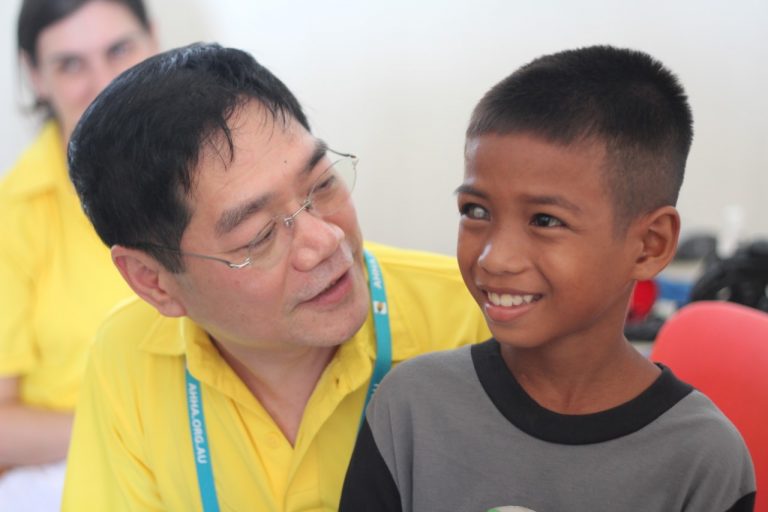 Dr Trinh and a 12 year old boy with traumatic cataract which was removed by a volunteer AHHA ophthalmologist in 2018
'I was always interested in teaching and since 2004 I have been a part-time supervisor at the UNSW Optometry Clinic, and have taught therapeutics to optometry students,' Dr Trinh said. 'I host 10 final year optometry students a year at my practice on rotations ranging from one day to six weeks. We see a lot of eye disease and patients with glaucoma, diabetic retinopathy, eye injuries and infections.
'I enjoy having students there and exposing them to a cross section of people from the community such as the elderly and the very young.'
Caring and knowledgeable clinical supervisor
Clinic Director, School of Optometry and Vision Science, UNSW Sydney Kathleen Watt said: 'It is truly well deserved. William is an enthusiastic, knowledgeable and caring clinical supervisor at the UNSW Optometry Clinic. He is always willing to share his vast clinical expertise with students and staff and brings innovative and thoughtful ideas into our practice. He is an active member of UNSW Alumni as well as being a Clinical Supervisor at the UNSW Optometry clinic.'
The non-profit charity organisation Australian Health Humanitarian Aid was established in 2003 in Sydney. AHHA volunteers visit Vietnam and Cambodia twice a year on medical and surgical trips, providing free eye surgery, eye care, medical and dental treatment to the underprivileged and training local students and doctors.
Dr Trinh joined the organisation as an optometry leader in 2004 after being inspired by meeting and raising funds for Professor Fred Hollows in 1989 for his mission in Vietnam.
Dr Trinh was co-founder of the Australian Vietnamese Health Professionals Association NSW in 1989 and its treasurer for the first 10 years. In 1990, he helped Professor Hollows, pictured below with Dr Trinh and GP Dr Cathy Tran in 1990, to raise over $20,000 for his first trip to Vietnam to operate and teach ophthalmology before he became famous.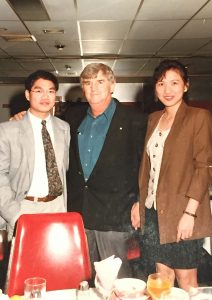 'The remarkable thing about AHHA is it has neither received government grants nor paid staff but manages to run charity programs to make lives better for the underprivileged,' Dr Trinh said.
More than 300 volunteers including 60 optometrists, over 40 ophthalmologists, 40 GPs, 30 pharmacists, 50 nurses, 10 anaesthetists and 50 dentists from Australia and New Zealand have taken part in the aid trips.
The organisation also provides humanitarian services and organises and participates in fund-raising activities supporting disaster relief in Australia and overseas. This year it has helped provide personal protective equipment and hand sanitiser during coronavirus and fund-raised for bush-fire relief.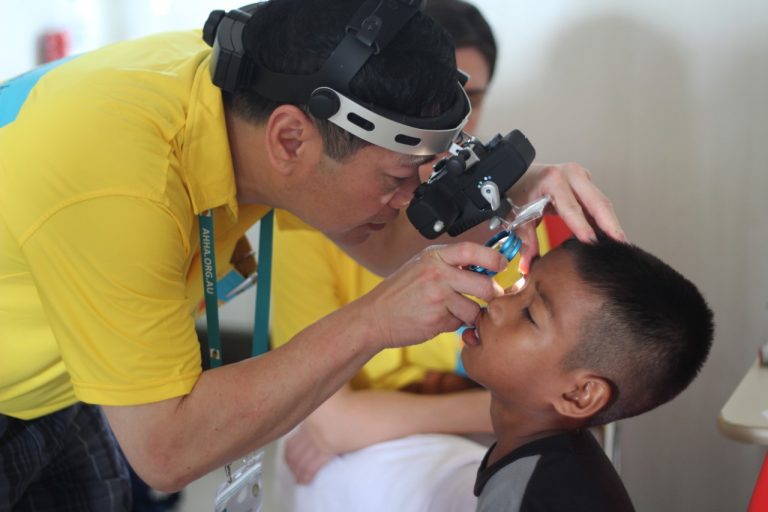 Dr Trinh examining a boy with traumatic cataract later removed by a volunteer AHHA ophthalmologist 
AHHA's achievements include:
Cataract surgeries: 8187
Dental procedures for severely disabled children: 9106
Eye and dental surgical instruments donated with training to local hospitals
Medicines, sunglasses and prescription spectacles provided
Water filter units for 11,200families
$250 school scholarships: 359
Community health centre established in Kampong Chnnang, Cambodia
Food parcels and school kits for poor communities
Emergency relief for Victorian bushfires, Philippines tsunami, Nepalese earthquake, Vietnam flood relief, Miracle Babies Foundation supporter, Australian drought relief, bushfire 2019 relief.
During COVID-19 in 2020, over 100,000 pieces of PPE provided including:
Australia: 10,000 masks, 4000 face shields, 300 laser thermometers, 1000 gloves, 5000 litres of hand sanitiser
Recipients: St Vincent de Paul, Westmead, Liverpool and Bankstown hospitals, Marist 180, Parramatta Mission Meals Plus program, Father Chris Riley Youth Off the Streets, St Vincent de Paul Society Harris Park Community Hub, Indochinese Aged Care Services and Australian Vietnamese Aged Care Services
Myanmar: 1000 face shields, 5000 surgical masks, 40 laser thermometers, 200 items of special protective clothes, 1000 litres of hand sanitiser.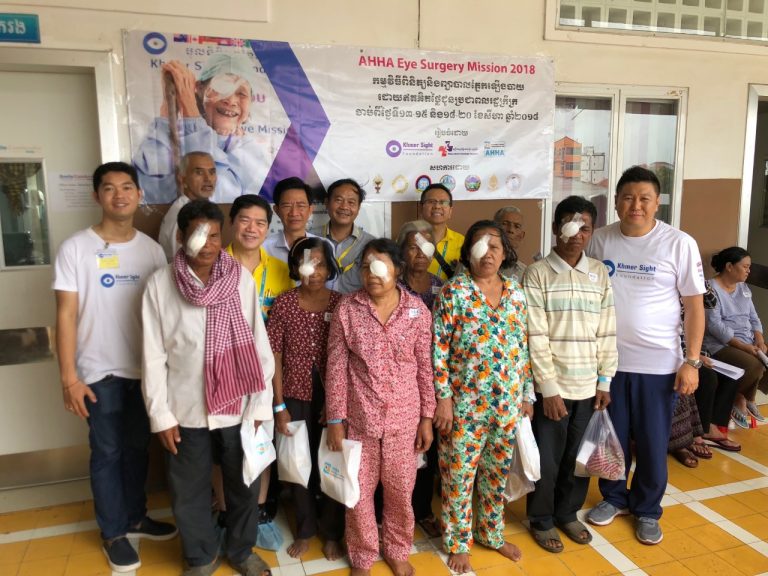 Post cataract surgery patients with Dr Trinh, fourth from left, next to him on right directors of Khmer Soviet Friendship Hospital in Phnom Penh, Cambodia, head of the ophthalmology department Professor Meng Ngy, on his right head of the Cambodia National Eye Program Dr Do Seiha, AHHA's vice chairman GP Dr Hien Tran, back right in yellow shirt, and director of AHHA's local NGO partner, Khmer Sight Foundation Sean Ngu, far right.
Dr Trinh's roles in AHHA have included optometry leader in charge of pre and post operative eye surgery in 2004, treasurer from 2005 to 2015 and chairman from 2015.
Mrs Allison Plain from Balwyn, Victoria, who received an OAM for services to Indonesia through eye health programs also volunteered as a nurse with AHHA on previous field trips. Two Queensland ophthalmologists, Dr Arthur Michael Briner and Dr Harold Paul Spiro, also received OAMs. Dr Briner's medal was for service to the Jewish community, and to ophthalmology while Dr Spiro's was for service to paediatric ophthalmology.
Filed in category:
General news
,
Members & member initiatives
Tagged as:
Awards - honours - grants-bursaries
,
Cataracts
,
COVID-19
,
International
,
Universities