Read time:

1:30min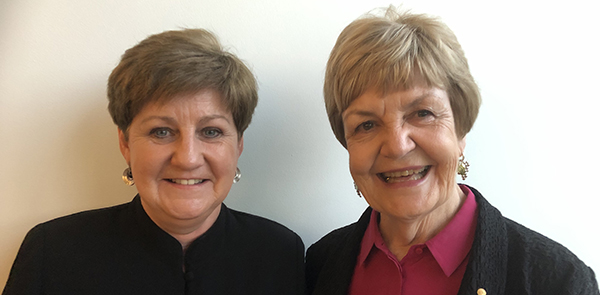 Joanne Thomas, left, and Heather Waldron
______________________________
By Rosanne Michie
When Heather Waldron and Joanne Thomas started in optometry in the 1960s and '70s they accepted that conditions would be different for them compared to their male colleagues.
The female optometry pioneers – who gathered in Canberra this week to celebrate Optometry Australia's 100-year milestone and the launch of Optometry 2040 – are proud of the way the sector has evolved to embrace women.
"I had to quit when I got pregnant," said Joanne, a mother of two. "And I didn't expect to be paid the same amount as the men."
Heather said she was paid 85 per cent less than her male counterparts in her first job.
"We just knew that's how it was and didn't really think about it to be honest. But one thing I must say, right from the outset all of our (male) colleagues, our peers, were wonderful," said Heather.
Both women went on to have eminent optometry and sector leadership careers.
Joanne is a former chair of the ACT Registratioon Board, optometry consultant to Medicare and a successful practice owner. Heather is former chair of ProVision, past Optometry QLD/NT President, optometry advisor to Medicare and a successful optometrist running a network of practices in Queensland
As is often the sector tradition, both also happen to be married to well-known optometrists and office bearers. Joanne is married to current Optometry Board of Australia (OBA) chair Ian Bluntish; and Heather is married to former OBA Chair Colin Waldron, (they were two of the four students who graduated in 1968 in Queensland).
The latest report from the OBA Annual Report reveals the female majority is continuing to increase with 54.2 per cent of practitioners now being female.
______________________________
Filed in category:
History
,
Members & member initiatives
Tagged as:
Milestones