Read time:

1:30min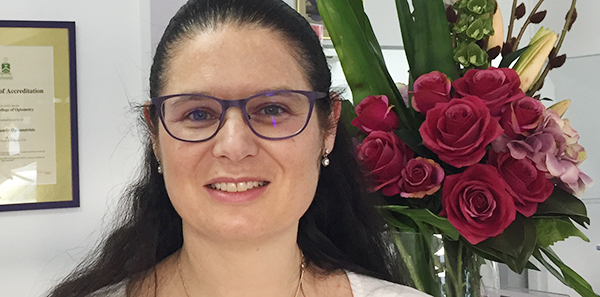 Linda Robinson
______________________________
By Rhiannon Riches
Assistant Editor
When Geelong optometrist Linda Robinson joined the Victorian Division of the Australian Optometrical Association as a graduate in 1992, Paul Keating was Prime Minister, Strictly Ballroom was showing in cinemas, and the one and two cent coins were being withdrawn from circulation.
Twenty-five years later and still a member, Linda is a mother of two children and practises part-time in the practice she owns and manages with her husband Glenn, also an optometrist and member of Optometry Victoria.
Linda joined the association as a new graduate from the University of Melbourne.
'It was the thing to do. One of the major reasons to join was that there was no other way to get professional indemnity insurance to practise,' she said. 'I wanted to know that there would be support if I needed it, and that's proven to be true over the years. The support has been invaluable.
'I wanted to be involved in the profession. I was also a member of the Victorian College of Optometry and the Vision Research Institute and the Contact Lens Society.
'When my husband was audited by the registration body, the first phone call we made was to Optometry Victoria for advice on what to do. It was such a relief that someone knew what to do. This is also the case with smaller, single-question issues. Being a member means there is always someone you can call.
'Speaking as an independent optometrist, you are more likely to want to be involved in your association. The association gives us a first port of call whenever assistance is needed.
'I see evidence of the association working for us too, such as lobbying the government; I know there is activity going on in the background. Optometry Victoria also runs various information nights and is always trying to make our lives easier,' she said.
Involved
Linda has taken part in Optometry Australia's national campaigns, and was one of the 18,000 who signed the organisation's petition in 2015 calling on the Australian Government to lift the freeze on the indexation of Medicare and reverse the five per cent cut to rebates.
She has also given talks to primary schools, teaching children to be aware of sun damage to the eye.
'There are always more opportunities, always things you can get involved with. I have friends on the board of Optometry Victoria, so I keep up to date with what's going on, like the State Government-run Victorian Eyecare Service subsidy scheme for the local Indigenous community.'
Linda commenced her career working casually at the Victorian College of Optometry while studying for her Masters degree. Following that, she worked in a practice in Templestowe.
After meeting Glenn, both began working for Optometric Practitioners Victoria (OPV), where they were frequently assigned to work in Geelong. Following deregulation, OPV was bought by OPSM. They worked for OPSM for a time, then for Special Eyes, which was later sold to Specsavers.
At that point they decided to open their own practice. It will be 16 years ago this August since they first opened their doors of Robinson Family Optometrists in Belmont, where Linda and Glenn each work part-time.
Linda holds a clinical teaching role at Deakin University's School of Optometry and is enrolled in the Australian College of Optometry's (ACO) Certificate of Ocular Therapeutics course. Glenn gained his therapeutic endorsement through the ACO before it became an online course, which involved more travel.
'We now have Deakin students completing their placement at our practice and they're therapeutically qualified, so it made sense to do the ACO's course, now it's all online,' she said.
Linda recommends to Deakin students at her practice that they join Optometry Victoria.
'It's almost more important now for graduates to join than when I was a graduate because the market is so deregulated, there's so much competition. Independent practices are competing against corporates and franchises where every practice is fitted with an OCT as standard.
'It's increasingly harder if you're an independent optometrist. You need to be able to call on the support of your professional association.
'It's a matter of course every year that you pay your AHPRA registration and you pay your Optometry Victoria fees,' she said.
Filed in category:
History
,
Members & member initiatives
Tagged as:
Future
,
Indigenous eye health
,
Leadership