Read time:

1:30min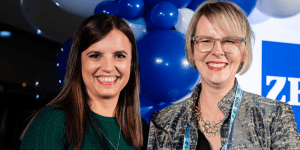 This story was created and shared by Optometry Victoria South Australia (OV/SA).
This year, OV/SA launched a new awards program to encourage our hardworking community of optometrists to step out of the shadows and have their work recognised. All nominations came from the OV/SA optometry community.
On the weekend, the winners were announced as part of the Meet and Greet Down Under event at O=MEGA23/WCO4, with Alexis Ceecee Britten-Jones receiving the Rising Star award, and Jacqueline Warren being awarded Optometrist of the Year.
OV/SA CEO Ilsa Hampton said that they had received more than one nomination for Jacqui for Optometrist of the Year. 'Jacqui is a highly regarded optometrist who works at the forefront of optometry development. She is persistent in advocating for optometrists to improve the lives of the community at the highest level, most recently in discussions at Parliament House, Canberra regarding optometry advancement.
'She has been involved in ground-breaking pilot programs including the Modbury project and establishing the collaborative model of care that allows optometry to be involved in reducing the public ophthalmology waiting lists in South Australia. She has won numerous awards including the Flinders University Vice President and Executive Dean's Education Award for 2023 and is a current participant in the 2023 World Council of Optometry program in leadership and advocacy.'
Jacqui commented: 'OMEGA/WCO was a fantastic opportunity to see Australian optometry on the world stage. The conference presented a great opportunity to network with key international stakeholders to further optometrists' clinical knowledge, create new research opportunities and better understand collaborative patient care. As Optometrist of the Year I intend to utilise these connections to ensure that the model of optometry delivered in Australia is designed to best service our community, from the policy level all the way to the community optometrist and their patients.'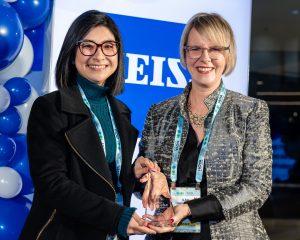 When announcing Rising Star award winner, Alexis Ceecee Britten-Jones, Ilsa said: 'Ceecee is an outstanding example of a clinician-scientist, who is working on the cutting edge of medical technology and new treatments, whilst still maintaining a clinical load. Ceecee has built an impressive academic trajectory as an early-career optometrist, having published 29 peer-reviewed articles, with over half in top leading medical and ophthalmology journals.
'She has been awarded numerous grants and awards including the 2023 Macular Disease Foundation Australia Grant and the Melbourne Postdoctoral Fellowship, which are available to University of Melbourne PhD graduates. In addition, Ceecee leads several projects with patient support groups, showing her dedication to improving low vision care. She has projects with Australia's largest low vision support networks (Retina Australia, Macular Disease Foundation Australia, and Blind Citizens Australia), as well as international patient support organisations such as Retina International.'
At the awards event, Ceecee said: 'I really enjoyed the mix of research, educational, and clinical content presented at O=MEGA23/WCO4, and that we had such a wide range of topics to choose from. It was particularly inspiring to hear about the work that optometrists are leading to advance eye care and our profession, both in Australia and globally. I'm very proud to be a part of it. I hope that, in my role, I can help strengthen the voice of optometry in clinical and multidisciplinary research and this can inspire future leaders in our profession.'
Filed in category:
Members & member initiatives
Tagged as:
OV/SA Awards